Amron Boy wins Harrison Dawson final for Brooke Ennis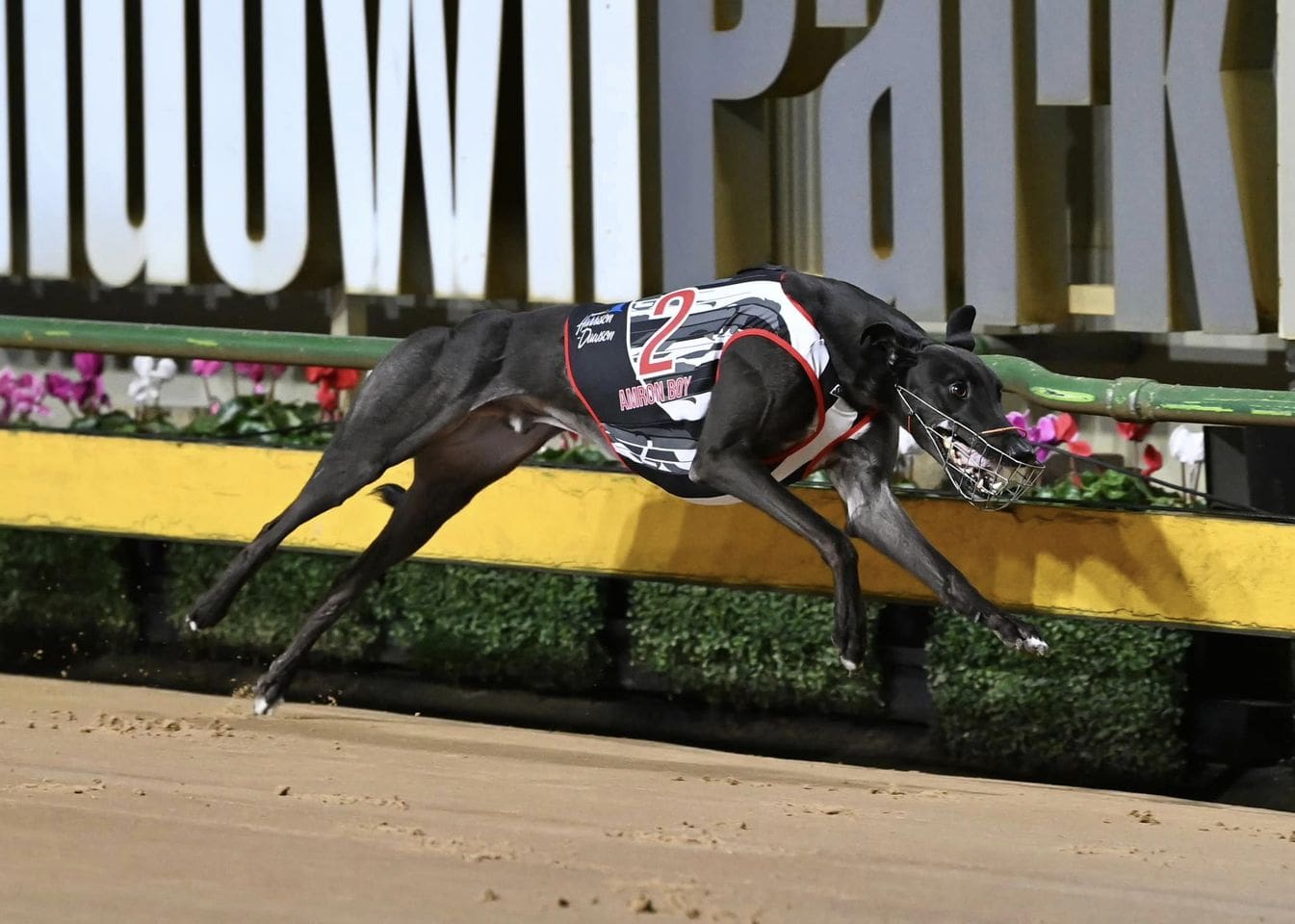 The Jamie and Brooke Ennis-trained Amron Boy last night gave the husband and wife training duo a win in the Group 1 Harrison Dawson at Sandown park, a race that had so far eluded them.
The Ennis' have had little luck winning the Group 1 in the past having had race favourite Cape Hawke going amiss when the 2012 race final was all but his, and they finished runner-up in 2019 with Southern Ripple.
But the trainers had little cause for concern last night when Amron Boy, the +130 favourite with greyhound betting sites; pounced on the lead early from box two and dominated the race, winning by 4.47 lengths in 29.13.
Prior to the race co-trainer Jamie Ennis had accepted that Amron Boy just lacks a fraction of early speed and that has prevented him recording more feature wins just needing a touch of luck in most races early.
"He just lacks a yard to the first mark, so it comes down to luck in running, but he's a good chance."
But Amron Boy's strength in running and commitment to chase is undeniable, a trait that will surely see him assume stud duties in his post-race career.
Despite going in to the $100,000 to-the-winner Harrison Dawson final having won only one of his previous nine starts, Amron Boy has never been far off the money finishing in the first three in seven of those nine races.
Ennis has in the past said that despite some bad luck and close-up results, the son of Zambora Brockie and Miami Fernando's attitude to racing has never been affected.
"Even though he's been beaten short margins, he's hitting the catching pen four or five lengths in front and thinks he's won anyway."
Amron Boy had to hold off a determined Dundee Smokey in the run, with the two going head and head until the home straight when Amron Boy's strength shone through kicking clear to win easily.
Kai Bale railed up under Dundee Smokey to steal second almost five lengths from the winner.
The 'Tears' litter brothers of Trooper Tears and Trapper Tears had their hopes dashed before the first corner when they tangled with Stealth and Adhana Rico. All four greyhounds were put out of play at that point of the race.
2023 Group 1 Harrison Dawson – Amron Boy (29.13) T: Brooke Ennis
---
Amron Boy has now had 44 starts for 17 wins, 12 seconds and four thirds, earning $596,670 for owners Jim And Brett syndicate.
Bred by John Ahern, the 32kg black dog adds the 2023 Group 1 Harrison Dawson win to his 2023 Group 1 Silver Chief win.
The eight-time group race finalist ran second in the 2023 Group 1 Temlee at The Meadows, second in the 2022 Group 2 Flying Amy Classic at Albion Park, and second in the 2022 Group 3 Silver Bullet at The Meadows.
2023 Harrison Dawson
2023 Group 1 Harrison Dawson
2023 Harrison Dawson Results

Sandown Park515mGroup 1$100,000 to-the-winnerThursday May 18 202329.13

1st

2

Amron Boy

T: Brooke Ennis29.13

2nd
3rd

5

Dundee Smokey

T: Geoff Scott-Smith29.48

4th
5th

7

Adhana Rico

T: Anthony Azzopardi30.27

6th
7th

6

Trooper Tears

T: Rob BrittonFell

8th

8

Stealth

T: Jason Thompson Fell
---
---
Similar Greyhound Racing News