Bernardo the one to watch in The Great Chase semi-finals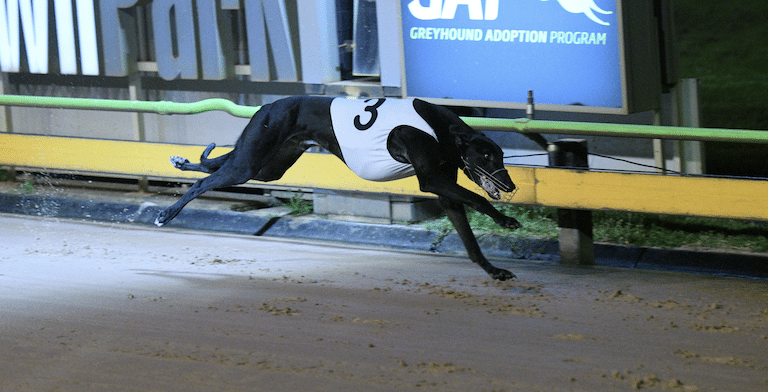 BOOM pup Bernardo (Kc And All x Surfonic Nov '15) will be all the rage at The Meadows on Wednesday when he contests a semi-final of the Group 3 The Great Chase (525m).
Owned by Jennifer Gill and trained at Darriman by William McMahon, Bernardo comes into the series having won his past six races, including a brilliant 29.40 win in his heat of The Great Chase at Sandown Park on October 8.
Gill, who bred the 34-kilogram powerhouse, said she couldn't be happier with how her star sprinter is performing.
"It is very exciting to see him racing so well," Gill told Australian Racing Greyhound.
"I bought his mother as a 12-week-old pup, we reared her, raced her and then retired her at two-and-a-half when she came on season to breed with her.
"William and I have a racing partnership. He owns half of a lot of my dogs – we pick the straws together, he rears them and breaks them in – it's a lot of work but everything is working out nicely at the moment.
"Bernardo showed he had something special when breaking-in so it is great to see him putting it together now on the track."
The black dog has only faced the starter on eight occasions, winning six of those races with almost $30,000 in career earnings to his name.

Gill said bad luck hindered him early in his career, but he is now making his own luck and is learning how to be a race dog.
"His first couple of starts he had bad boxes and the dogs around him virtually took him out at the start," Gill explained.
"Then he got a start as a reserve in the VIC Breeders final off box two and he showed what he could do by winning by a long way.
"Since then he has continued to learn how to race and he knows how to work his way in a field now – he is a pretty clever dog.
"The big indication of what he can do was at Sandown a few runs back. The track had been harrowed three days earlier and he came out and ran 29.40.
"It was really put into perspective in the next race when Bewildering ran 29.34 – he is capable of running 29.00 so to get within a length of him was a massive effort.
"He is an extremely good chaser. He is a natural and the type of dog you dream of having."
Bernardo will have to overcome box four in his semi-final on Wednesday, with the winners of the six semis and the two fastest seconds progressing through to the $47,000 to the winner final at The Meadows on October 25.
"He has a lot of early pace – so if he can come out as well as I know he can it shouldn't matter what box he has," Gill said.
"But every race is different and anything can happen. As long as he makes it around safe that's all we really care about.
"It would be lovely to make the final but I don't want to get too excited. Lots of things can go wrong so I always want to take it one race at a time – but with that being said he is a very fast dog so I am hopeful he has a nice future."

Gill and McMahon will have two racing in the semi-finals, with Bernardo's older half-brother Alberto (Cosmic Rumble x Surfonic Mar '15) qualifying for the series when running second in his heat at Warragul behind Despacito. He will jump from box four in the sixth semi-final of the day.
"He has had a few injury problems – we spelled him for twice as long as he needed to be just to be on the safe side," Gill said.
"He has come back well and he is getting some race fitness again and is learning with every start.
"He has plenty of ability too – he has explosive speed – I just hope he can show that this Wednesday."
The Great Chase is one of the most exciting and innovative races on the greyhound racing calendar, with Victorian bred and trained greyhounds with one to five wins competing in heats at 13 tracks around the state.
The series also engages Victoria's disability sector, encouraging social inclusion for thousands of people with disabilities who enjoy a free social outing at the races including meals, merchandise and the chance to meet and interact with greyhounds.
Charity groups who attended the Great Chase community days were allocated a greyhound to follow for the day for the chance to share in $26,000, whilst eight groups will share in $24,000 at the Grand Final meeting on October 25.
All Up $50,000 will be distributed to the state's disability sector throughout the series.
More Greyhounds News