Greyhound racing best bets at Sandown & Dapto | November 2, 2017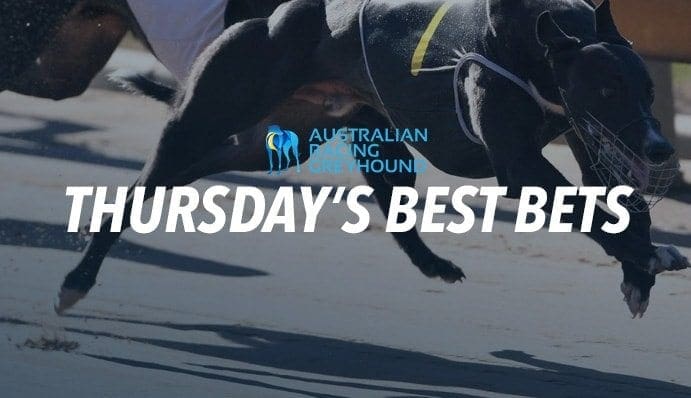 THURSDAY is always a cracking night of racing around the country and tonight should be no different with some quality greyhounds going around at various meetings across Australia.
We usually try to pick a winner or two from each of the main meetings, however we've taken a particular interest in Sandown Park and Dapto racing tonight and we think we might be on the money.
Agree with us? If you do be sure to claim the free bet bonuses on offer from our leading recommended bookies – which basically give you extra cash to place on your chosen runner.
If you want more bang for your buck, why not try rolling our tips into a multi? We recommend betting using the mid tote and based on the early prices we think a multi on the five selections below could be odds of around 20/1. Not a bad price really and the best thing is you only need to have a small wager to win big.
Greyhound racing best bets – Thursday November 2, 2017
Dapto R4 No.3 Twisted Love: Steps up to the 500 for the first time but has given every indication she will run it out and she is from an astute kennel so I expect her to be primed for this race. Has won three of her four starts to date and has shown good early speed on each occasion. If she begins like she has been she should have no trouble finding the front and then it will just be a question on whether she has enough in the tank to hold them out.


Warning: count(): Parameter must be an array or an object that implements Countable in /home/australianracinggreyhoundzzz/webapps/app-australianracinggreyhound/wpress/wp-content/plugins/Odds-Compare/vendor/guzzlehttp/guzzle/src/Handler/CurlFactory.php on line 67


Dapto R8 No.1 Megaladon: Quality race bitch which bounced back to her brilliant best with a fast 34.97 win at Gosford last start. She has a great record over this track and trip and loves box one – all she needs to do is step well and find the bunny, if she can do that she should be too good. Will be short odds but she looks the winner.


Warning: count(): Parameter must be an array or an object that implements Countable in /home/australianracinggreyhoundzzz/webapps/app-australianracinggreyhound/wpress/wp-content/plugins/Odds-Compare/vendor/guzzlehttp/guzzle/src/Handler/CurlFactory.php on line 67


Sandown Park R5 No.3 Raw Ability: Missed the start in the Topgun last start but was poorly drawn and found plenty of trouble after a poor start. Finds himself well graded in a fifth grade tonight and he only needs to step on terms to be hard to beat. He normally does begin well and this race isn't packed with an overload of speed. He is capable of running around the 29.20 mark and that is definitely good enough to win this race.


Warning: count(): Parameter must be an array or an object that implements Countable in /home/australianracinggreyhoundzzz/webapps/app-australianracinggreyhound/wpress/wp-content/plugins/Odds-Compare/vendor/guzzlehttp/guzzle/src/Handler/CurlFactory.php on line 67


Sandown Park R6 No.2 Traveller's Joy: We tipped this girl two runs back when she saluted at 10/1 and although she won't be those odds tonight we are going to side with her again. She is armed with good early speed and she finds herself in a race tonight with very little. Has gone around the 29.60 mark here before but she will probably need to run that out in front to give herself any chance. Still looks decent value each way and it could even be worth having her in a quinella with McNeo (5) who is the best dog in the race, but will have to overcome the squeeze box.


Warning: count(): Parameter must be an array or an object that implements Countable in /home/australianracinggreyhoundzzz/webapps/app-australianracinggreyhound/wpress/wp-content/plugins/Odds-Compare/vendor/guzzlehttp/guzzle/src/Handler/CurlFactory.php on line 67


Sandown Park R11 No.3 Aston Dinnigan: Drops in class for this race and has come up with a good draw. She is a speedy bitch and should be able to find the lead or close to it in the run around the first turn. She is debuting here tonight but has won well around The Meadows. Can get tired in the closing stages, but she looks to have a bit of a class edge on her rivals here.


Warning: count(): Parameter must be an array or an object that implements Countable in /home/australianracinggreyhoundzzz/webapps/app-australianracinggreyhound/wpress/wp-content/plugins/Odds-Compare/vendor/guzzlehttp/guzzle/src/Handler/CurlFactory.php on line 67