Million Dollar Chase Semi Finals Tips & Betting Preview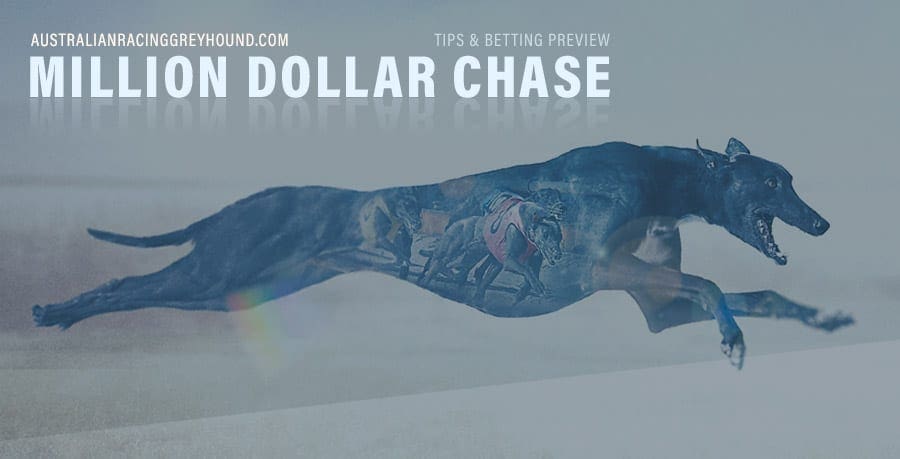 What
Million Dollar Chase Semi Finals
Where
Wentworth Park, NSW
When
Friday, October 10, 2020
First Race
6:57pm AEST
Watch Live
The showcase race on the NSW greyhound racing calendar gets down to the real greyhound racing tonight, after the "Golden Ticket" gimmicks and regional races series attracted lower than expected nominations.
It should be noted that much like all the over "pop up" races appearing in the other codes, the Million Dollar Chase (MDC) has no Group racing status, but is notable as it is the only greyhound race in Australia that carries $1,000,000 in first prizemoney to the winner. It is also the only race in any race code anywhere, that contains a clause that if any of the winning greyhounds connections have an integrity or welfare indiscretion at any time in the future; they will forfeit the race and the prizemoney. Thankfully for the two winners of the MDC so far, that has not happened ….. yet.
The race is funded by the TAB's Odds & Evens bet type, which to be brutally honest has been poorly received by punters. Let's hope GRNSW's MDC feature race funding lasts longer than the bet type, which looks likely to fade in to oblivion like many of the gimmick bet types before it.
Tonight's Wentworth Park race meeting features eight heats of the MDC, with the eight winners all progressing to the final. The eight second placed greyhounds will head toward next weeks MDC Consolation Final worth just $25,000 to the winner; so the stakes are high to win tonight.
AustralianRacingGreyhound.com takes you through the eight Million Dollar Chase Semi Finals, to help find the winners and identify the probable 2020 MDC Finalists. With all the greyhound bookmakers betting pre post on the MDC final, there are plenty of opportunities to get set at "overs" for next weeks race.
2020 Million Dollar Chase Semi Finals Tips
Million Dollar Chase Semi Final 1 Tips, Odds & Betting Preview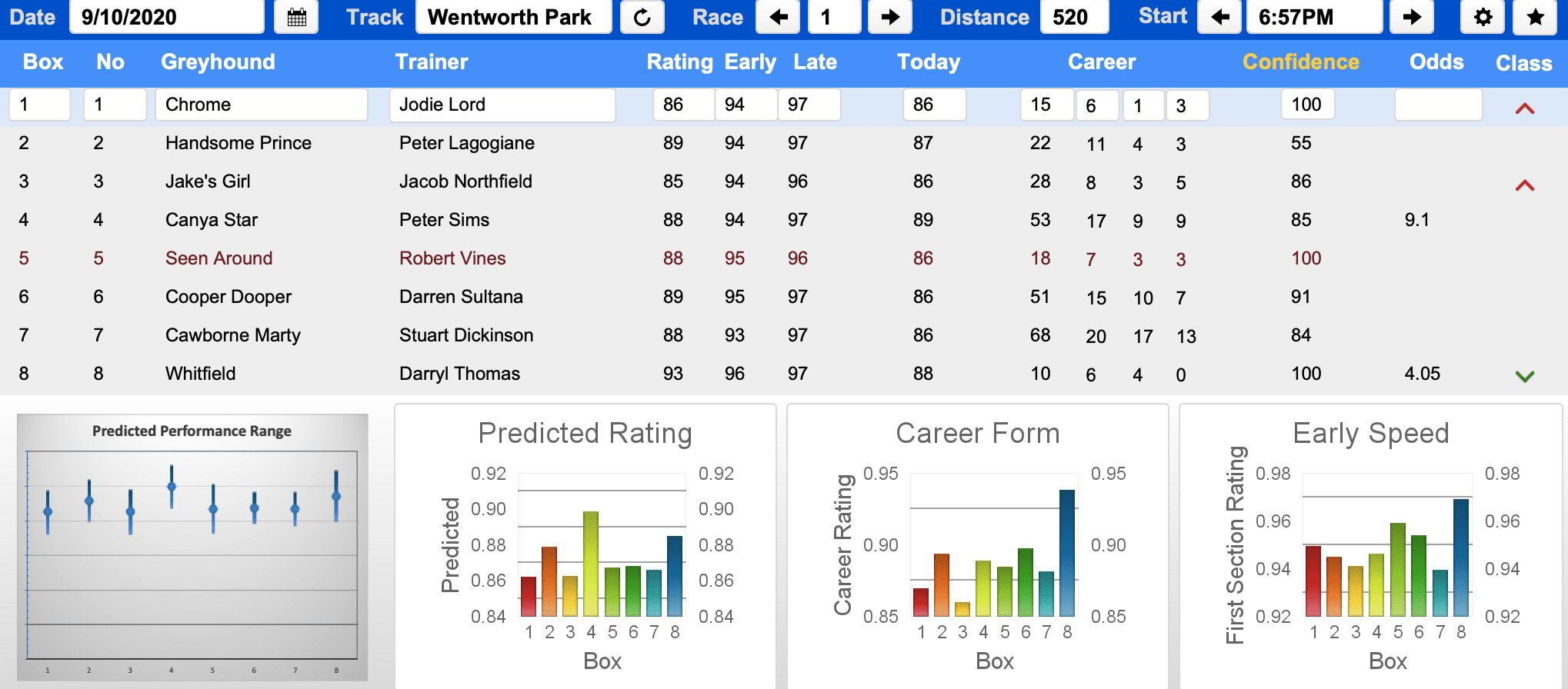 2020 MDC Semi Final 1 Betting Preview
Canya Star despite the squeeze box, has a clear speed edge at box rise on the opening MDC SF race. Certainly not the best greyhound in the race, but will get every chance to capitalise on first corner interference out in front. Chrome has shown a tendency to be awkward in races, and his box one rails draw with his natural raw ability does spell trouble for the rest of the field. His best chance will be pushing up under them early, and that will be an all or nothing prospect for his chances. The 32kg dog will either break through and chase down Canya Star, or will take himself out and a few others with him. Whitfield is drawn to avoid the commotion inside him but will need to improve dramatically on his only other Wentworth Park appearance. His last start Maitland win suggests he is capable of doing that.


Warning: count(): Parameter must be an array or an object that implements Countable in /home/australianracinggreyhoundzzz/webapps/app-australianracinggreyhound/wpress/wp-content/plugins/Odds-Compare/vendor/guzzlehttp/guzzle/src/Handler/CurlFactory.php on line 67

---
Million Dollar Chase Semi Final 2 Tips, Odds & Betting Preview
2020 MDC Semi Final 2 Betting Preview
The early speed in MDC SF 2 will come from Xerri, Stardom, Drink Moet and All Hands Off with no clear speed edge to any of the four. Its quite possible one of the four will time the start tonight and get away with a big lead. Drink Moet would be the only greyhound of those four that will be susceptible to being run down should it lead. It led here at Wenty last week and could only manage 30.09.At the odds Xerri looks the best risk to steal the race from a good start, although Peter Lagogiane can get a dog primed at the right moment and $14.00 for Stardom does look value as an attractive each way play. The strongest run on greyhounds are Xerri, Stardom and All Hands Off, so whatever leads will win.


Warning: count(): Parameter must be an array or an object that implements Countable in /home/australianracinggreyhoundzzz/webapps/app-australianracinggreyhound/wpress/wp-content/plugins/Odds-Compare/vendor/guzzlehttp/guzzle/src/Handler/CurlFactory.php on line 67

---
Million Dollar Chase Semi Final 3 Tips, Odds & Betting Preview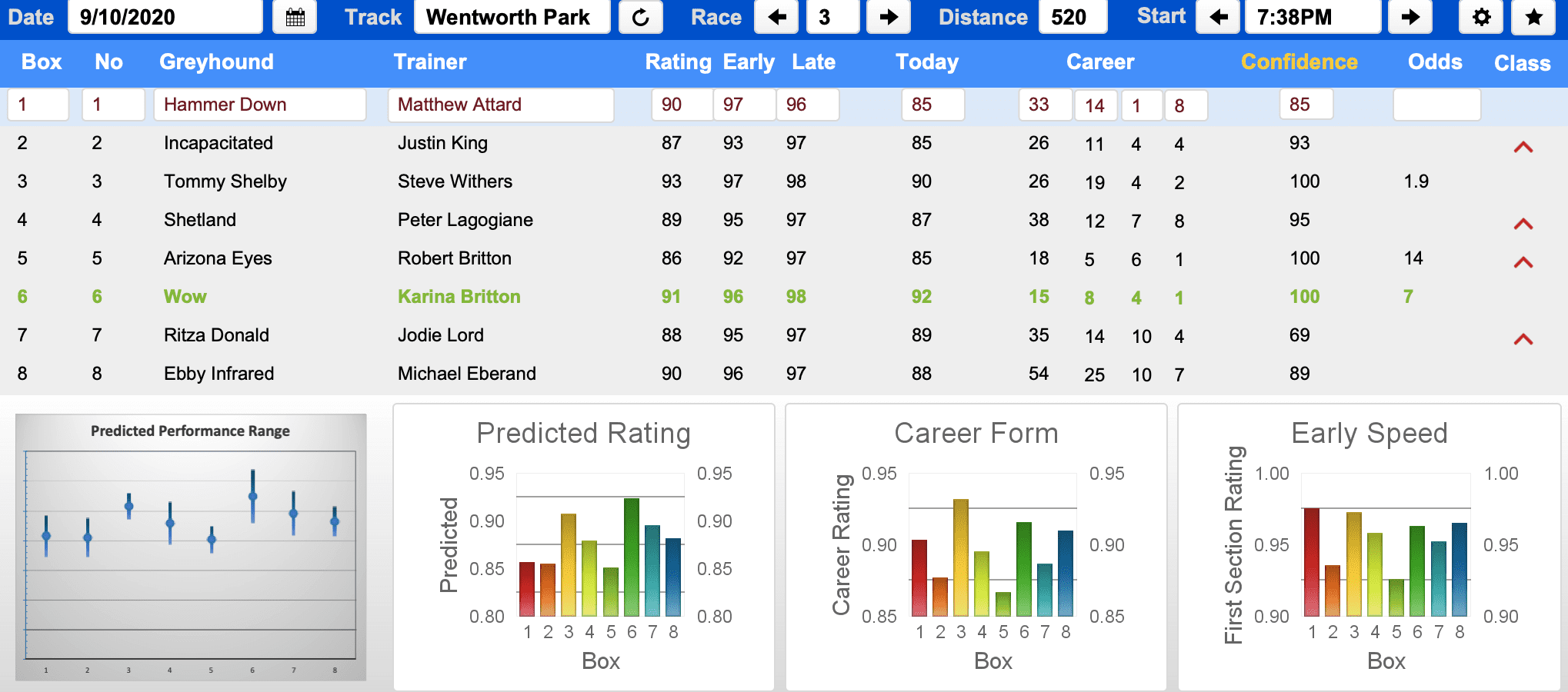 2020 MDC Semi Final 3 Betting Preview
Hammer Down gets the prized rails draw in Million Dollar Chase Semi Final 3, and has the pace to exploit its good fortune but the dog is not genuine against better company (noted by the red coloured text in the ratings) and has no local experience under race conditions. Like race 1, it looks likely that Hammer Down will bring itself and others down in the race through the first corner. Karina Britton's Wow has a bit of a boom attached to it courtesy of some very quick Bulli wins. Hasn't officially broken 30 seconds here but did trial 29.75 at Wentworth Park last week. Drawn well out in the six box, Wow would get away with a lead here and avoid the inside trouble at good odds. Tommy Shelby's form can't be faulted, and did successfully complete a "dry run" for this travelling to Wenty to finish second in the Group 1 Vic Peter Classic back in July. Has the ability to begin well enough to lead and win this but the $1.80 is decidedly unappealing as a betting proposition.


Warning: count(): Parameter must be an array or an object that implements Countable in /home/australianracinggreyhoundzzz/webapps/app-australianracinggreyhound/wpress/wp-content/plugins/Odds-Compare/vendor/guzzlehttp/guzzle/src/Handler/CurlFactory.php on line 67

---
Million Dollar Chase Semi Final 4 Tips, Odds & Betting Preview
2020 MDC Semi Final 4 Betting Preview
If the outcome was sealed the moment the field was drawn, then the box draw certainly nailed it. Shima Shine has been gifted box one here in the fourth MDC Semi Final and didn't need the box to win it. Impossible to see anything leading him and his only defeat at Wentworth Park was his second in the 2019 Million Dollar Chase Final behind Good Odds Harada. Can't possible recommend back Shima Shine at $1.45 though, so we'll need to play around the winner and try and get a result. Zulu Warlord has been very progressive and has the early pace to be right there with Shima Shine early. The young dog just lacks the stamina at this stage of his career to be effective last in his races, but is drawn to hang on to a hole if there is trouble back in the field at $19.00 and $2.30. Knight's Page is at the other end of his career to Zulu Warlord, but has enough experience to race around any trouble inside and and find a place at odds. They are offering $41.00 the win which would seem improbable but the place bet at $3.10 looks the best of a few plays available. Wallbanger and Aston Zodiac are strong dogs late, but they will need plenty of luck to get close enough in the back straight to figure in the finish.


Warning: count(): Parameter must be an array or an object that implements Countable in /home/australianracinggreyhoundzzz/webapps/app-australianracinggreyhound/wpress/wp-content/plugins/Odds-Compare/vendor/guzzlehttp/guzzle/src/Handler/CurlFactory.php on line 67

---
Million Dollar Chase Semi Final 5 Tips, Odds & Betting Preview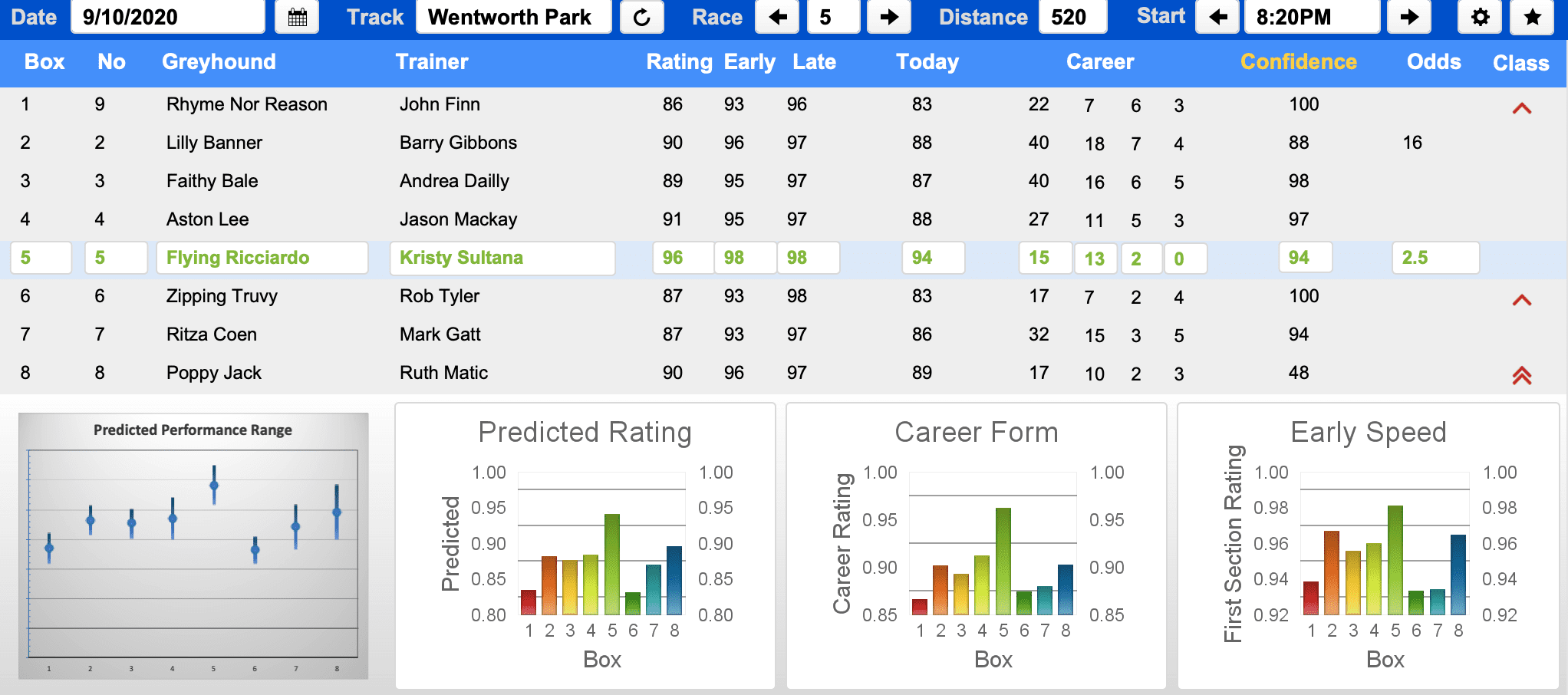 2020 MDC Semi Final 5 Betting Preview
Flying Ricciardo has been a real find for NSW greyhound racing and the Sultana kennels. He's been very good to us here at AustralianRacingGreyhound.com as well as we were able to identify his natural ability very early and have enjoyed being on him at most of his 13 wins, some at very good prices. Drawn the centre of the field will not bother him as he has been showing a tendency to run out toward the middle of the track from inside draws anyway. Has a clear early speed class edge over the two nearest speed map contenders in Lilly Banner and Poppy Jack. Flying Ricciardo will lead and win. Happily we're getting $2.40 about the best dog in the race which represents value as we had him priced $2.20. For those wanting to play a little wider, place betting or each way betting Lilly Banner offers the best chance of a return at $11.00 and $2.50.


Warning: count(): Parameter must be an array or an object that implements Countable in /home/australianracinggreyhoundzzz/webapps/app-australianracinggreyhound/wpress/wp-content/plugins/Odds-Compare/vendor/guzzlehttp/guzzle/src/Handler/CurlFactory.php on line 67

---
Million Dollar Chase Semi Final 6 Tips, Odds & Betting Preview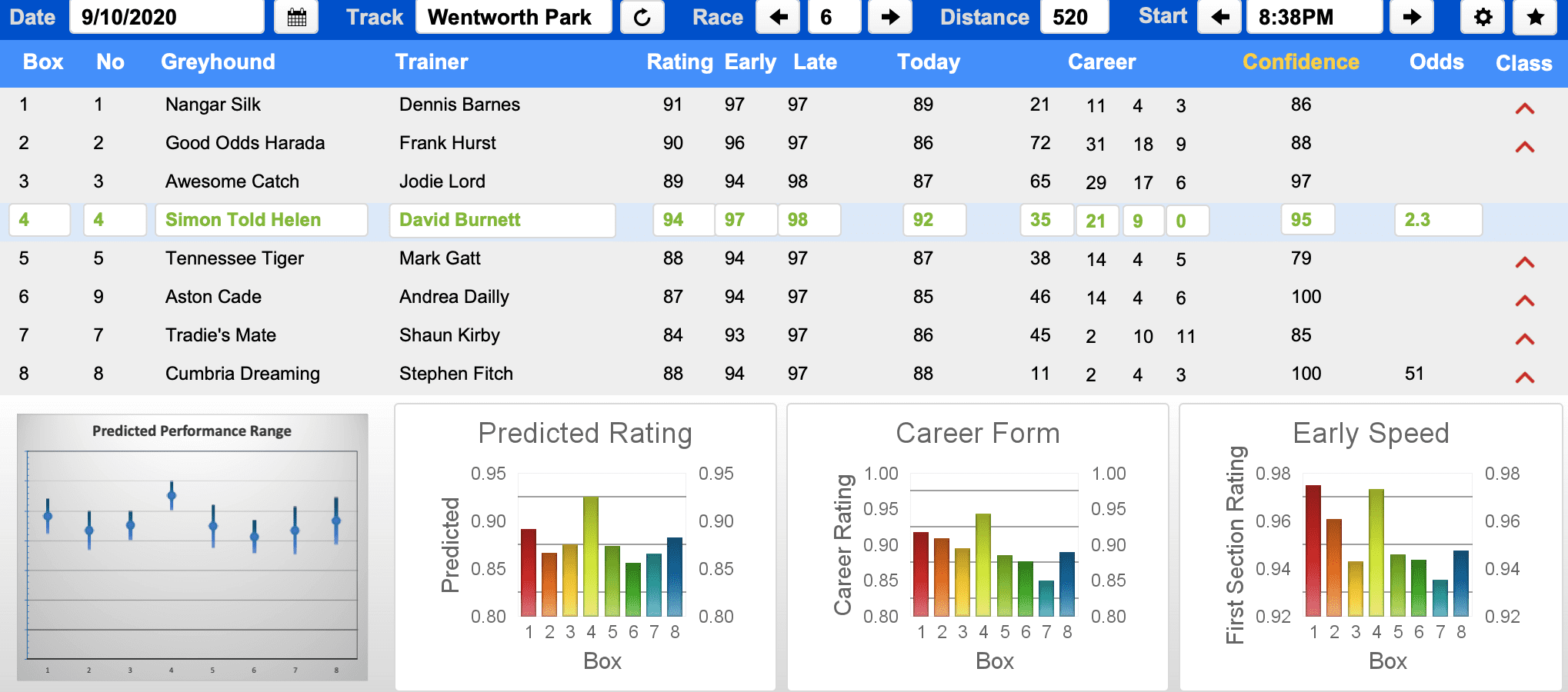 2020 MDC Semi Final 6 Betting Preview
Million Dollar Chase Semi Final 6 looks another put in and take out opportunity with Simon Told Helen clearly graded to win on best form. But is he in best form? Won his way through to the semi finals through the Temora region al qualifiers, and while he beat the locals convincingly and in fast time; there was some cause for concern when he had plenty of ground taken off him the run to the line in the Temora final. Those two Temora wins followed the worst run of his career when flopping in a Meadows Free For All race finishing at the tail. infamously run down by Weblec Ace in the 2020 Victorian Sprint Championship when looked all over the winner. If he's right, he wins and the $2.20 represents value. if you want to play something at odds Cumbria Dreaming at $34.00 is talented and more than capable of taking this out if the favourite doesn't fire.


Warning: count(): Parameter must be an array or an object that implements Countable in /home/australianracinggreyhoundzzz/webapps/app-australianracinggreyhound/wpress/wp-content/plugins/Odds-Compare/vendor/guzzlehttp/guzzle/src/Handler/CurlFactory.php on line 67

---
Million Dollar Chase Semi Final 7 Tips, Odds & Betting Preview
2020 MDC Semi Final 7 Betting Preview
The seventh of the MDC Semi's is the most open of all of the eight races. Literally anything could win this. The early pace sits with Siberia, Irinka Tessa, Kooringa Lucy and Bland Purr. Both Siberia and Irinka Tessa lack local track knowledge and that could spell first corner trouble for the field if they get lost in traffic. Winlock On Top has drawn the rails and has the best finish in the race so is well drawn to get under any interference and chase down a weak leader but offers no value at $2.90 as his winning chances rely too much on luck in running. Happy to play the roughie from Tassie in this race with Siberia being sent out at $35.00. Has a good dogs record of 12 wins from 20 starts, and though having his first look at Wenty; has a big 36kg frame to push around the track and through others. Will give a huge sight if he can get close to leading past the post the first time.


Warning: count(): Parameter must be an array or an object that implements Countable in /home/australianracinggreyhoundzzz/webapps/app-australianracinggreyhound/wpress/wp-content/plugins/Odds-Compare/vendor/guzzlehttp/guzzle/src/Handler/CurlFactory.php on line 67

---
Million Dollar Chase Semi Final 8 Tips, Odds & Betting Preview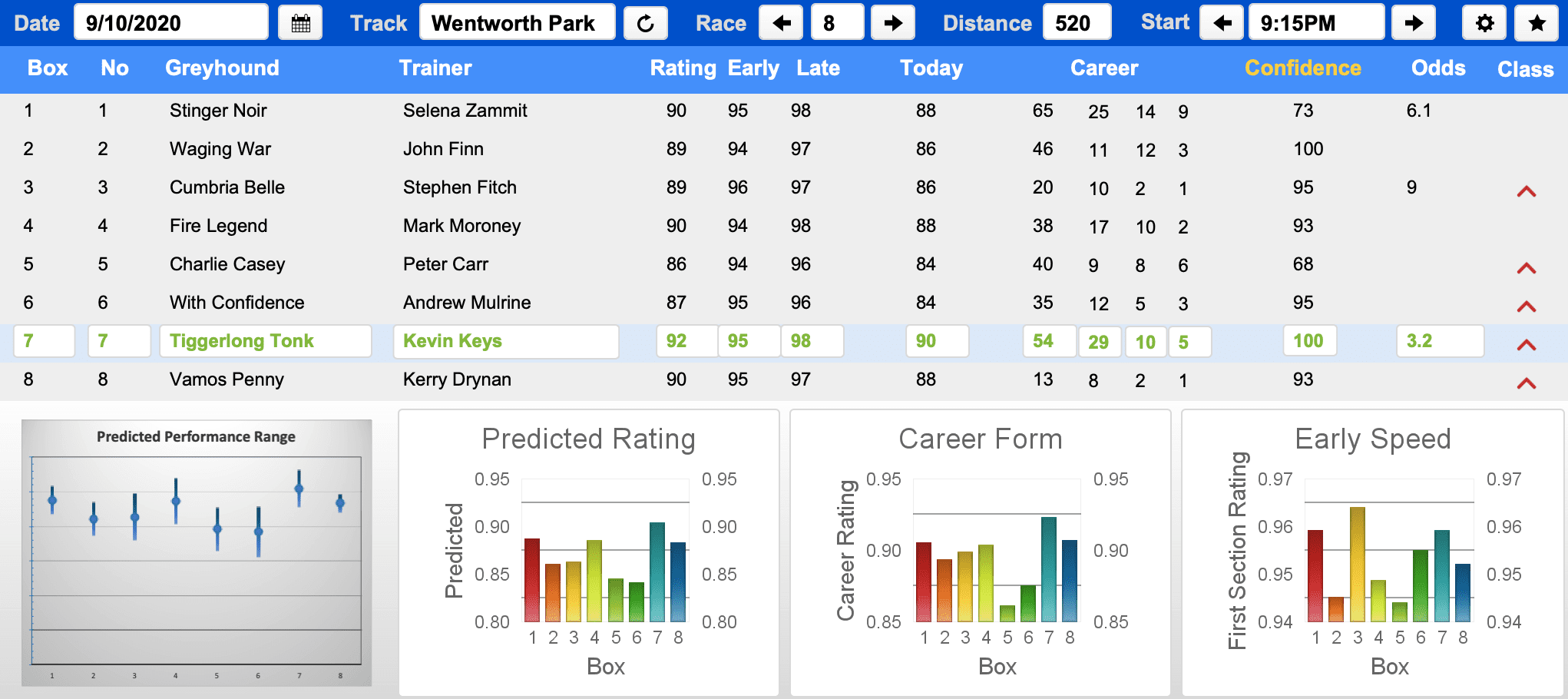 2020 MDC Semi Final 8 Betting Preview
Victorian Tiggerlong Tonk comes to Wentworth Park though the Wagga regional qualifiers where he won his heat and final easily. Hasn't started here under race conditions but did trial 30.12 at the track last week. Will need to show natural improvement on that trail to win this, but looks the races natural leader from out in box seven tonight. Tiggerlong Tonk does not get run down when he leads, so if he begins then the race is over; there is nothing in this that can run him down. We have him priced $2.70 and are being offered $3.20, so we have to be on. Stinger Noir is drawn to get a good run from the rails and looks next best at an each way price.


Warning: count(): Parameter must be an array or an object that implements Countable in /home/australianracinggreyhoundzzz/webapps/app-australianracinggreyhound/wpress/wp-content/plugins/Odds-Compare/vendor/guzzlehttp/guzzle/src/Handler/CurlFactory.php on line 67