Tuesday greyhound racing tips for 8th August 2017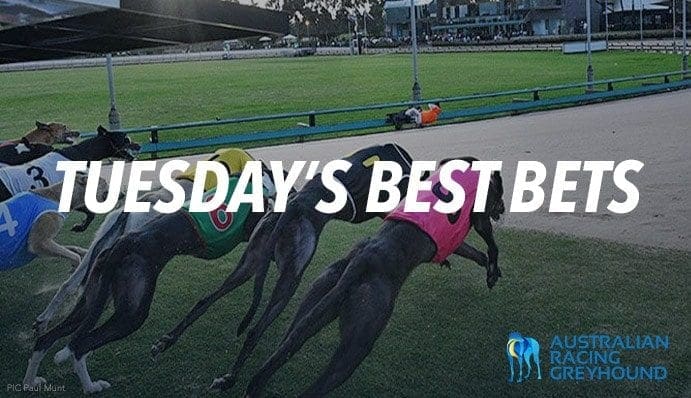 WELL we didn't see that coming but to be honest we were brutally unlucky. Having secured $1.90 about Rhynstone Teddy (Paw Licking x Pearl's Bonnie Sep '15) he stepped out as short as $1.30 in some places, jumped well, looked like leading, then wanted to get off the track a little and jammed himself in to a difficult spot. To his credit he managed to overcome the interference and flew late to get third; but that didn't help us as we'd onloaded on a win. We have to wipe it off and be happy in the knowledge we got our money in good and sent it around paying "overs".
Over in WA, Finn's Entity (Fabregas x Girl Aloud Aug '14) stepped up for the first time to the 588m distance and as we predicted, swooped on the lead early and ran it right out to the line to win in 34.65. Starting as short as $1.40, we were able to get $2.20 about a greyhound that has now won four of seven starts from boxes seven and eight. The win is a fair way outside Jimmy Margetts 2015 track record of 34.05, but a very good effort nonetheless.
Yesterday's Greyhound Tip Results
| Turnover (Units) | Our Avg Price | Avg SP | Avg Bet | Value (Units) | Return (Units) | Strike Rate | Profit/Loss (Units) | Profit On Turnover |
| --- | --- | --- | --- | --- | --- | --- | --- | --- |
| 26 | 2.79 | 3.49 | 4.35 | +1.56 | 13.2 | 25% | -12.8 | -49% |
One week in to our free greyhound tipping service and we've unearthed some up and coming stars we can follow with confidence, and we've had our share of bad luck. The variance has not been on our side early, but will average out over time. (See the latest Australian Racing Greyhound News print version for an explanation of variance).
August Greyhound Tip Results
| Turnover (Units) | Our Avg Price | Avg SP | Avg Bet | Value (Units) | Return (Units) | Strike Rate | Profit/Loss (Units) | Profit On Turnover |
| --- | --- | --- | --- | --- | --- | --- | --- | --- |
| 82 | 2.68 | 4.09 | 4.94 | +2.26 | 57.75 | 29% | -24.25 | -30% |
Horsham Greyhounds
Best Bet: Race 2 Box 5 Zipping Jacy – Deposit $50 & bet with $150 on Topbetta's Global Tote
Zipping Jacy (Dyna Tron x Yarramundi Flash Aug '15) had a look at the track last week over the 410m and is ideally placed in a 1-3 Win heat here over 485m this week. Had no luck last week, jumping evenly suffering multiple interferences yet still running on strongly or third. Horsham looks a track that suits those that can finish on, and Zipping Jacy who has won three of five starts is well suited today to outpace favourite Master Rico to the first corner and hold him out, or run him down in the home straight.

Zipping Jacy Betting Strategy
| Bet Type | Assessed Price | Bet Units | Confidence |
| --- | --- | --- | --- |
| Win | $2.75 | 8 | High |
Warragul Greyhounds
Best Bet: Race 6 Box 1 Crash Bandicoot – $500 Free Bet at Ladbrokes
Crash Bandicoot (Collision x J's Robin Jul '15) debuted in Victoria last start for trainer Anthony Azzopardi and looked to have been enjoying the change, putting four successive winless runs behind him and and railing up under the field over 425m at Bendigo from box one. Has drawn the same box tonight, has a 100% record from the box despite the tardy starts, and only has to step away near enough to them to win. Fastest dog in the field who can win from behind if needed.

Crash Bandicoot Betting Strategy
| Bet Type | Assessed Price | Bet Units | Confidence |
| --- | --- | --- | --- |
| Win | $1.80 | 8 | High |
Ipswich Greyhounds
Best Bet: Race 9 No 9 Box 7 Ailla
Ailla (Magic Sprite x Mon Cherie Feb '14) was an each way play for us last week. We rated her a $3.60 chance and she was sent around over $20. Only bad luck and an average get away stopped her zooming around in to the placings, ultimately finishing a fair fifth. Sneaks in as reserve today in field which if anything is slightly weaker. Has the quickest winning time here and will blow them away if allowed a fair crack at them at any stage. We have her a $6 chance today but you're getting over $20.

Ailla Betting Strategy
| Bet Type | Assessed Price | Bet Units | Confidence |
| --- | --- | --- | --- |
| Win & Place | $6.00 | 4 Win & 4 Place | High |
Gosford Greyhounds
Best Bet: Race 10 Box 2 Stately Boy – Crownbet deposit $40 bet with $140 offer
Scratchings have really thrown this event wide open. Two slow beginners come in to boxes one and three, and both favourites are drawn off the track in seven and eight; any contact between them and Stately Boy (Surf Lorian x Stately Sapphire Jun'15) will be able to capitalise from box two. He is the veteran of just two starts but importantly did win on debut at Muswellbrook in 19.72 (best). Looks the only logical bet outside the favourites and this is just value betting as he is quoted at almost twice his assessed price and we can have an each way play.

Stately Boy Betting Strategy
| Bet Type | Assessed Price | Bet Units | Confidence |
| --- | --- | --- | --- |
| Win & Place | $4.00 | 4 Win & 4 Place | High |
Today's Greyhound Tip Results
| Turnover (Units) | Our Avg Price | Avg SP | Avg Bet | Value (Units) | Return (Units) | Strike Rate | Profit/Loss (Units) | Profit On Turnover |
| --- | --- | --- | --- | --- | --- | --- | --- | --- |
| 32 | 3.64 | 7.55 | 9.65 | 6.01 | 44.8 | 50% | +12.8 | +40% |
Similar Greyhound Racing News