Blackpool Chuck aiming to rule at the 'Bool in Cup final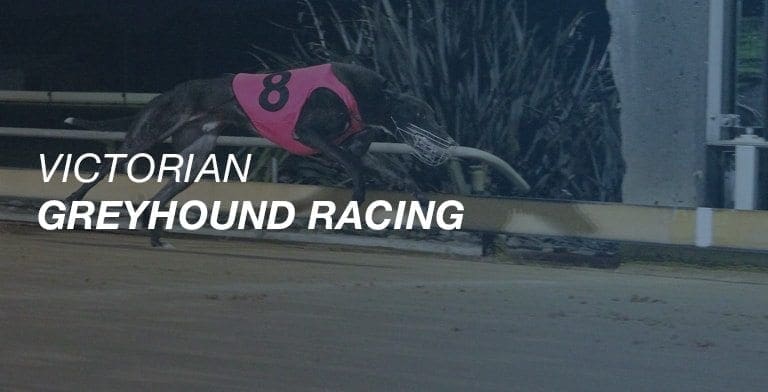 LESLIE Kenyon will carry the hopes of all hobby trainers this Wednesday night when his star sprinter Blackpool Chuck lines up in the final of the Group 2 Warrnambool Cup (450m).
Kenyon is the only non-professional trainer in the race, which is headed by Group 1 Golden Easter Egg winner Striker Light for Brett Bravo.
Blackpool Chuck, a son of Cosmic Rumble and Izzy Marlow, qualified for the $47,000 final with a solid victory in his heat last week, overcoming early bother to find the front and defeat Reefton Treasure in 25.40.
Despite his finishing time being nearly half a second slower than the fastest qualifier, Kenyon still gives his charge a chance of capturing the title.
"It is a very good field, but I think he will improve off last week's effort because he had a bumping duel with the seven up to the first turn when he hit the front," Kenyon told Australian Racing Greyhound.
"After what happened in the first 100m I was very pleased with the run – he beat some very good dogs and he showed enormous determination.
"He hadn't been to the track in for two months and he had never seen the hoop arm before so I was very impressed.
"Provided he doesn't find any trouble, I expect his first section will be far better this week and I actually expect him to lead the field.
"There are some brilliant dogs in the final including the Golden Easter Egg winner [Striker Light], but anything can happen in a final.
"I know he is up to the task."

A winner of seven from 19 with six minor placings, Blackpool Chuck has won three of his past five starts including a slick 25.29 run at Ballarat late last month.
With solid recent form to his name, Kenyon says now is the time to test Blackpool Chuck at a higher level of racing.
"He is 100 per cent honest – he will chase anything which is the best thing about him," Kenyon said.
"His record shows that – he has had 19 starts and never finished any further back than fourth.
"Two weeks ago at Ballarat he pinged to the front and ran really good time and that was what made us decide to put him in the Warrnambool Cup.
"We try not to push the young dogs – we like to give them time to mature – but this bloke has always shown the ability and I think he is ready to make the next step up."
Kenyon, who has dogs with his son Adrian and daughter-in-law Renee, only started training again recently after a decade out of the industry, and says it would be an enormous thrill to land his biggest career win on Wednesday night.
"I got dogs back in the 1970s but I got out of them about 10 years ago.
"I always said I'd never get back into them because they take up a lot of time, but then my son brought a five-acre property out at Lara and he convinced me to get a couple of dogs.
"They never get out of your system and now I am glad I took it back up again because we are having a real good run at the moment.
"We have got some nice dogs at the moment, but Chuck would have to be the most genuine dog we have got – he gives his all every time.
"It would be great if he were able to win the final – it's not even about the money, it would just be a huge thrill because of the achievement.
"But at the end of the day, although it would be nice to win the race, I am happy just to be in it."