Brothers shooting for group 1 double at The Meadows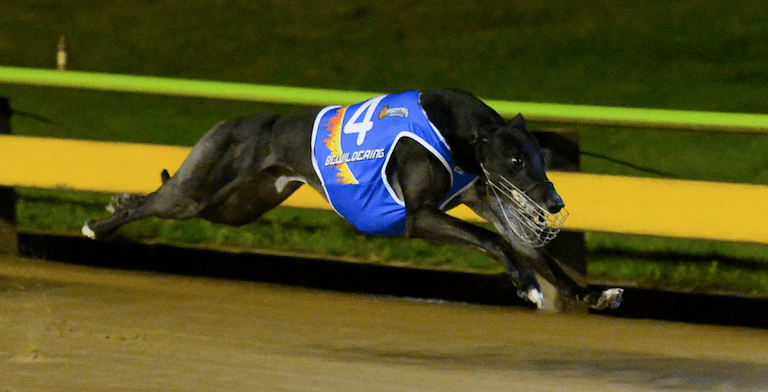 COUSINS Bill and Serge Buccilli are pinching themselves after their star litter brothers Bewildering (Black Magic Opal x Outlandish Feb '15) and Extreme Magic both got a start in the Group 1 Invitation-only features at The Meadows this weekend.
Bewildering – a three-time group winner – will be having his first start since December 21 when he jumps from box four in the Group 1 Temlee (525m) against a cracking field including three of his kennel mates – Aston Dee Bee, Out Of Range and Poke The Bear – all of which are trained by Seona Thompson.
Also making the $100,000 to the winner feature are dual group 1 winners Striker Light and Raw Ability, as well as Melbourne Cup place-getter Kouta Mayhem and Queenslander Slick, which gained a start as the first reserve following the scratching of Fast Times.
But Bewildering is a talented chaser in his own right too, being the winner of the Group 2 Warrnambool Classic, the Group 3 Speed Star and the Group 3 Silver Bullet.
Buccilli, who raced the duo's Melbourne Cup winning sire with Team Thompson, is hopeful Saturday will be the night Bewildering finally breaks through for his first win at the highest level.
"He has had a good little break and he is coming along nicely from all reports, so hopefully he can sprint well fresh and put himself in the race," Buccilli told Australian Racing Greyhound.
"He has been knocking on the door of a group 1 win so I'd love to see him finally get one – especially because he is Max's boy [Black Magic Opal] and we bred him – it makes it pretty special."
Buccilli says he is trying not to be put off by Bewildering's poor box draw – having already won four races wearing the blue stretch vest throughout his career.
"He can't seem to draw a decent box in these races, but I'm trying to stop thinking about it to be honest.

"I am trying to stay positive and think how lucky we are to be in these races – you can't win them sitting at home in the kennel.
"He won the Silver Bullet off box four so he can do it, we'll just have to cross our fingers for a little bit of luck."
Bill and Serge will also team up with Thompson in the Rookie Rebel when the injury plagued Extreme Magic jumps from box seven. The black dog comes into the race as a last start winner, having scored a slick 30.62 win at Ballarat over 545m on February 7.
He has now won two of his three starts since resuming from a two-month break including a brilliant last to first performance at The Meadows. Buccilli praised the Thompson family for getting both boys back to their best in time for the features, particularly Extreme Magic which has had an interrupted career, having missed around eight months of racing in the past year.
"He has got a heart as big as himself," Buccilli said.
"To come back from injuries like he has a couple of times is no easy task and his last couple of wins have just been enormous.
"The 600 definitely suits him this week and he nearly broke Dyna Double One's track record at The Meadows off box seven so he is capable of winning from the draw.
"With a bit of luck hopefully he can stay out of trouble early – once he gets going he picks up his speed very quickly so it will just be a case of making it around that first turn."
As for which brother is his best bet of the night, Buccilli was stumped.
"I won't be greedy and say I want both to win, although they probably both deserve a group win," he said.
"I honestly can't pick between them. I genuinely think they are both capable of winning and I'd take either one."
The Group 1 Temlee (525m), Rookie Rebel (600m) and Zoom Top (725m) will all be run and won at The Meadows this Saturday night.
More Greyhounds News