Campbell has a shot at landing the money in Dapto Maiden Classic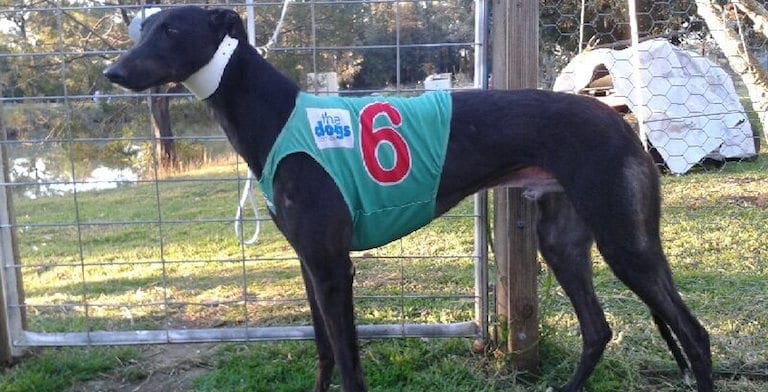 TIME Lee Money (Brett Lee x Time And Money Oct '15) stamped himself as a genuine contender heading into this week's Group 3 Dapto Maiden Classic (520m) with a terrific 29.94 success in his semi-final of the series last Thursday night.
Despite only beginning fairly from box six, the Donna Campbell-trained greyhound worked his way into second around the first turn, slipping into top gear down the back and sprinting clear to score by ten-and-one-quarter lengths over Maximum Drive (Barcia Bale x She's A Pedro Dec '15).
It was a sharp improvement on his run the week prior when finishing five lengths second in his heat, with Campbell explaining he derived plenty of benefit from that debut performance.
"I think he put a lot of people off in his heat – he seemed to get a bit of stage fright at his first start – but he was better for the experience in his semi-final," Campbell told Australian Racing Greyhound.
"I wasn't surprised. He has always showed that he is going to be a good dog and although he still isn't jumping as well as he can, I think that is something that will come to him with time."
Time Lee Money is owned by Dean Leydecker and is certainly bred to run, being by champion race dog and sire Brett Lee (Gun Law Osti x Sobbing Sal Jan '99) out of Golden Easter Egg finalist Time And Money (Slater x Black Sea Oct '08).
Time And Money has proven to be a top producer, with her offspring including Group 3 Nowra Puppy Classic winner Tiempo Dinero (El Grand Senor x Time And Money Feb '15) and his equally talented litter brother Big Black – both of which are trained by Campbell.
"He is a very nervous dog – he is very highly strung – he is the complete opposite to his older half brothers Tiempo Dinero and Big Black which you nearly have to wake up to race," Campbell said.
"At the same age as the first litter he is better – first look out of the Bulli puppy boxes he went 15.80 which is very fast – the other pups only went 16.20 their first look.
"He went 20.50 at Nowra and 19.70 at Goulburn so right from the start he has shown that he can run."
Whilst Time Lee Money still has a long way to go to emulate the success of his older brothers, Campbell says he looks like he could be something special.
"When the owner went to pick him up from break in they hadn't even put him around the last week. On the ticket where it says fourth trial it just had 'do not run'.
"When he asked what that meant he was told that he is a very special dog – he was told that he broke in on par with Zambora Brockie.
"Of course they always have to go on with it when they get into work and start racing, but I think once he learns what it's all about he is going to be a nice dog."
Time Lee Money will have to overcome box six to take home the $25,000 winner's cheque, but with a few runs and some race experience under his belt, Campbell is hoping he can put his best paws forward on Thursday night.
"If my dog can slot in second or third early I give him a good chance – but they are a field of eight babies so anything can happen."
Group 3 Dapto Maiden Classic
Thursday August 31, 2017 – 520m – $25,000
1 – Rockstar Kobe
2 – Maximum Drive
3 – Pirate's Curse
4 – Ben Hur
5 – Off The Leash
6 – Time Lee Money
7 – Maggie Marvel
8 – Fiery Crash
Reserves
9 – Ask King Jeff
10 – Velocity Korina
Similar Greyhound Racing News