Dargusch pair ready to fire in QGOLD finals at Albion Park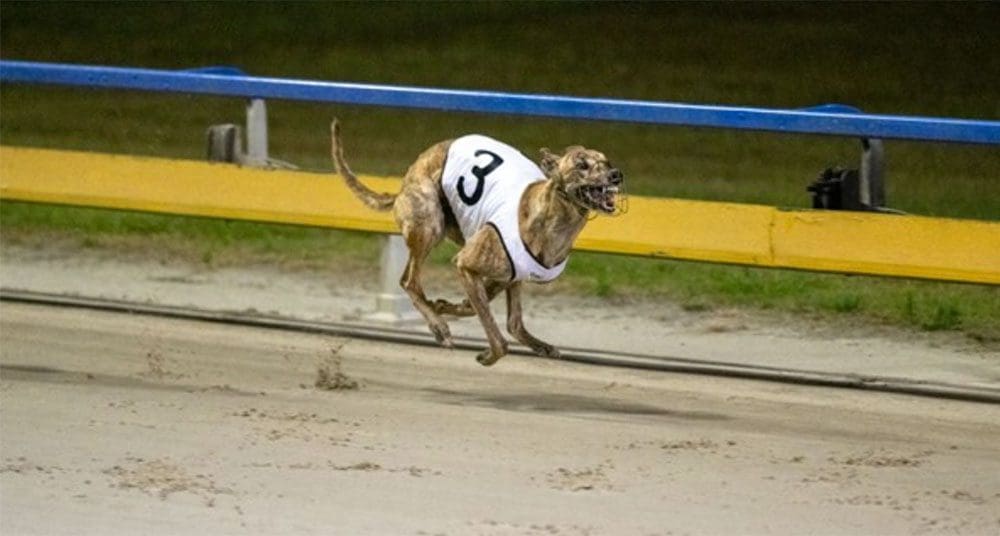 When Casey Dargusch heads to Albion Park for the finals of the QGOLD series this Thursday she will have two handy chasers ready to be unleashed on the track.
Pink Summer stamped her ticket into the QGOLD Emerging Sprinters Final with an all-the-way win her heat last week.
Running the 520m in 30.15, the Zambora Brockie x Blue Texada bitch has won four times and placed three times from 11 starts over the track and distance.
Trainer Dargusch said that box draw would be vital for her chaser.
"Box draw will be the key with her," she said.
"We don't want the one, seven, or eight.
"If she draws well, I think she can go well.
"She has good early speed but don't think she can jump like she did last week again but would be great if she did."
---
2023 QGOLD Emerging Sprinters Heat 3 replay
Winner: Pink Summer (30.15)

---
Now with the draw finalised and knowing she will jump from the five, Dargusch said it was a fair draw for Pink Summer.
"The draw isn't too bad," she said.
"Would have preferred a bit closer in but that's racing.
"The one (Plum Tuckered) will be hard to beat.
"We just have to hope she can jump close to last week and she should go well."
Plum Tuckered, trained by Graham Hall, will line up looking to make it four wins from her past five starts and having won the heat in 30.05.
The Travis Elson-trained Bear's Bullet will be sure to be challenging for spoils having finished second in the Group 3 Brisbane Young Guns Final a fortnight ago.
---
2023 QGOLD Emerging Sprinters Final Box Draw & Field

Albion Park520mListed Race$15,600 to the winnerThursday, May 25

1

Plum Tuckered

T: Graham HallF: 1211Career: 17: 7-1-1Prizemoney: $33,975

2

Mumma's Brew

T: Travis ElsonF: 2732Career: 16: 2-3-5Prizemoney: $11,145

3

Bear's Bullet

T: Travis ElsonF: 1222Career: 22: 8-6-1Prizemoney: $63,865

4

Villante

T: Chris BrydonF: 2813Career: 38: 9-9-6Prizemoney: $37,830

5

Pink Summer

T: Casey DarguschF: 1631Career: 29: 9-4-3Prizemoney: $39,715

7

Teddy James

T: Dyllan HeddlesF: 5231Career: 46: 13-9-8Prizemoney: $42,145

8

Get Carter

T: Grant FranklinF: 2463Career: 41: 6-10-11Prizemoney: $33,245

Reserves

9

Obliging Lionel

T: Cyndie ElsonF: 1553Career: 7: 2-0-3Prizemoney: $11,050

10

Ally Gal

T: Jedda CutlackF: 7344Career: 30: 10-5-3Prizemoney: $37,920
---
The other Dargusch-trained hope for the night will be in the QGOLD Bolt Final over 395m with Bora Blue.
The full sister of Pink Summer has not been seen winning since last month at Ipswich in a tight 0.25-length finish over Ally Gal.
Dargusch said she was happy with Bora Blue's performance in the heats when finishing second behind Magical Cyndie, who recorded the fastest time from the May 21 qualifiers.
"We were very happy with Bora's performance and we had freshened her up for those heats," the trainer said.
"She was unlucky not to finish closer to the winner.
"She got caught up which cost her a few lengths but she finished on well."
Dargusch admitted she wanted to draw wide with Bora Blue for the final, and she had that wish granted with box seven for Thursday night.
"Pretty happy with her draw," she said.
"There will be a lot of pace inside so being out wide may help.
"It it will be a very good race and the start will determine the outcome I think."
Carton Of Bear won his heat leading the whole way and clocking 22.67s beating home Feel The Beat, who has eight second-placings and a third-placing from his last 11 starts.
"Once again he did everything right and hit the line well which we expected," trainer Brent Kline said.
---
2023 QGOLD Bolt Heat 2 replay
Winner: Carton Of Bear (22.67)

---
He will come out of box five for the final, a box that he is unbeaten from.
Kline said he was happy with the run in the heats but was not overly confident regarding the box for the final.
"We were very happy with his run," the Karalee-based trainer said.
"The box draw helped a lot against the good quality dogs in the race.
"For a young dog to use box one to his advantage was great to see.
"It is a terrible box for the final.
"Feel The Beat from the red and Magical Cyndie (2) are drawn perfectly and they will be hard to beat now.
"He (Carton Of Bear) will be running on but most likely will give the leaders too much of a head start."
---
2023 QGOLD Bolt Final Box Draw & Field

Albion Park395mClass 1$12,545 to the winnerThursday, May 25

1

Feel The Beat

T: Sandra HuntF: 2222Career: 93: 19-25-14Prizemoney: $128,650

2

Magical Cyndie

T: Cyndie ElsonF: 0141Career: 111: 33-28-9Prizemoney: $132,595

3

Polly's Express

T: Rob PurtleF: 7141Career: 21: 6-3-2Prizemoney: $16,350

4

Comical Cyndie

T: Cyndie ElsonF: 1333Career: 19: 8-2-4Prizemoney: $21,545

5

Carton Of Bear

T: Brent KlineF: 1261Career: 14: 7-2-2Prizemoney: $17,390

6

Selwood Hayze

T: Sandra HuntF: 1562Career: 49: 18-8-8Prizemoney: $54,360

7

Bora Blue

T: Casey DarguschF: 1682Career: 32: 11-3-2Prizemoney: $32,540

8

Scarlet Oak

T: Jayson ValentineF: 3213Career: 5: 2-1-2Prizemoney: $5,980

Reserves

9

Majestic Man

T: Shane ToppingF: 5643Career: 94: 10-20-16Prizemoney: $43,755

10

Mitchell's Lass

T: Patricia CarringtonF: 6324Career: 17: 3-1-3Prizemoney: $9,730
---
Similar Greyhound Racing News