Fahey kennel holds strong hand for Addington feature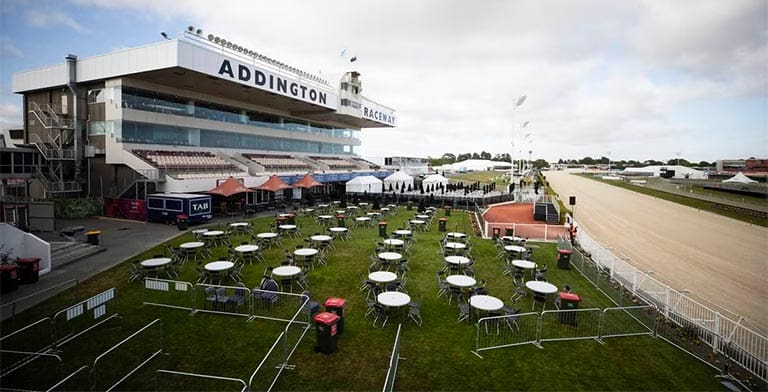 With Cyclone Gabrielle wrecking havoc across the North Island of New Zealand and taking care of the two greyhound meetings set down for this week, we turn our sights south for the high-grade meeting at Addington on Thursday evening.
The Springston Hotel Distance has drawn a nice field of emerging and experienced greyhounds, with every dog seeming to have had their turn atop the dais.
Top trainers Jean & Dave Fahey have a strong hand in the race with three of the eight runners, and the enigmatic Centurion could be the pick of them. He didn't show much interest last start over the 645m, but at his start prior of this longer trip he crossed over from a wide box and, once seeing the lure, went into overdrive, winning by three lengths in under 43 seconds.
His kennelmate Opawa Chrissy was back to her best when beating him and leading all the way over the 645m last time out. She hadn't had all favours from unsuitable box draws leading in that run and will again appreciate being close to the rails. If she can lead early then they will all have something to peg back.
Rounding up the Fahey trio in the red rug is Opawa Anita, who was a brave runner-up behind her kennelmate last start. Even though there are still some queries about her over this extreme distance, she can't be totally overlooked when considering your multiple wagers.
The Gary Cleeve-trained Know Keeper jumping from the gold box needs no introduction, as he has been at the top of his game for some time and is also a sub-43-second winner over the distance. He has won over half of his 45 starts and has banked over $300,000. He does like a bit of clear air but is also strong enough to make his own luck in the running and can never be discounted.
The Craig Roberts-trained pair of Rohan Bale and Grande Vue Ace are also live chances. Rohan Bale just kept on running into trouble last start when going down as a hot favourite behind Opawa Chrissy and had to settle for third place.
It was a perplexing effort, as at his start prior he was a winner by nearly 10 lengths in a quicker time. As they say in racing, there is no such thing as a certainty. This distance holds no fears for him and he is just as likely to come out and put on a clinic.
His kennelmate Grande Vue Ace was a last-start 732m winner and is showing a lot of promise in the staying role. She will have to improve her overall times to be competitive here but is certainly one to follow throughout the year.
2023 Springston Hotel Distance Box Draw & Field

Addington645mC2D$5,500Thursday, February 16

1

Opawa Anita

T: J & D FaheyF: 5642Career: 57: 13-9-9Prizemoney: $52,380

2

Goldstar Walker

T: RL EvansF: 5333Career: 47: 5-3-14Prizemoney: $22,707

3

Opawa Chrissy

T: J & D FaheyF: 4251Career: 58: 19-10-4Prizemoney: $61,047

5

Rohan Bale

T: AC RobertsF: 1313Career: 38: 13-7-5Prizemoney: $39,715

5

Know Keeper

T: GA CleeveF: 1212Career: 80: 40-20-6Prizemoney: $304,644

6

Grande Vue Ace

T: DA RobertsF: 1471Career: 34: 8-8-5Prizemoney: $25,390

7

Centurion

T: J & D FaheyF: 6216Career: 42: 11-8-9Prizemoney: $59,611

8

Zipping Ontario

T: AC RobertsF: 2432Career: 65: 16-17-13Prizemoney: $113,695
Similar Greyhound Racing News