Finalists released for South Australian greyhound of the year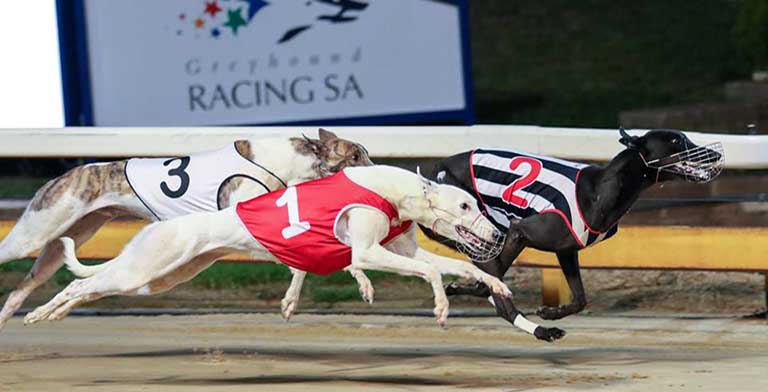 THE Greyhound South Australia (GRSA) has released the finalists for the 2018 SA Greyhound of the Year.
The panel members will now cast their individual votes on the title, with the winner announced at the Awards Dinner at Gawler on Saturday 23rd February.
The Greyhound of the Year Panel members are also voting on the SA Bred GOTY, SA Distance GOTY and SA Sprinting GOTY to be announced at the Awards Dinner.
The Finalists are:
CAIRNLEA JET
2018 Starts 36-1sts 17, 2nds 2, 3rds 3
(Bekim Bale x Cairnlea Elle)
Owner – Jan Hubbard
Trainer – Petar Jovanovic
2018 Prizemoney – $57,070
Greyhound of the Month – April – (scored votes in 2 months)
Won – Heat & Final Anniversary Cup
Heat & Final SA Launching Pad Series (G2 – fourth in Heat & second in Semi Final at Sandown)
Heat Shane McQueen 600m Feature (sixth in Final)
Heat State National Distance Championship (fourth in Final)
Third – Heat Adelaide Cup (G1)
Fourth – State of Origin Match Race Series
Best Times:
29.45 (515m Angle Park)
35.04 (600m Angle Park)
43.09 (731m Angle Park)
FABWIK
2018 Starts 35-1sts 20, 2nds 4, 3rds 5
(Fabregas x Wikena)
(SA Bred)
Owner – Kirin Corby
Trainer – Kirin Corby
2018 Prizemoney – $57,648
Greyhound of the Month – (scored votes in 4 months)
Won – Heat Adelaide Cup (G1 – fourth in Final)
Heat SA Launching Pad Series (third in Final)
Heat Breeders Prelude (2)
Heat Howard Ashton (G3 – seventh in Semi Final)
Doug Payne SA Bred Feature
Kate's A Scandal Xmas Sprint
Second – Heat Gawler Future Stars
Heat Gawler Gold Cup (G3 – fifth in Final)
Third – Final SA St Leger (third in Heat & second in Semi Final)
Heat Gawler Produce
Best Times:
29.48 (515m Angle Park)
31.01 (531m Gawler)
HONCHO MONELLI
2018 Starts 45-1sts 20, 2nds 12, 3rds 5
(Mogambo x Jackie Bale)
Owners – Tim Aloisi & Matthew Lehman
Trainer – Tony Rasmussen
2018 Prizemoney – $121,850
Greyhound of the Month – March, May, October & November – (scored votes in 7 months)
Won –Heat Anniversary Cup (second in Final)
Match Race Series at Sandown
Heat State National Sprint Championship (second in SA Final)
Heat Adelaide Cup (G1 – third in Final)
Heat & Final Gawler Cup (G3)
Second – Heat John Gray Grade 5
Third – State of Origin Match Race Series
Kate's A Scandal Xmas Sprint
Best Times:
29.42 (515m Angle Park)
35.02 (600m Angle Park)
30.63 (531m Gawler)
29.76 (525m Meadows)
34.77 (600m Meadows)
29.61 (515m Sandown)
NATIONS
2018 Starts 26-1sts 14, 2nds 3, 3rds 1
(Barcia Bale x Haves)
Owners – Tim Aloisi, Damien Bates, Michael Mcsorley & Matthew Lehman
Trainer – Tony Rasmussen
2018 Prizemoney – $49,231
Greyhound of the Month – September – (scored votes in 2 months)
Won – Heat State National Sprint Championship (fell in SA Final)
State of Origin Match Race Series
Second – Heat Shane McQueen 600m Feature
Adelaide Cup Consolation
Fourth – Heat Adelaide Cup (G1)
Best Times:
29.55 (515m Angle Park)
34.66 (600m Angle Park)
30.96 (531m Gawler)
34.59 (600m Meadows)
SHIMA BREEZE
2018 Starts 28 -1sts 13, 2nds 7, 3rds 4
(Fernando Bale x Shimaguni)
Owners – Tim Aloisi & Matthew Lehman
Trainer – Tony Rasmussen
2018 Prizemoney – $61,907
Greyhound of the Month – December – (scored votes in 4 months)
Won – Heat SA Oaks (G3 – second in Final)
Heat & Final Strathalbyn Cup
Heat Gawler Gold Cup (G3 – second in Final)
Heat & Semi Final Sandown Laurels (G2 – third in Final)
Second – Heat Champion Puppy (eighth in Final)
Best Times:
29.54(515m Angle Park)
30.88 (531m Gawler)
31.07 (536m Strathalbyn)
29.32 (515m Sandown)
29.55 (515m Angle Park)
34.66 (600m Angle Park)
30.96 (531m Gawler)
34.59 (600m Meadows)
SHIMA BREEZE
2018 Starts 28 -1sts 13, 2nds 7, 3rds 4
(Fernando Bale x Shimaguni)
Owners – Tim Aloisi & Matthew Lehman
Trainer – Tony Rasmussen
2018 Prizemoney – $61,907
Greyhound of the Month – December – (scored votes in 4 months)
Won – Heat SA Oaks (G3 – second in Final)
Heat & Final Strathalbyn Cup
Heat Gawler Gold Cup (G3 – second in Final)
Heat & Semi Final Sandown Laurels (G2 – third in Final)
Second – Heat Champion Puppy (eighth in Final)
Best Times:
29.54(515m Angle Park)
30.88 (531m Gawler)
31.07 (536m Strathalbyn)
29.32 (515m Sandown)