GBOTA Chairman cops criticism for online activity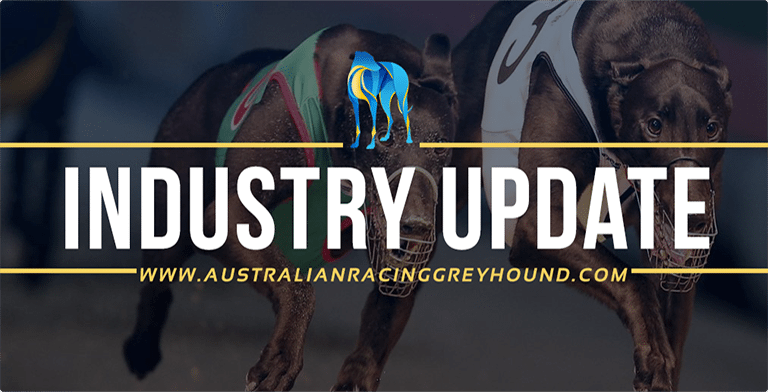 FORMER greyhound trainer John Ayoub is demanding NSW Greyhound Breeders, Owners and Trainers Association Chairman Geoff Rose be stood down after recent comments he made on social media.
Rose took to Facebook on Monday and shared an article released by Greyhound Racing NSW (GRNSW) in February 2016 that announced Ayoub had been banned for 12 months after his greyhound returned a positive urine sample to caffeine.
Rose shared the article with the caption 'Dose anybody know this bloke he drugs dogs' – with the post causing a major storm in greyhound racing circles with many questioning whether it was appropriate for the Chairman of the state's largest participant body to be singling out and attacking one trainer.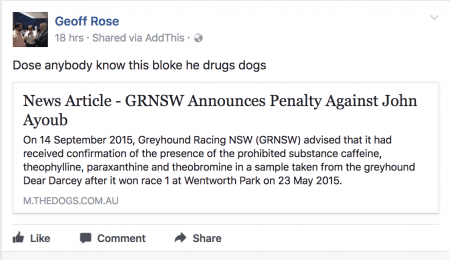 "You would hope that somebody that holds the position within the game that you do would be above childish antics like this," one participant wrote.
"It beggars belief why you would think this is ok??? I'm embarrassed for the organisation you lead Geoff. Surely you can't think this type of behaviour is acceptable?"
Ayoub himself was outraged by the post and is planning on making an official complaint against Rose.
"He shouldn't have put anything on Facebook. If I was high up in any other industry and put something like that on Facebook, I'd be sacked," Ayoub told Australian Racing Greyhound.
Rose's post followed one made by Ayoub on July 9 where he shared an article published by Australian Racing Greyhound in 2009 which documented an inquiry into Rose who had been embroiled in a swab fiasco earlier that year.
The specifics of the inquiry were that Rose, the Chairman of the Gunnedah Greyhound Racing Club, had taken custody of swab samples from the Gunnedah meeting on January 31, 2009, with one of the swabs having been taken from one of his own greyhounds.
An inquiry was opened when the swab samples and paperwork from the meeting failed to arrive at the GHRRA offices.
The inquiry delivered an open finding, with no charges laid against Rose.
Ayoub, whose greyhound Dear Darcey returned a low level reading to caffeine last year, did not dispute his guilty verdict and has served his time on the sidelines after admitting to giving his greyhound a cup of tea on the morning of the race.
However, he said by sharing the article on Rose he hoped to call into question why participants are dealt with severely, yet those with higher rankings within the industry are not held accountable for their actions.
"If they are looking to clean up the industry you have to start at the top – he goes first," Ayoub said.
"What he wrote was disgusting and if that's the only comeback he's got for what I wrote then it just shows he is trying to get the spotlight off himself and turn it around to make me look like a cheat.
"He can't be in the game."

Meanwhile, Rose is standing by his comments on Facebook and says he was only defending himself.
He refused to accept Australian Racing Greyhound's assertion that it was inappropriate for someone of his position in the industry to be attacking the same participants he is meant to represent.
Rose maintained that the comments were not inappropriate as he does not hold any authority or power within the industry, saying that he may be the Chairman of the GBOTA board, but that board were the ones that made the decisions, not him.
"I don't see why I should cop all the brunt off a person that has been charged and disqualified for 12 months when I have never done anything wrong," Rose said.
"I have never had a charge laid against me so why can't I quote something qualified by GRNSW and yet they can put up something which is not true?"
Australian Racing Greyhound reached out to the GBOTA for official comment on the matter, however they said they would not be releasing a statement until a full evaluation of the situation has taken place.
Rose's Facebook status has now been deleted.