Harrison-Dawson could be the finale for Sandown's fastest dog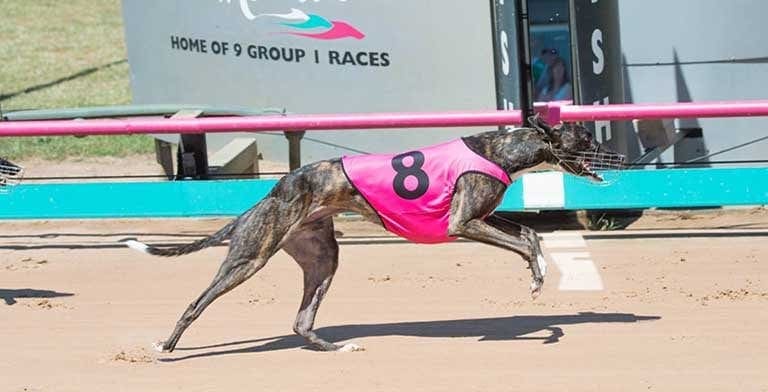 TWO-TIME group winner Unlawful Entry could be retired this Thursday night if he is successful in the Group 1 Harrison-Dawson (515m) at Sandown Park.
The brindle dog is trained by Brett and Kelly Bravo and was the winner of the 2015 Group 1 Hobart Thousand (461m), the Group 2 Great Chase (525m) as well as the Listed Cup Night Sprint (515m).
Additionally, he is also a place getter or finalist in a further 10 group races and is the track record holder at both Sandown Park (28.95) and Warrnambool (24.72).
However, at three and a half years of age, Kelly Bravo say a win in the Harrison-Dawson would be a fitting end to his spectacular career.
"He has well and truly done enough so if he were to win I think we would have to immediately retire him," Bravo told Australian Racing Greyhound.
"He has been a great dog – he has been racing at group level since we've had him back in 2015 when he won the Great Chase.
"Our daughter Bronte owns him and he has been a fantastic little dog – he has brought her a few horses and set her up really well for her age.
"While he is still going well and enjoying racing we will keep going with him – but if he were to win I'd say we'd have to pull the pin.
"He is a beautiful dog in every way – he is a quirky little dog at home but when he gets to the track it is all business.
"As much as its great to see him racing I am really looking forward to retiring him because he is a funny little dog and I think he will adjust to retirement well around here."
A winner of 22 from 70 with $287,000 in prize money earnings, Unlawful Entry will face a massive challenge this week – the race appearing to be at the mercy of boom pup Bewildering (box one).
However, despite being one of the outsiders, Bravo says her tenacious chaser will be in there giving it his all.
"I don't think he can win on Thursday night – the one looks a sure thing off the box draw," she said.
"With that being said you can never write him off – although he is one of those dogs which you could probably put in a maiden and he'd find trouble and a way to be beaten.
"He likes to run his races a certain way – he likes a bit of room and even when he is out in front he still uses plenty of the track.
"He isn't getting any younger but he is still running time every week and he hasn't missed a place in seven runs so we can't complain.
"He is probably boxed ok – if he was drawn inside he would get swallowed up early so I am happy to see him wider out on the track."

While one star chaser is winding down his career, Bravo still has plenty to be excited about with the ultra-consistent Striker Light also lining up in one of Thursday night's features.
The two-time group 1 winner, which only turned two years of age in March, looks well poised to score in the Group 1 Sapphire Crown (515m) when she exits box three.
A winner of 14 from 24 with six minor placings, the daughter of Kc And All and Pretty Fancy was far from disgraced in her heat when finishing second to Flyrite off box seven.
Although beaten close to three lengths, it was a determined effort from Striker Light which had to race opposite her usual running style after striking early trouble.
"We didn't think she'd be able to win her heat from out wide because there was a lot of pace in the race, so we went into it hoping that she would be able to run second and make the final," Bravo said.
"She actually began quite well in her heat, but she bumped with the six and it just took her momentum – from there on she had to work hard and sit three wide down the back.
"Because she is a front running style of bitch so it doesn't always suit her at the end of her races when she has to work overly hard early.
"Swinging for home I thought she was going to run third because she rolled off on the turn and looked to be getting a little tired – but to her credit she stuck her head out and was able to qualify – she is a very gutsy little bitch."
Team Bravo are much happier with box three heading into the $100,000 feature – with a victory set to take Striker Light's earnings beyond half a million dollars.
"We are a lot happier with the box draw this week – she likes to be drawn closer to the fence.
"I haven't taken much notice of where the others are drawn around her – but there is always pace in these types of races so naturally she will have to do everything right.
"But we are wrapt with her heading in – now we just have to hope for a bit of luck."
The Harrison-Dawson and Sapphire Crown are races five and seven respectively this Thursday night at Sandown Park.
Similar Greyhound Racing News