Impressive youngster It's A Party looks one to follow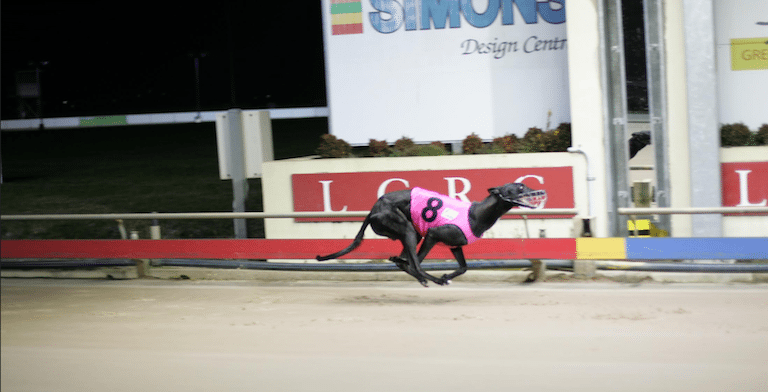 TASSIE trainer Russell Watts is predicting big things from talented littermates It's A Party (Jagger Swagger x It's A Blur Jul '15) and It's A Wink which have both made impressive starts to their careers in the Apple Isle.
The pair are impeccably bred, being younger siblings to Group 1 Bold Trease winner It's A Bird (Hondo Black x It's A Blur Jun '13) and three-time group finalist It's A Fling (Collision x It's A Blur May '14).
Owned by Tyrone Whittington and Glen Sprod, who also raced the sire and dam, the littermates were sent to Watts to start their careers in Tasmania, but are soon expected to head back to the mainland to join the kennel of Wayne Vassallo.
"The plan has always been to pick up all the lower grades over the sprint and then give them a few middle distance starts before they head back to Melbourne," Watts told Australian Racing Greyhound.
"We've done this many times before. The idea behind it is to let them get some confidence in full fields against some weaker opposition before racing against some of the tougher greyhounds in Victoria.
"I've known Wayne for a long time. Obviously they aren't all going to make the grade but they are very good like that. It's a nice arrangement and it works well for us and the dogs."
The plan seems to be working a treat after It's A Party scored an ultra-impressive win at Devonport on Tuesday when debuting over the middle distance.
The 34-kilogram powerhouse was strong throughout, holding off some classy rivals including 19-time winner Fifteen Two (Thirteen Black x Millie Grace Mar '14) to deliver a five and one quarter length triumph in 33.10.
It was win eight at start 11 for the black dog which has barely put a paw wrong throughout his career to date, having already recorded some hot wins at Devonport (25.68), Launceston (29.67) and Hobart (26.11).
"He's going enormous," Watts said.

"Down the back I thought Fifteen Two would have been a big threat as he got right behind him, but in the run home he couldn't take any ground off him at all – it was a solid win.
"They are built for 600 and I wouldn't be surprised if they get the 700 down the track."
Watts knows a thing or two about good dogs, having been the 'care-taker' trainer for former top sprinter Gardam Prince (Black Enforcer x She's Travelling Mar '07) during his Tassie campaign which saw him claim the Group 2 Launceston Cup and Group 3 Devonport Cup in 2010.
The Moorleah trainer holds a big opinion of the two youngsters currently in his kennel and has a soft spot for It's A Wink which has so far won 10 of her 19 starts with a further seven minor placings.
"When Wayne [Vassallo] sent him over he told me It's A Party was faster than his sister. I didn't believe him at first and although he may still be right, I do think a lot of the bitch," he said.
"There isn't much between the pair of them and I think if they were to race together it would come down to the box draw to decide who would win."
It's A Wink will line up at Hobart on Thursday night where she has drawn box four in a fourth grade race over 461m. Her brother will be aiming for back to back wins on Monday night when he heads to Launceston, however he faces a big challenge from box eight over the 600m trip.
Whilst he will no doubt be sad to see the talented duo head home in a couple of months, Watts counts his blessings, knowing he is rarely without a decent dog in the kennel.
"I've been very lucky to have some handy dogs over the years," he said.
"I only ever have a dozen in work at a time – I am pretty hands on with them and I find that's the right number for me and my wife to handle.
"I got involved in greyhounds because my grandfather had them and I have been training for around 30 years now.
"It's probably only been the past 10 years I got serious with the dogs. Now I have a bit of land and I run a few beef cattle and do the dogs in between.
"It's a full time job but they are hard to give away once you've been bitten by the bug."
Similar Greyhound Racing News