Jesaulenko to miss Golden Easter Egg after Traralgon Cup win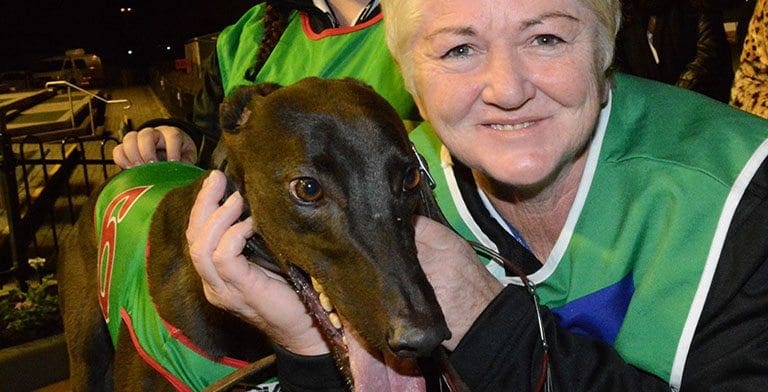 TERRI Morris has decided against an interstate campaign for her star sprinter Jesaulenko, despite the allure of the upcoming Group 1 Golden Easter Egg (520m) series at Wentworth Park.
Jesaulenko was the winner of Saturday night's Group 2 Traralgon Cup (525m), defeating consistent bitch Fabregal (box one) narrowly on the line after going stride for stride throughout the race.
Morris said the gruelling three-week Egg series would take too much of a toll on Jesaulenko straight on the back of the Traralgon Cup.
"I have decided to give the Egg a miss – to go in that series would mean he would have two weeks in the Traralgon Cup series and then straight into a three-week series in Sydney," Morris told Australian Racing Greyhound.
"It would be too much for him combined with all the travel and he has an ongoing problem with his shoulder, which requires constant maintenance week to week.
"It would put too much of a strain on the dog, so I don't want to be greedy."
Morris said she is still on cloud nine after landing Saturday's final, the first group win for Jesaulenko at his fourth appearance at group level.
"We have been patiently waiting for a group win and it finally arrived on Saturday night – he definitely deserved it," she said.
"He is very consistent, he very rarely misses a place – but it was definitely nice to be first across the line and not second.
"He has been in quite a few finals now and we were starting to wonder what he'd have to do to actually win one.
"He just seems to consistently get bad boxes in big finals and that was no different on Saturday – people kept asking how I thought he'd go out of box five but my response was that he was used to it."
Jesaulenko went into the series having not faced the starter in three weeks and ran second in his heat to Don't Kid Me. Morris said she was expecting improvement heading into the final.
"He was underdone the week before, so leading up to the final I thought he was going into the race just right.
"Before the race I did something I don't normally do – I gave him a pre-race stir up – I figured you only get one chance to win these big races so I thought I would try something different with him.
"He jumped out beautifully and once they got down the back I really started to think he was a good chance of winning.
"Up the back he normally drifts off the track and then drop back down to the rails coming to the bend – but [Fabregal] really stuck with him and he couldn't get back down onto the fence.
"I knew then that he would have to kick on strongly once he got around the home turn which is what he did – just in the nick of time."
Now a winner of 28 from 61 with 20 minor placings and $313,305 in prize money earnings, the victory was the biggest win of Morris' training career, made even more special as it was at her home track.
"I am on the committee at Traralgon so when he won the whole crowd just erupted – it was incredible.
"Some people even said it was a bigger roar then what you get at some of the bigger Melbourne races.
"It was brilliant."
More Greyhounds News