Mepunga Ruby throws down the gauntlet to aspiring stayer Zipping Kansas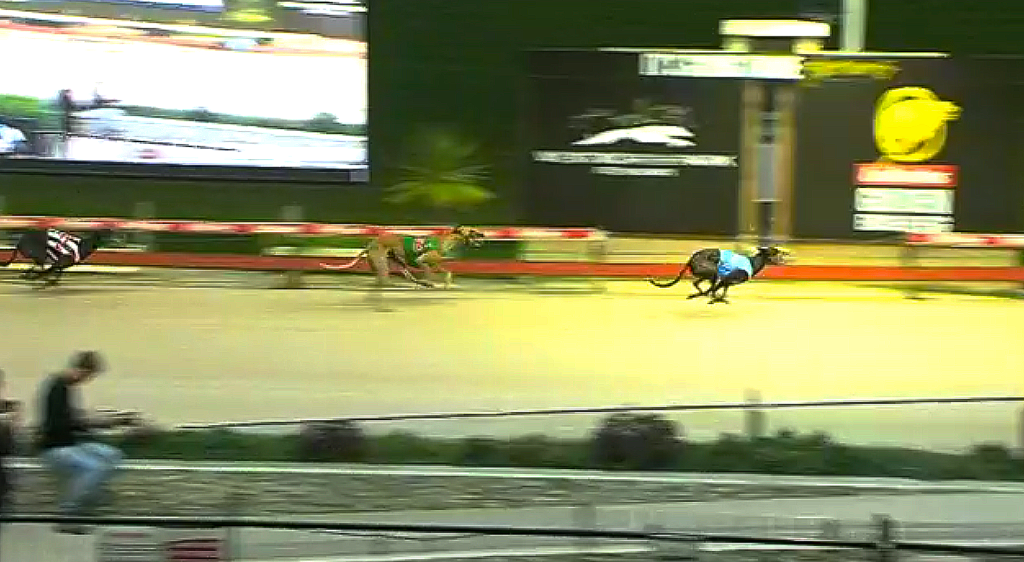 With only 13 greyhounds facing the starter for the 2022 Group 1 Association Cup, it is fair to say some of the greyhounds must be able to count; as quite a few decided to 'have a day off' in last nights heats.
The NSW GBOTA could find only two heats for its flagship Group 1 staying race, and with six starters in one heat and seven in the other; only five greyhound stayers were not going to get a return ticket to the $75,000-to-the-winner final next week.
One of those greyhounds was Zipping Kansas who punters sent out a -333.33 long odds-on favourite with greyhound betting sites, coming off a track record breaking run at Bulli.
Punters would have been urged to bet up on the greyhound in the small field of six with connections claiming the greyhound "could be the fastest one we've ever produced". A big call from the prolific New South Wales breeders that the Hallinan family have been over many years.
After missing the start Zipping Kansas quickly improved in to second behind Victorian Mepunga Ruby and at that point punters would have been forgiven for 'getting in the queue'. But the Jason Magri-trained chaser seemed content to sit just off Jeff Britton's runner, and when the daughter of Fernando Bale and Mepunga Rosie kicked on the home corner, Zipping Kansas had no answer.
Zipping Kansas' time of 42.02 was almost half-a-second outside his personal best of 41.57 for the Wentworth Park 720m.
Jeff Britton's Group 1 winning Meadows Super Stayers winner ran 41.84 winning the first heat coming off a second behind Mambo Monelli in the Group 1 Cannington Galaxy 14 days ago.
Mark Gatt qualified Stanley Road for the final, with Paris And Rome for trainer Tom Rees qualifying in fourth.
2022 Association Cup Heat 1 – Mepunga Ruby (Wentworth Park, 720m)
---
In heat two of the Association Cup the betting with greyhound bookmakers suggested there was only three main hopes and Super Estrella lived up to her -181.82 favouritism leading quickly from the boxes to make the second qualifier a formality.
The David Smith-trained Group 1,2, and 3 placed daughter of Fernando Bale and Esparza carved out splits of 16.08 and 29.51 on the way to a comfortable 42.10. The time was just 0.16 outside her personal best.
Super Estrella has remarkably started in six group races and while yet to win, has managed a place in all of them; including the 2021 National Futurity (Wentworth Park 520m), 2021 Richmond Oaks (Richmond 535m), 2021 New Sensation (Wentworth Park 520m), 2021 Sydney Cup (Wentworth Park 720m), 2021 Topgun Stayers (Meadows 725m) and 2021 Christmas Cheer (Wentworth Park 720m).
Jeff Britton secured his second Association Cup starter when Hank The Hustler finished 3.75 lengths second behind Super Estrella.
Gypsy Wyong finished third for Andrea Dailly, while Nimble Lulu qualified for trainer Sharon Grey.
2022 Association Cup Heat 2 – Super Estrella (Wentworth Park, 720m)
---
2022 Association Cup (Wentworth Park 520m – $75,000-to-the-winner)
1. Stanley Road – Mark Gatt
2. Super Estrella – David Smith
3. Hank The Hustler – Jeff Britton
4. Mepunga Ruby – Jeff Britton
5. Zipping Kansas – Jason Magri
6. Nimble Lulu – Sharon Grey
7. Paris And Rome – Tom Rees
8. Gypsy Wyong – Andrea Dailly

Reserves

9. Cawbourne Turvey – Jodie Lord
Similar Greyhound Racing News