Mid-race chaos puts well backed favourite out of contention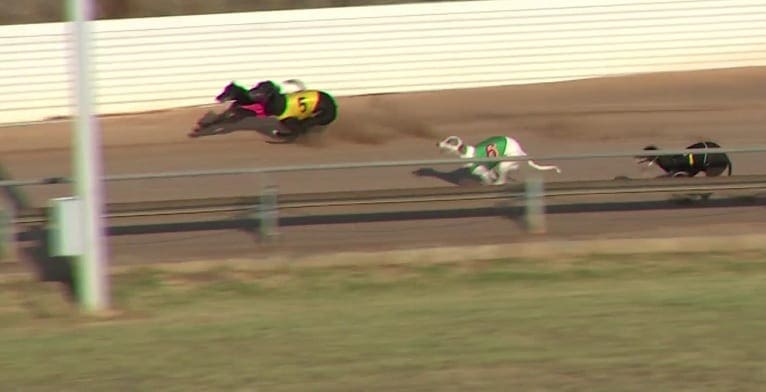 IF you were on the $1.70 pop She Can Party at Cannington in the opener on Monday night, look away now.
Favourite punters were confident that She Can Party was due to break the duck in the west over the 275m trip, backing the El Grand Senor x Izzy Marlow maiden into the red in just her third race start.
The money looked well placed after the black bitch put her head in front of early pace maker Just A Jack at the top of the turn. Chaos ensued not long after though as the second placed dog ran out sharply to his right, plunging the favourite into the fence and ultimately out of the race.
It is fair to say if dogs were subject to protests Just A Jack would have some explaining to do.
To make matters worse for She Can Party backers, Just A Jack went on to round out the placings and return $2.50 at online bookmaker Sportsbet.
Thankfully for connections, the eight rug quickly shrugged off the fall and completed the race, showing no signs of injury.
WATCH BELOW: Just A Jack takes out the favourite She Can Party at Cannington
More Greyhounds News