Nitro Blast salutes in 2018 Temora Cup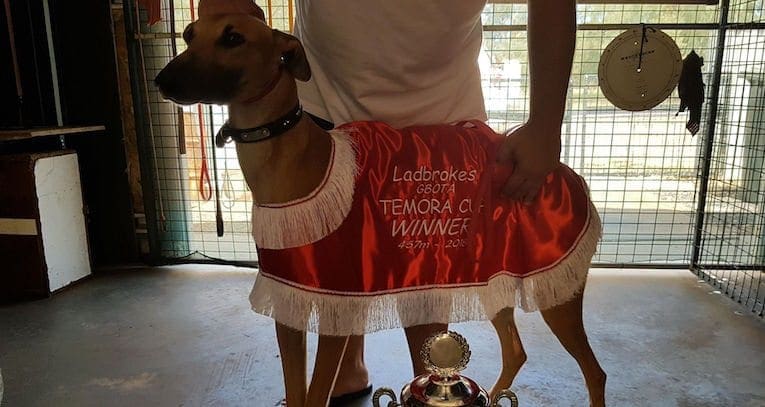 CRAIG Tuntler recorded the biggest feature win of his training career when his smart youngster Nitro Blast (Nitro Burst x Faded Lilly Jan '16) saluted in Sunday's $10,000 Temora Cup (457m).
The red fawn dog was sent to the boxes as the $5 second favourite, but when the lids flew open it was a one-act affair as Nitro Blast charged clear to win by two and three quarter lengths in a best of night 25.96.
Tuntler, who trains at Cudal with his partner Amanda Ginn, said he was thrilled with the tenacious win.
"We are very proud of him – he had a few issues during the week and for a while we didn't think he was even going to make the final, so to see him come out and win it was a big effort," Tuntler told Australian Racing Greyhound.
"By the time we got home it was 1am and then there were more dogs to do this morning – so it still hasn't quite sunk in yet.
"It was a big thrill – hopefully he can go on with it now."
Nitro Blast has now won four in a row and seven overall from 15 starts, his prize money sitting just below $15,000.

Tuntler says the 32-kilogram racer is improving with every start now that he has learned what the racing caper is all about.
"He was very immature when we first got him, but he turned two a couple of months ago and he is really starting to mature. He is developing into a pretty smart dog.
"Now when you turn up to the track he really switches on – he is all business."
Despite boasting an impressive record, Tuntler isn't getting too carried away, with no grand plans for Nitro Blast just yet.
"I don't have any major plans for him. I don't want to get him out-graded too quickly, so we will probably just take him along slowly and try to race him through the grades at different tracks.
"He ran the 457m out well [on Sunday night] so there are plenty of options for him and hopefully he'll get the 520 down the track."
More Greyhounds News