Stagger Out Lee adds second Group 1 with surprise Zoom Top win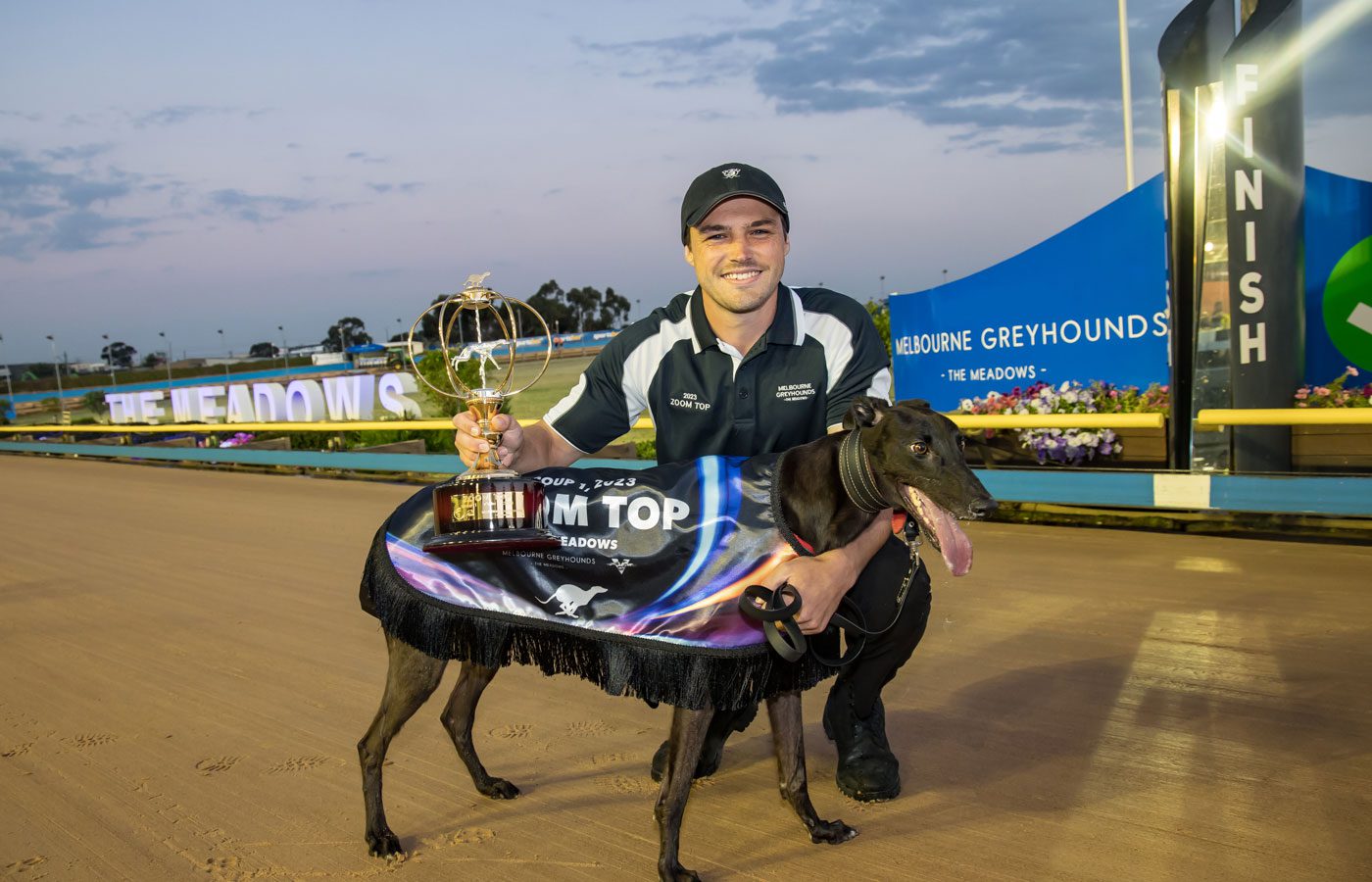 The 2023 Group 1 Zoom Top (730 m) at The Meadows was taken out by an unlikely winner on Saturday night. NSW greyhound Stagger Out Lee, defied the greyhound betting sites odds to claim the $75,000 prize in the Zoom Top win.
Stagger Out Lee became the second longest-priced winner of the Zoom Top since its inception in 2003. Only Cheetah Zorro in 2014, who started at odds of $42.30, has won the race at a larger bookmakers price.
Stagger Out Lee joins fellow NSW greyhounds Irinka Barbie (2004), Miss Grub (2007), and Just Terms (2020) as fellow Zoom Top winners.
The 28kg black bitch is trained by 24-year-old Jack Strutt from Wagga, who is completing a double degree in Economics/Finance and Law at the University of Wollongong. Stagger Out Lee is owned by Jack's father Paul Strutt.
Stagger Out Lee was the rank outsider of the Zoom Top field, ofically starting at odds of $21.60. The greyhound defeated favourite Moraine Suzie by 1.8 lengths in 42.64 seconds, with Cawbourne Magic coming in third a further 0.8 lengths behind.
This victory marks Stagger Out Lee's 11th win in 57 races, with a further 25 placings, bringing her total stakes to $268,200.
This latest win adds to Stagger Out Lee's 2002 Group 1 Bold Trease (Sandown Park, 715m) win over fellow NSW chaser Cawbourne Magic.
Stagger Out Lee was considered a long shot for the Zoom Top, having not won in her past 10 starts, despite that win being the Group 1 Bold Trease.
Despite this, she had still managed to place in the top three in eight out of those ten races, including the Group 3 Christmas Cheer Invitational (Wentworth Park, 720m) behind winner Cawbourne Magic.
Stagger Out Lee is likely to head back to The Meadows next weekend to contest heats of the 2023 Group 1 Fanta Bale Super Stayers (730m).
2023 Group 1 Zoom Top (The Meadows, 730m) – Stagger Out Lee (42.74) T: Jack Strutt
---
Similar Greyhound Racing News