NSW One Nation leader Mark Latham calls for GWIC to be abolished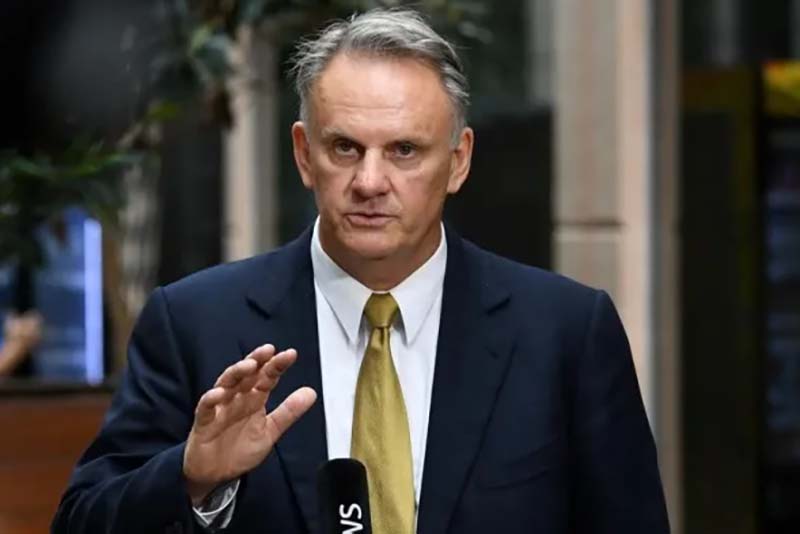 One Nation NSW leader Mark Latham has promised everyone in greyhound racing that he will continue fighting for their legal rights to be preserved against relentless activism and – at times – governing-body overreach.
That was the main message from his exclusive interview with Australian Racing Greyhound ahead of the state election on March 25.
The passionate greyhound racing man from western Sydney touched on a number of issues in his typically forthright and genuine manner, including:
Industry participants who feel they have been unfairly targeted by independent regulatory body, the Greyhound Welfare Integrity Commission (GWIC).
The use of artificial lures, which many trainers believe leads to greyhounds not chasing hard or giving up during races.
His belief trainers and breeders should be given financial support to fight legal battles, including the ongoing struggle against the contentious cobalt issue.
Why he feels One Nation NSW will be in a stronger position to continue fighting for the rights of greyhound trainers and breeders after the election.
Why yet another announced end to greyhound racing in NSW – if it got to that point – would severely affect the mental health of thousands of residents, as well as the state's economy.
And how he'll do all he can to make sure that never happens again.
"We're a party with a good track record. We stand up and fight," Mr Latham told Australian Racing Greyhound.
"And we will always be fighting for greyhound owners and trainers, and the spectators and anyone with an interest in the industry who wants to see it grow and prosper."
GWIC has been squarely put under the spotlight by Mr Latham and many greyhound racing veterans in recent years because of the issues above.
And the report from the Select Committee on GWIC released in December appears to have highlighted that greyhound-industry participants are not stupid – many of their concerns are legitimate.
The Committee Chair, Robert Borsak, published three recommendations in the report. They were:
The NSW Government should consider appointing an independent statutory commissioner to oversee and review the activities and expenditure of GWIC every three years. This was not support by the government in a response on February 24. That is because the response mentioned GWIC's expenditure and operational efficiency is overseen and monitored by the Department of Enterprise, Investment and Trade, NSW Treasury, the Audit Office of NSW and the Independent Commission Against Corruption.
The NSW Government appoint a ministerial advisory panel to meet every three months to inform decisions about the industry and feed into the independent commissioner's review.
Both Greyhound Racing NSW (GRNSW) and GWIC be required to appear before the relevant Legislative Council Portfolio Committee for a specific hearing at least annually.
The report also mentioned further work needed to be done on empowering racing participants and ensuring the continued growth of the greyhound-racing industry, and there have been cultural and financial issues in the rapid establishment of GWIC since it took authority in 2018.
It was also raised that GWIC has not understood the culture of the greyhound industry, and that its relationship with the industry has been characterised by negativity and mistrust, but had improved over the past 12 months.
Another key finding was GWIC must cooperate better with old and new participants to ensure fairness and consistency in all regulatory matters, including the detection of cobalt, which this publication has looked at in depth.
Also read: Dr Derek Major Calls For Re-Think On Cobalt Testing On Greyhounds
In the NSW Government response on February 24, it did not support a suggested National Cabinet for an overhaul of the national rules on prohibited substances such as cobalt.
This is because the report said the Australian Government and National Cabinet has no role in relation to the regulation of greyhound racing, which is administered at a state level.
The report added Greyhounds Australasia was responsible for setting national rules for adoption by member jurisdictions. If any concerns were identified in relation to the national rules, including in relation to prohibited substances, GWIC and GRNSW can advocate to Greyhounds Australasia directly.
This might come as a body blow for those who feel the current laws on cobalt detection are too stringent, but Mr Latham has promised to continue fighting for issues such as these.
He never took a backward step in his appearances during the Select Committee on GWIC, a constant theme being his support for trainers who believe they have been unfairly targeted by GWIC.
And this is why he now has a great deal of respect throughout the greyhound racing community.
But despite the progress he has made, he's not viewing this as a time when he should be backing down against governing-body overreach or those from outside the industry relentlessly calling for it to be permanently banned.
"GWIC needs to be abolished," Mr Latham said.
"Greyhounds need to be on the same footing as harness racing and thoroughbreds in terms of its stewards and regulations.
"But if you do keep GWIC you've got to completely overhaul it, and get some people in there who know racing.
"You've got people there with no racing background in racing culture, and they're targeting individuals who are outspoken and standing up for themselves, like GWIC is some kind of Stasi organisation that no one can ever question or appeal against.
"So GWIC is a huge problem."
GWIC provided this publication with a statement in light of Mr Latham's calls to have the organisation dismantled.
"The Select Committee Inquiry into the Greyhound Welfare & Integrity Commission provided Members of Parliament, including Mr Latham, the opportunity to examine the operations and processes of the Commission, and the wider industry, and provide feedback and recommendations to the Government," the statement said.
"The Select Committee, of which Mr Latham was a participating member, published its report in December 2022.
"The Committee's report indicated that while the Commission had 'teething problems' during its early years, however, in more recent years it had improved its relationship with the greyhound racing industry.
"The report did not recommend dismantling the Commission as suggested by Mr Latham."
Mr Latham also believes GWIC needs to adopt New Zealand's lure practises as soon as possible.
Australian Racing Greyhound's article on the current lure practises used across the country led to plenty of discussion on this publication's Facebook page, most commenters agreeing there needed to be changes.
In New Zealand, greyhounds are allowed to chase animal matter as a reward for their efforts.
But the entire greyhound industry in NSW and across Australia continues to be punished by its authorities because of the infamous live-baiting saga of 2015, when then-Premier Mike Baird banned the sport.
An incredible backlash against this led to the sport being reinstated before the ban was officially implemented.
"GWIC is a huge problem, but there are also hangover problems from the Baird era which are completely ridiculous," Mr Latham said.
"One being you can't have any animal matter on the lure.
"We should adopt the New Zealand practice of letting the dogs know it's worth chasing the lure because there's animal matter on there.
"So they can catch it and have a feel of it in the catching pen after the race.
"(New Zealand's lure practises) are actually good for animal welfare because dogs who don't chase haven't got a future.
"And dogs without a future can be an animal-welfare risk.
"New Zealand might have a left-wing government, but at least they've got the commonsense to know that if the dogs will chase then you've got few animal welfare worries.
"You'll have few rehoming challenges."
Mr Latham believes greyhounds are now more likely than ever to simply stop chasing during a race, or get bored and lash out at a rival competitor because they no longer have an incentive to chase an artificial lure.
He feels this is one of many cases of hypocrisy regarding those who call for an end to greyhound racing, or for greater control across the industry, as Jason Bolwell pointed out to this publication in July last year.
"We've now got a situation with a plastic mop where the trainers are telling me maybe 10 per cent of dogs aren't chasing," Mr Latham said.
"The smart dogs have worked out 'what's the point in chasing a plastic mop?' If dogs don't chase they haven't got a racing future, and that's bad for animal welfare.
"So unfortunately, a lot of these ridiculous provisions put in by the animal welfare lobbies are actually working against the best interests of animal welfare."
Mr Latham singled out NSW Government Racing Minister, Kevin Anderson, and said he needed to be more vocal on behalf of the industry, while adding One Nation NSW would not waver on the rights of those who participate in a legal sport.
"We need a minister who's strong enough to say and do these things," Mr Latham said.
"Kevin Anderson's been completely ineffective in that regard, and we need some commonsense policies put in place for people who actually know greyhounds.
"I love the dogs and I'm a regular attendee. I've had an interest in them, but there aren't many people like that in parliament.
"So they're all the reasons why people should vote One Nation NSW because they know with us what we stand for."
The NSW Government was contacted for comment with questions regarding these concerns, as well as Mr Latham's criticism of Mr Anderson.
GWIC responded to Latham's concerns on current practises regarding its lures in NSW.
"In relation to changing the rules around lures, the Commission has no control over the legislation under which it operates (ie. The Greyhound Racing Act 2017), that is a matter for the Government," it said in its statement.
Mr Latham, on the other hand, promised everyone in the greyhound industry he would not back down in his efforts to hold the taxpayer-funded GWIC and state government to account.
"We don't wave the white flag. We'll always fight for what's right," he said.
"We'll help the greyhound industry with what we've done over the past four years and before that, and we're a party of fighters.
"GWIC is an incompetent organisation run by people who don't know greyhounds.
"That's why they keep making bad decisions.
"My preference is to abolish GWIC, if not to completely change their management and bring in people who have an objective that five years from now we still have a greyhound industry, and it's bigger and better than ever.
"We need an organisation that's pro-greyhounds."
Mr Latham has previously spoken about how greyhound racing is good for the mental wellbeing of its participants in an industry that provides each state government across the country millions of dollars in revenue each year.
Australia's current cost-of-living crisis has had a huge impact on the mental health of Australians, particularly after the Covid-19 lockdowns.
And Mr Latham believes the at-times super tight regulation of the greyhound-racing industry in NSW, and its harsh penalties, is not helping its participants.
"The other thing is all the people they (GWIC) pick on and persecute – we need government to put in place some legal assistance for them," Mr Latham said.
"These are battlers, and greyhound racing is an industry for the battler and working people who just want a bit of hope in life.
"We're having discussions about mental illness. Well, taking hope away from people and persecuting them the way GWIC does is no good for anyone's mental health.
"Government's got to provide some financial assistance so people can get the legal advice they need to defend themselves against GWIC, which is an over-funded, bloated organisation with their Taj Mahal at Bathurst.
"GWIC has got plenty of resources and the battler hasn't."
One of those many battlers Mr Latham has referred to includes Ken Burnett, who says he did nothing wrong by ringing a veterinarian after one of his greyhounds bit his grandson.
Allegedly on the veterinarian's advice, Burnett was told the greyhound needed to be euthanised.
He went ahead with that advice.
But Mr Latham believes it was "a disgrace" the experienced conditioner was subsequently served with a notice for being in breach of the GWIC rehoming policy, and that there was a new policy where – in this instance – the greyhound owner was required to take his dog to the local pound.
One Nation NSW's leader said this was one of many instances where he thought GWIC made rules on the run.
"All those powers are over the top and unnecessary. They make people feel like they're criminals before anyone has been proven to have done anything wrong," he said.
"So all those powers should be wound back. And in the case of Ken Burnett, he stands up for himself.
"He's a strong, outspoken person, as he should be.
"He had a dog who bit a kid. And then he had a certificate that the dog had to be put down because of that viciousness.
"What more has a greyhound owner got to do to get a certificate from a very well-regarded vet in western Sydney?
"How does GWIC know any more than the local vet?"
Mr Latham was left furious that a trainer in NSW could allegedly be treated in this manner.
"They (GWIC) went a step further and said 'you can't get advice from the vets anymore – you've got to take them to the local council pound'," he said.
"The animal welfare people should've been up in arms about that. Everyone knows the dogs who go into the pound never come out.
"And have they got qualified council vets at the local pound? Of course they haven't.
"So GWIC has lot the plot. GWIC is incompetent, vindictive and inefficient.
"And for goodness sake, some government has to close them down."
GWIC did not respond to this publication's question regarding Mr Latham's concerns about Burnett.
"Where possible, the Commission will refute any unfounded claims or inaccurate reporting," the organisation said in its statement.
Mr Latham said One Nation NSW was hopeful of retaining its two seats in the NSW Legislative Council after the March 25 election, while confident of adding another two.
This would strengthen his party in its battle against greyhound over-regulation and the constant threat of the sport being shut down by activists.
"We got two in last time and we didn't run eight years ago," he said.
"So we're a chance to get another two and have four in the Upper House.
"That would give us a really good voting bloc.
"And I can guarantee everyone in the greyhound industry that we will be continuing to fight, argue and put forward the case to help greyhounds with our numbers in the Upper House.
"Our numbers look absolutely certain to grow, but we need people to support us and grow to the maximum amount so we can provide the support the industry needs."
Similar Greyhound Racing News