NSW greyhound participants fed up with over-regulation
Hobby greyhound breeder Jason Bolwell is so concerned about over-regulation in an industry he loves that he now questions why anyone would want to become a trainer.
Bolwell – who has spoken out against the NSW Government's Greyhound Welfare and Integrity Commission (GWIC) during the ongoing select-committee inquiry into its operations – has grave concerns about the sport's future.
His concerns are wide-ranging, including the following:
GWIC stewards entering the properties of trainers with body cameras for routine inspections.
What Bolwell believes is unnecessary taxpayer expenditure in the way GWIC operates on occasions.
Strict rules on kennel sizes and what other animals are allowed to be kept on the properties of trainers and breeders.
Hefty suspensions handed out to trainers for minute amounts of drugs found in dogs.
Hundreds of pages of rules to abide by as the main deterrents for greyhound conditioners, among others.
"Why would anybody want to now be a trainer?" Bolwell told AustralianRacingGreyhound.com.
"You can see what you want to see in the industry, in my opinion.
"If you want to find bad things, you'll find bad things. If you go into it with open eyes, you'll see that 99 per cent of dogs turn up in brilliant nick, and they're looked after well.
"I've been to three or four of these inquiry sittings, and they keep talking about how the sport's attracting young people.
"But all I've seen is a lot of people getting out because the older people just don't want the hassle.
"It's like you're constantly scrutinised on everything you're doing."
As well as Bolwell's above concerns, he now believes greyhounds are losing their natural instincts – to chase prey.
After the Four Corners investigation on live baiting shook up the industry in February 2015, conditioners are no longer allowed to use animal matter of any kind – and that includes cooked meat from the supermarket – on their lures while training their greyhounds.
"You can get dogs to do anything, but they're natural-instinct animals. That's where it starts," Bolwell said.
"By us using a dead rabbit, or rabbit skin or a kangaroo skin on the arm – those animals are already dead.
"I could drive past a dead rabbit, and if I was to pick one of them up and get caught – that's a life ban.
"You're not allowed to use meat. I couldn't buy a barbecue chicken from Woolworths and put it on a lure.
"That's the rule. Ugg boots are also illegal. If they talk about welfare – that's detrimental to a dog's welfare.
"I'm not saying everyone is squeaky clean. But I'm saying I don't do live baiting, and the people I know aren't doing it either."
READ: What Australia has said about live baiting
Bolwell said greyhounds now only being allowed to chase toys or non-animal matter is damaging to their mental wellbeing.
"With the new lure rules – that's hurting the industry. Dogs chasing a tennis ball – after a while they get sick of it. Greyhounds are the same," he said.
"There's no reward or simulation. I don't know why once a rabbit's dead they can't be used as bait.
"You used to be able to put a dead rabbit on the lure and the dog would get to finish onto it. It wouldn't eat it, but the dog would come off the track happy to catch it thinking 'look at me – I did my job'."
As part of its responses to a number of questions asked by Australian Racing Greyhound, a spokesperson for GWIC said trainers ran the risk of breaking the law if any cooked or dead animal matter were to be used on a greyhound lure.
"Apart from being against the rules of racing set by Greyhounds Australasia and adopted by the Commission, to do so is an offence under the Greyhound Racing Act 2017," the spokesperson said.
"These rules are developed on a national basis by Greyhounds Australasia and adopted by the Commission.
"The luring and baiting rules were adopted by all Australian jurisdictions following extensive consultation."
Bolwell said he felt spooked on one occasion when GWIC stewards attended his property for an inspection of his greyhound kennels while wearing body cameras.
"The first time I had stewards turn up, they turned up with these body cameras," he said.
"I don't think they're using them as stringently now, but it's daunting.
"They got out of their car and two of them came over reading me my rights saying 'this will be filmed'.
"And I said 'look, why has it got to be filmed? I'm here, you're here and there are three of us'.
"You just get the impression that you're guilty of doing something wrong.
"You have to declare what other animals reside on your property. And I declared we've got chickens.
"They gave me permission to have chickens on my property. I thought that was really big of them to tell me what I'm allowed to have on my property.
"It's like they're treating everyone as being guilty, and that's the sad part about it."
Bolwell believes he's speaking up for many trainers who feel they have been bullied by GWIC stewards in the way they communicate with them, either when carrying out kennel inspections or during race meetings.
But GWIC said it was happy with the processes it has in place regarding the way it communicates with conditioners and breeders.
"Yes (we review how we communicate with trainers and breeders). The Commission is committed to improving the way that it supports and services the industry," the GWIC spokesperson said.
"The Commission has an ongoing process of surveying its customers and has surveyed over 2000 participants over the past 18 months to obtain their feedback.
"The Commission also established the Greyhound Industry Participant Advisory Council (GIPAC) in 2020, comprising trainers, breeders, owners and race club officials. GIPAC meets monthly with the Commission's CEO and Executive to provide feedback about the Commission's performance, including that of its stewards.
"As we indicated at last (June 30) hearing before the NSW Upper House Select Committee, the Commission has acted upon much of the feedback it has received either directly from participants or via the Select Committee hearings.
"The Commission is implementing a local regional approach to the management of race conduct matters similar to that used in thoroughbred racing.
"The Commission's chief steward implementation of this new approach is beginning to bear fruit with stewards holding inquiries and determining many matters quickly and efficiently so that participants can get on with their jobs."
GWIC said engaging the services of veteran steward Ray Murrihy was a positive step forward in better engaging with greyhound trainers and breeders so they would not feel intimidated or bullied.
"The Commission has engaged Ray Murrihy to assist in training the Commission's stewards and inspectors in the proper conduct of inquiries," the spokesperson said.
"The Commission's chief steward is continuing to recruit and train the Commission's stewards with a view to ensuring that they engage with participants in all the decisions that they make regarding racing operations to ensure that they have appropriate input into those decisions.
"Further, the Commission imposes penalties for matters that are aligned to the Commission's published Penalty Guidelines but importantly are based on precedents from similar matters."
Bolwell believes it is time for all trainer discipline and greyhound welfare matters to now be dealt with under the one banner – Greyhound Racing NSW – as was the case before the live-baiting scandal.
He believes this for two main reasons: the amount of trainers receiving longterm suspensions for minuscule amounts of drugs found in their dogs – some of these cases due to unavoidable contamination – would decrease; and having one regulatory body – like Racing NSW in thoroughbred racing – would reduce state-government expenditure.
"There are a lot of grey areas. This money is government money and they're wasting it, especially when you see two stewards turn up in a separate car and they don't turn up in the one car," Bolwell said.
"They're all new cars, and a lot of them don't live in the areas they go to, so there are accommodation costs.
"It's an ongoing battle, but it's one worth fighting for because it's a good sport.
"I can't speak for 100 per cent of trainers, but I just think there's a time and place for a lot of things and at the moment we're not getting the best representation we need.
"We need people who are telling facts and how it is, whether it's damning or too upfront.
"Stop sugar-coating stuff and saying 'we'll agree to do that, but we'll try to find a nice way of putting it'."
GWIC believes its funds are spent wisely, while being monitored by the state government.
"Last year the NSW Government changed the way the Commission is funded," the GWIC spokesperson said.
"The Commission no longer receives funding support from GRNSW and is now fully funded by the NSW Government.
"The Commission benchmarks its cost against other jurisdictions and, given the number of tracks operating in NSW and the Commission's larger welfare remit, it compares very favourably.
"The Commission's budget is monitored by NSW Treasury."
GWIC listed a number of reasons why it should continue to operate in its current form, rather than being absorbed by Greyhound Racing NSW.
"Much of the previous concern relating to how the Commission's operations are funded that gave rise to this view have been resolved," the spokesperson said.
"There are several substantial benefits to the industry in having a government agency responsible for the welfare and integrity of the industry.
"Apart from the McHugh Inquiry, one only has to look at the report into the 2013-14 Select Committee Inquiry into regulation of the industry by GRNSW.
"Participants before that Committee labelled the relationship between GRNSW and participants as toxic.
"As a result, that Select Committee recommended taking integrity responsibilities away from GRNSW and creating a racing integrity commission across all three racing codes – as is the case in Queensland today.
"One of key benefits to participants of GWIC being a government agency is that its conduct is overseen by the Independent Commission Against Corruption (ICAC), the NSW Ombudsman, the NSW Audit Office, NSW Treasury and is subject to privacy and other legislation."
GWIC believes the animal welfare processes and systems in place for aggrieved trainers are the best they have ever been.
"Unlike the previous controlling body, if participants are aggrieved about the conduct of the Commission or any of its staff then they have these oversight bodies to go to investigate their concerns. This is something that participants are yet to appreciate the benefit of," the GWIC spokesperson said.
"Finally, having the regulatory oversight of the industry provided by a government agency also provides the community with greater confidence that the sport's welfare and integrity is of the highest possible standard and not influenced by commercial aspects of the sport."
Bolwell is also passionate about changing GWIC's strict no-tolerance policy, where some trainers in the industry have received lengthy suspensions for small amounts of prohibited substances found in greyhounds.
The Picton-based breeder and others in the greyhound industry believe Andrew Bell's 16-month disqualification handed down by GWIC was excessive.
Bell, who last November was crowned NSW Trainer of the Year for 2020, was charged and subsequently disqualified following a positive swab returned by King Reed at Dapto on December 16 last year.
A routine post-race urine swab revealed traces of amphetamine, 4-hydroxyamphetamine and methamphetamine.
GWIC stewards charged Bell with a breach of rule 83(2)(a) for failing to produce King Reed free of any prohibited substance.
Bell pleaded not guilty to the charge, therefore forfeiting the standard 25 per cent penalty reduction.
"I've spoken to a lot of prominent trainers who I won't name without their permission, but they've said 'it's not about if I'll get caught, it's about when I'll get caught'," Bolwell said.
"The young trainer (Karina Britton) who had Wow taken off her (for a minuscule amount of cocaine detected in his system) – she got disqualified. She had her licence taken off her and she had to get rid of every greyhound on her property.
"You could not administer a drug at such a low level. Dr Derek Major said it couldn't come out of the air in Sydney – that's how minute the reading was."
Bolwell says he has also been affected by GWIC's strict zero-tolerance policy on drugs found in greyhounds.
"There used to be thresholds. One of my trainers got given 22 months disqualification. It happened nearly two years ago," he said.
"He was trying to fight it so that he wouldn't get rubbed out. His solicitor's advice was 'you can't win, and I very much doubt you'll get a reduction, but you can try. You're wasting your own money'.
"He administered a drug which before 2016 was perfectly legal. It was to keep the bitches from coming into season, and a lot of my bitches raced on it.
"It was a testosterone and a banned substance. And when it's a banned substance you face disqualification.
"They did an out-of-competition swab on the dog and they just wanted one dog – that was the dog they wanted.
"They did a hair sample and not a urine sample. Apparently it was positive. They were going to get all his bank and mobile-phone records.
"In the GWIC laws you're allowed to do that to find out if he's bought it online or from overseas."
GWIC defended its zero-tolerance policy on drugs found in NSW greyhounds.
"The penalties issued for prohibited substances matters are in line with other jurisdictions and precedent cases dealt with by the previous controlling body," the spokesperson said.
"As indicated at (the June 30) Select Committee hearing, the Commission, in consultation with key industry stakeholders, has developed a penalty guideline which is published on its website.
"The penalties issued as consistent with the published guidelines and with decisions from the independent Racing Appeals Tribunal."
Bolwell now believes the issue of greyhound welfare has gone past the health of racing dogs.
Rather, he says it is now a matter of control over an industry with a question-mark over its future in NSW, with the amount of animal welfare groups now pushing for the sport to be permanently halted.
"It's supposed to be about welfare, but I think it's gone further than welfare. It's more about them (GWIC) wanting to be in control of you," Bolwell said.
"You've got no avenue to complain because unless you sign up you don't get a licence.
"Once you get a licence, then you've got to abide by whatever rules GWIC puts in place.
"You shouldn't have to bring out your tape measures to measure the size of a kennel, and be told you're a centimetre short, or your fence isn't high enough.
"They turn up to your place with a steward without a veterinarian.
"We have vets go to all race meetings. We should have (the presence of) a vet."
Bolwell believes GWIC is being too heavily influenced by animal welfare groups calling for an end to greyhound racing.
"You think 'hang on a minute – if they're employing people who work for the Animal Justice Party, is that for the betterment of the industry?'" he said.
"I've spoken to Abigail Boyd (from the NSW Greens), and we offered to her 'come to a race meeting. Come out to our place and have a look'.
"I don't know how you make a judgment on something when you haven't seen it yourself with your own eyes."
GWIC is satisfied with the team of stewards it currently has in place, strongly defending criticism that it hasn't employed enough people with greyhound-industry experience.
"Yes, the Commission is more than happy with the experience and expertise of its people," the spokesperson said.
"People making these comments fail to mention that when the Commission started four years ago, 15 of its stewards and three of its on-track veterinarians came from GRNSW with years of experience behind them.
"Over the past four years the Commission's staff have gained invaluable industry experience and, more recently, the Commission has recruited more staff who have worked in the industry.
"When the Commission recruits veterinarians, they receive training from leading and highly regarded greyhound industry veterinarians. As a result of recent hires, training and now having four years under its belt, this notion no longer has any validity."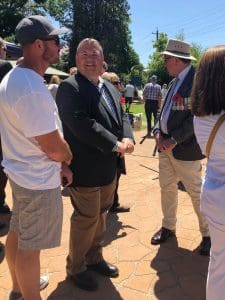 Bolwell feels greyhound trainers nowadays are having troubles keeping up with so many GWIC rules and regulations, which total several hundred pages in length.
"I haven't had bad direct experiences with them (GWIC), but if you read all their rules and you go through all their stipulations it's just a minefield," he said.
"Years ago, on 30-40 degree days you could take your dogs to a meeting and it'd be hot, but you didn't hear about any dogs dying on the way to the track.
"Horses still go in horse floats which aren't air-conditioned, and you think 'hang on a minute – we (greyhound trainers and breeders) have got to have an air-conditioner and it's got to be at this temperature'.
"My in-laws must be pushing 90, and they still live in a house without an air-conditioner and they still survive our summer."
GWIC does not believe the greyhound industry is currently over-regulated.
"No. The Commission adopted all the national greyhound racing rules Mr Bolwell refers to," the GWIC spokesperson said.
"These are set by Greyhounds Australasia (GA). The Commission merely administers the GA rules.
"There are a very limited number of local rules made by the Commission, but these are mostly complimentary of the national rules.
"The NSW Government made amendments to the Greyhound Racing Act 2017 in 2017 and commenced the Greyhound Regulation 2019.
"Again, this legislation and regulation was not developed or set by the Commission.
"The Commission's role is to administer the legislation it is obliged to under the Act.
"Greyhounds Australasia recently completed an extensive review of the National Racing Rules, which came into effect on 1 May, 2022. These changes follow a comprehensive review of the rules by Greyhounds Australasia, with streamlined and updated Greyhound Rules introduced in all states and territories."
However, this is why Bolwell believes many trainers have simply opted to cop hefty suspensions on their chins – because they don't know who to turn to if they feel their industry is being over-regulated.
"Greyhounds Australasia look after all the drugs, so they (GWIC) adopted whatever GA put in place," he said.
"You can go to Greyhound Racing NSW and they'll just blame the federal body. It's really, really difficult.
"Why would a bloke with five winners knowing he was going to get swabbed still enter a dog into a race knowing that he put something in its food?
"It's (accidental) contamination.
"It lacks logic. They're like speeding rules – if you get 20 people speeding through an area, do you ban everyone from going through there?
"I just think the structure is wrong."
Bolwell believes enough is enough in the name of greyhound trainers quickly losing interest in the sport due to the strict and lengthy rules and regulations they now have to abide by.
He has called for a Royal Commission into how GWIC monitors trainer and breeder misconduct.
"There needs to be another Royal Commission like the McHugh Report, and set another set of rules on where we're at, and not the 122 recommendations that (former NSW premier) Mike Baird adopted," he said.
The passionate greyhound man believes his peers can affect change via the ballot box ahead of the NSW state election next March, in order to save an industry from losing so many already-disillusioned participants.
But right now, it seems a steep mountain to climb to affect that change.
Bolwell said the NSW industry would continue to suffer "unless we get a change in government at the next state election, and we get more upper-house support through One Nation and the Shooters, Fishers and Farmers Party".
He continued: "For the government to get high items through they've got to get approval from the upper house.
"But I can't see that happening. (One Nation's NSW leader) Mark Latham has been one of our saviours, and he's gone hard at GWIC at the inquiry.
"I'd vote for One Nation or Shooters, Fishers and Farmers tomorrow, but not much is going to change I think whether Labor or Liberal gets in.
"It'll all depend on the upper-house vote."