Gatlin set for Southern Stars tilt after Vic Peters Classic win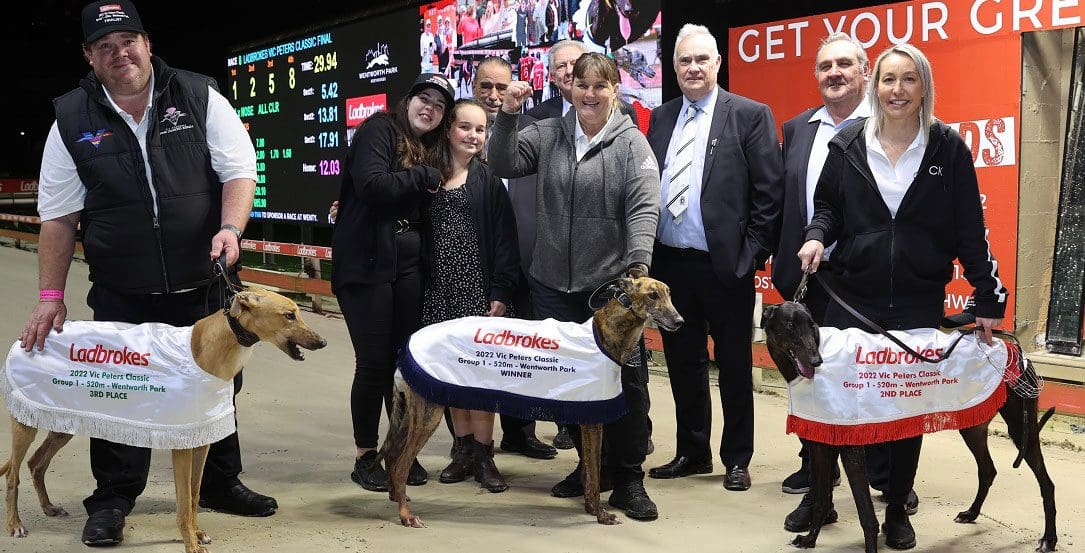 Despite not rating him highly as a 520m chaser, Melinda Finn can now call Gatlin a Group 1 champion over that distance.
The two-year-old took full advantage of box one to win the $100,000 Vic Peters Classic in 29.94 seconds and by three-quarters of a length at Wentworth Park on Saturday night.
As a result, he will take plenty of confidence into his next big assignment over his preferred distance of 440m – his heat of the Southern Stars Series at Goulburn next Friday night.
"I think he can improve a little more. He's not going to improve that much because he's not really a strong 500m dog," Finn told AustralianRacingGreyhound.com.
"But 450-500m he'll be all right. He'll go through the grades – that's about all he will do.
"He'll go to Goulburn. There'll be other good dogs in that, but he goes good there so you never know."
Finn said Gatlin showed good nous for such a young greyhound to take advantage of box one before saluting at the Glebe venue on Saturday night.
"That was where he wanted to be," she said.
"We were really confident (following a second place in his heat) after drawing the one. It wasn't an overly strong final.
"When he drew the one we knew he'd improve on the inside, and he found the fence straight away.
"So it worked out well."
Before his shot at Southern Stars glory, Gatlin will get another start over 520m in a fifth-grade race at Wentworth Park this weekend.
"I've got him in this Saturday night. I'll just keep racing him. He's a pretty excitable dog, so you've got to keep up his work," Finn said, adding New South Wales was the place to be for a greyhound trainer at the moment.
"There are plenty of races on the calendar. You really don't have to leave here with the prizemoney now."
Finn said she had some good prospects from her Zipping Garth litter on the way, with trainer-breeder Jason Mackay overseeing that star stud dog.
"I've got another Zipping Garth litter. They're just not named at the moment, but they're going well," she said.
"I've done all right from Zipping Garth. The litter I've got is winning plenty of races and going OK."
Similar Greyhound Racing News