Peter Hepple humble about Manzu's Darwin Cup hopes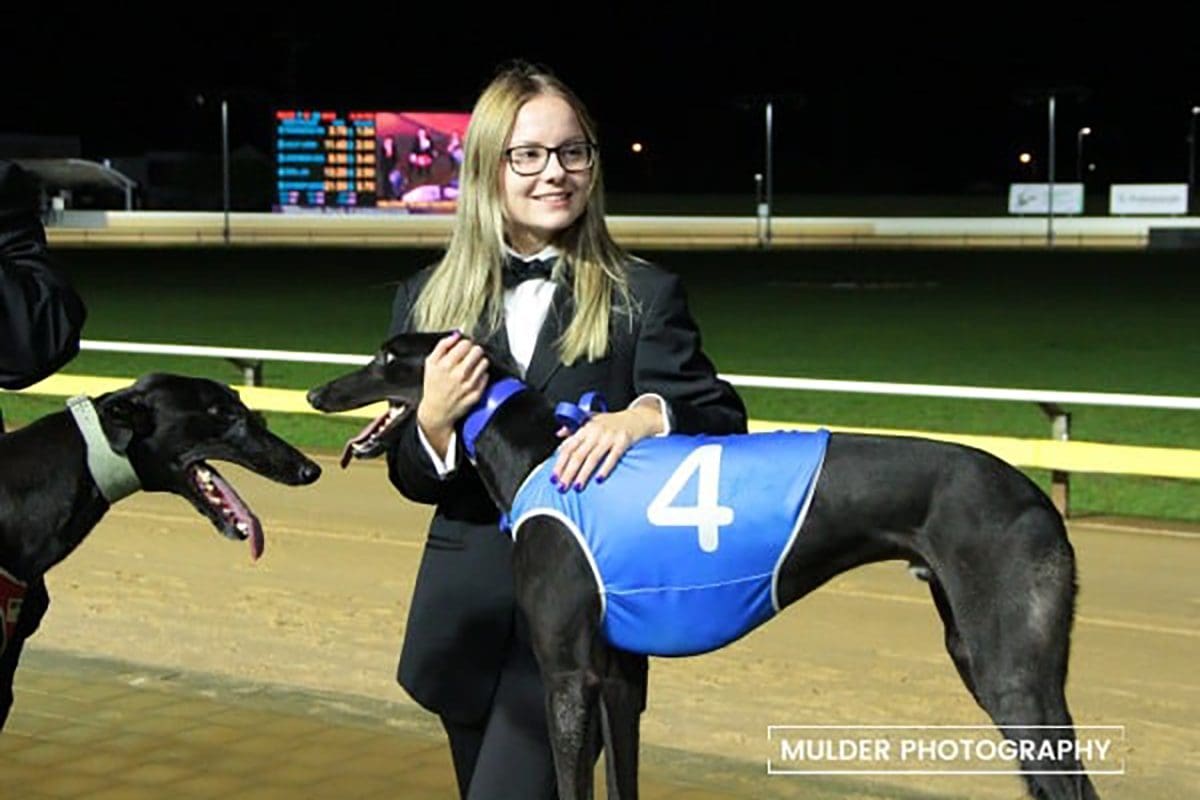 What impresses Western Australian trainer Peter Hepple about Manzu is that he can win in ruthless fashion while also being a gentleman.
That was how he saluted in his Darwin Cup heat and how he's been preparing for the Group 3 final worth $34,000 at Winnellie Park tonight.
The developing three-year-old ran the second-best heat time of 31.16 seconds, cleanly crossing over from box eight before the first turn, despite copping a little bump from Canya Bellatrix in box seven.
The class of this victory and an impressive career resume to date has given him $2.05 favouritism with Ladbrokes for tonight's final, where he is capable of doing that again from box seven.
Hepple is too experienced to let the favourite tag go to his head.
But he knows last year's WA Derby winner has the skills to reward him with his first Darwin Cup victory, after he walked away from the Top End empty-handed in 2018.
"Confidence is not a word that we use, but luck is what we want," Hepple told Australian Racing Greyhound, with Darwin local Steele Bolton's Myrtle Monelli ($5.50) running the best heat time of 31.07 seconds.
"He can win it – he's as good as the three or four best dogs in the race.
"He's up with them. He just needs that little bit of luck.
"If he jumps to the front they won't beat him. He's a smart dog – he can get through the field a bit.
"That's the ability he's got. And he's not a stupid dog – he's a gentleman."
Hepple's granddaughter Tayla Rollings is looking after Manzu in the Top End, and getting some help from fellow Western Australian Tim Mullany who is there on a holiday.
"She's done a marvelous job up there, and if she wins she's done an even better job," Hepple said.
"We're very proud of her. She's worked with the Brittons, looks after Shayne Williams' dogs when he's away, Greg Horne and Peter Brown.
"A lot of people get her to babysit their dogs while they're on holidays or away racing."
Darwin is widely known for its oppressive heat, but that has not had an effect on Manzu's temperament.
"Tayla took him to the beach (on Friday) and he loved it. She walked him in the water," Hepple said.
"When he first went in he was jumping over waves. And when he realised he didn't have to jump over them he just walked.
"And that's the kind of dog he is – he walked beside Tayla and he loved it."
If Manzu impresses tonight, he will line up in a WA Sprint Championship heat with confidence at Cannington on Saturday night.
If he wins the final he will then contend The Nationals at Wentworth Park, with the final to be on August 27.
Hepple believes a good Darwin Cup Final field – including Queensland trainer Jedda Cutlack's Showdown ($3.30) – will have Manzu primed for a WA Sprint Championship assault.
"It'll be a good hitout for him. As long as he gets through OK we'll be happy," he said.
"With a bit of luck we'll have a cup we can put on his back and show everyone."
Similar Greyhound Racing News