Remembering the greats: Highly Blessed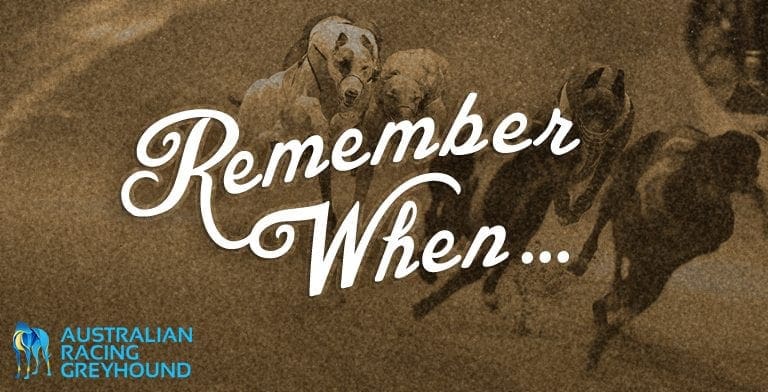 A greyhound whose racing career ended right at the advent of the Group Racing Calendar, Highly Blessed (Chariot Supreme x I'm Blessed), was among the first of former superstars of the track to be awarded an honorary induction into the AGRA Group Racing Hall of Fame.
Highly Blessed was bred, owned, and trained throughout her magnificent career by Doug and Lorraine Ferremi. Her dam, I'm Blessed, was a litter sister to 1984 National Sprint Championship victor Blue Echo.
Tipping the scales at a relatively miniscule 26 kilograms, Highly Blessed began her career on October 9, 1989 in a semi-final of the 430-metres Maiden 1000 series at Bendigo, winning in good style. She annexed the final a week later in 24.85, the best time of the night.
The black bitch then qualified for the final of the Shepparton Cup over 440 metres with a good heat win before being beaten less than three lengths into fifth place behind veteran chaser Pure Talent in the final.
Highly Blessed lost form almost completely after that, being unplaced at three of her next four outings, her lone success being a win in quick time at Bendigo.As it happened, Highly Blessed was suffering from an undiscovered fractured hock and did not race again for nearly three months.
Highly Blessed resumed on March 15, 1990, racing for the first time at Sandown Park. She was beaten a half head. She then scored a five lengths win in a heat of the 511 metres Sapphire Classic two weeks later but finished last to Revello in the final.
Taken to Wentworth Park she failed to finish.Three wins and a fourth followed in races over 511 metres at Olympic Park, before Highly Blessed defeated Melbourne Cup winner Modern Express by a massive 11 and a half lengths to qualify for the 520 metres Winter Cup at Cranbourne.She was again relegated to the ranks of the also-rans in the final, coming in fifth behind Chief Token.
At this stage Highly Blessed was considered talented, but hardly a star. A little like the great Fernando Bale, she appeared to work out just what it took to be a consistent winner and what followed was a sequence that propelled Highly Blessed into the top ranks of all-time Australian greats.
At her next 22 starts between June 25, 1990 and May 30, 1991 she registered an impressive 19 wins (including one dead-heat), one second, and two thirds.First off she took her revenge on Revello, beating that greyhound by a neck to take out the Gold Collar final at Olympic Park.
An 11-week break saw her resume by defeating the smart Fair Sentence at Sandown Park to make her way through to the Victorian State Final of the National Sprint Championship. She won the State final by five lengths, but could only finish third to the great Sandi's Me Mum in the National Sprint Championship, run at Sandown that year.
Highly Blessed won her next four starts, commencing with victory in the 440 metres Shepparton Cup, downing the fast Eureka Man by two and a half lengths in quick time. She then swept away her rivals in the 1990 Melbourne Cup, winning her heat by six and a half lengths and snaring the final by a whopping seven lengths.
A shock third in a Bendigo Cup heat over 430 metres followed before the black champion was taken north to Queensland and raced over 558 metres at the Gabba in a heat of the XXXX Trophy. From the visitors box (six) she recorded one of the most amazing performances ever seen on the tricky Gabba circuit.At the first turn she was severely checked and all but fell. Highly Blessed picked herself up and took after the leaders and managed to run the top Queensland chaser No It's Not to a dead-heat.
A week later, she took out the final by a massive 10 lengths in a fast 32.47. No It's Not was runner-up.The XXXX Trophy ended her 1990 campaign. She had raced 22 times for 15 wins, one second, and two thirds. Due to the strange rules imposed by the Victorian hierarchy, Highly Blessed was deemed ineligible to be considered for the 1990 Victorian Greyhound of the Year honours. The title went to Eureka Man.
Highly Blessed commenced 1991 with a devastating series of victories over 512 metres at Angle Park, culminating in her annexing the Adelaide Cup by a decisive seven and a half lengths in a blistering 29.95, just 1/100th outside the race record.The Victorian champion rested until the start of the Golden Easter Egg series at Wentworth Park in March. She was beaten by Uno in her heat but took her semi-final in 30.02 (best) from Cool Marvel. The win meant she had scored in Victoria, Queensland, South Australia, and New South Wales.
She made it four major victories in four states when she scored a brilliant five lengths victory over Cool Marvel in the final, running a magnificent 29.98, the best of the night.The win took her prize-money tally past $272,000, eclipsing Sandi's Me Mum as Australia's highest stakes winning greyhound.
On April 18, Highly Blessed snared her one and only track record, scoring by 12 lengths over 511 metres at Sandown Park and running an unbelievable 29.93 to take a massive 8/100ths off Hua's previous mark.Highly Blessed went 1/100th under the old mark in taking out the final of the Honda Trophy a week later, downing Kasheer by eight lengths in 30.00.Victory in the Schweppes Cup at Sandown Park followed, with runs of 30.16 and 30.05 before she was given a four week let-up after being injured in winning the Cup.She had now won six successive races, the longest winning sequence of her career.
Interestingly, five of those six wins were recorded out of box two, the last four in a row.Highly Blessed resumed in a heat of the Gold Collar at Olympic Park but could only finish fourth behind Heza Mullrock, a greyhound she had defeated by four lengths to win the Schweppes Cup. Sadly, the champion tore a triangle muscle and was forced out of racing for the remainder of the year. In 1991, Highly Blessed competed just 11 times for nine wins and one second.
The black champion resumed in the 1992 Australian Cup series, winning her heat by just a half length from Lively Monarch in 29.87, the best time of the night. She could only finish sixth in her semi-final but then won at Sandown by eight lengths in the best time of the night a couple of weeks later.Taken to Wentworth Park to defend her Golden Easter Egg title in early April, Highly Blessed was knocked out in the heats, finishing last to Lucky Ferrari.
Back home she again scored at Sandown Park, on May 14, winning by four lengths in a best-of-the-night 30.71. It was to be her last race victory.
Highly Blessed, attempting to defend her Schweppes Cup title, finished third in her heat behind the smart New Wish before running last behind Iceni Princess in the final on May 28.The Ferremi's, recognising Highly Blessed was now past her best, immediately retired her to stud. During 1992 she raced just seven times for three wins and one third.
Highly Blessed's career consisted of 48 starts for a magnificent 31 wins, two seconds, and three thirds, amassing an Australian record of $294,565 in prize-money.She was unbeaten in three starts at Angle Park and won her only two starts at the Gabba (albeit one of them being a dead-heat). In 16 starts at Sandown Park she notched 11 wins, while from nine races at Olympic Park she won on six occasions.Interestingly, she drew box one only four times for just two wins, but from box two she raced nine times for eight wins. She scored from every box and drew the 'squeeze' alleys, four, five and six no less than 23 times for 14 wins.
Highly Blessed had an average winning margin of 5.1 lengths, a figure definitely marking her as one of the all-time greats.
Mated with former champion sprinter Head Honcho, Highly Blessed produced star South Australian performer Brookside Cindy.
More Greyhounds News