Super Stayers win highlights three generations of success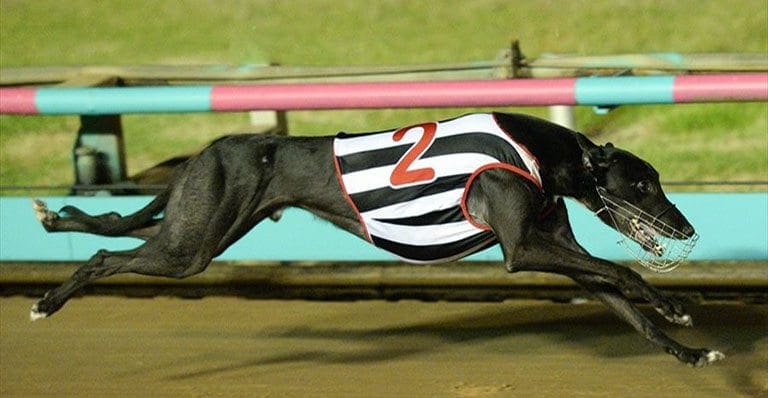 STEVE Connor celebrated his second group 1 triumph as an owner on Saturday night when his classy stayer Trip To Eden saluted in the Australian Super Stayers (725m) at The Meadows.
The black dog was able to settle mid-field from box three, starting his run down the back on the second occasion before gaining a beautiful run on the home turn, bursting in between leaders Teddy Monelli (box five) and Alera Bale (box eight) to score in 42.31.
Trained by Jason Thompson, it was Trip To Eden's first win at the highest level, whilst it came as a shock to many racing fans, with his kennel mate and odds-on favourite Burn One Down finishing at the tail of the field.
Connor, who lives on the NSW Central Coast, said he went into the event rating his star greyhound a good chance.
"We thought he has a big chance – obviously Burn One Down was always going to be hard to beat – but the thing we liked about him was that he had been improving all the time leading up to the race," Connor told Australian Racing Greyhound.
"Although you go into most races thinking they can run well, luck always plays a part when they have to come from behind, thankfully he got the right run turning for home and was able to get the job done.
"It was terrific – it has been a long time in between drinks for me as I won my first and only other group 1 with this dog's grandfather, Suave Fella, about 12 years ago.
"I also owned and raced this dog's mum Key To Eden who I bred from a bitch I owned, Wild Chant, and Suave Fella.
"To then have Key To Eden produce this bloke – it is really good and I think it is the most pleasing part of this whole experience."
Trip To Eden took his career record to 15 wins and 13 minor placings from 38 starts on Saturday night, with his career earnings now above the $210,000 mark.
Having started his career in NSW, the move to Victoria has paid dividends for Connor and Trip To Eden, with Thompson also steering the consistent greyhound to two group 1 placings prior to Saturday's win.
"The dog has always shown potential right from the very start," Connor explained,"he started his career with Mark Davidson in Newcastle and he did a great job with him, but I made the decision to send him down to Victoria for a couple of reasons.
"One of those reasons was when the decision was announced to can greyhound racing in NSW – it was a bit of a shock to the system.
"I had to make a decision pretty quickly because I had a dog with a lot of ability and to suddenly be faced with the potential of him not being able to race in NSW was very scary."
The victory also continued Connor's run of luck with team Thompson, who have trained many greyhounds for him including Suave Fella and Melbourne Cup runner-up Hanify's Impact.
In all, greyhound racing has been a successful venture for Connor who decided to buy his first pup around 15 years ago.
"I was reading the Recorder and having a bit of a look through it and I decided to buy a couple of pups and it just grew from there.
"I didn't have a lot of success early on, but I knew Jason was probably the best trainer in the country so I rang him and asked him to have a look around for a dog for me.
"It took him a few months but then he called me back and told me about Suave Fella, so I bought him and that was where my success started from.
"He won the Paws of Thunder when Jason had him and then later in his career Jason asked me whether I wanted to move him back up to NSW because he had gone through all the grades in Victoria.
"I moved him up and Eric Castle trained him for me and he won the Gosford Cup."
Trip To Eden is now likely to head to Traralgon for the Distance Cup before making the journey interstate to compete in the heats of the Group 1 Association Cup (720m) at Wentworth Park early next month.
More Greyhounds News