Terry still on cloud nine after sensational Sapphire victory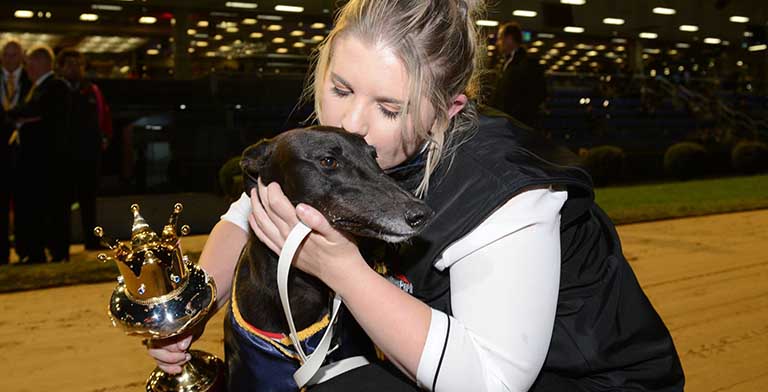 ASHLEE Terry says she is still pinching herself after winning Thursday night's Group 1 Sapphire Crown (515m) at Sandown Park with her talented sprinter Maja Mahi Mahi.
Sent to the boxes as an $8 shot, Maja Mahi Mahi began well from box two, pushing up underneath dual group 1 winner Striker Light (box three) around the first turn.
In the run to the line the black bitch held off a late challenge from Up Hill Jill (box five) to score by half a length in 29.67.
It was the first group 1 success of Terry's career, with the Cranbourne South conditioner training from a property with her partner Andrew Paraskevas.
"We are still a bit overwhelmed and trying to process that we actually won a group 1 at the moment," Terry told Australian Racing Greyhound.
"Our main concern going into the series was getting her through the heat because we knew she was a bit underdone – we knew whatever she did in the heat she would improve on in the final.
"It was still a very good final so we didn't know whether the improvement would mean she'd be going good enough to win – but she used the inside box to her advantage and she showed that she is a very tough little girl.
"It is still a bit of a blur because it all happened so fast – after the race was crazy – the photos, people and everyone coming up to congratulate me – it was wonderful that everyone was being so supportive.
"I thought she had won, but you can't see very well from behind the boxes there and I knew it was close so I didn't want to start celebrating in case she got beat.
"It wasn't until Mark [Duclos] called me over for an interview that I knew for sure – from there I went into a bit of shock – it was just an unbelievable night."

Maja Mahi Mahi took her career record to 12 wins and 12 minor placings from 39 starts on Thursday night, with her career earnings now in excess of $143,000.
While the lucrative winner's cheque will assist the young trainers, Terry says it was the last thing on her mind after the triumph.
"None of this was about the money – being able to say that we've won a group 1 race means more to us than prize money," she said.
"It's a huge thrill because a lot of work goes into the dogs. Andrew and I have been training together for about four years – everything is done between the two of us and it really is a lifestyle.
"One of us is always at home feeding the dogs or out trialling – its definitely a team effort and it is nice to have someone there to share the good moments with.
"I barely saw Andrew after the race – we lost each other all night because of all the excitement – but it was an unforgettable experience which I will always treasure and I know it meant a lot to Andrew as well."
Terry said the win was also particularly sentimental as a way of remembering her late father Keith who was a prominent greyhound trainer and keen enthusiast.
"A lot of my family don't get the chance to come to the races, but they were the first people to congratulate me because they know how much it means to me and how much it would mean to dad if he were around," she said.
"To see me win a group race – to win any race for that matter – would make him so proud because there is only me and one other sibling who actually followed in his footsteps and started training.
"Greyhounds were always his passion and even now they keep our family close as a way of remembering him – everyone knows they are all dad had and all he ever really wanted and I am the same.
"I think it's a good way to keep his memory alive."
Terry said Maja Mahi Mahi will now be aimed at the heats of the Group 2 Bendigo Cup (425m) which are set to be run and won on July 3.
"Our next aim is Bendigo which is in around four weeks away so we have got to sit down and work out what we are going to do between now and then.
"She is a bitch which needs a few looks at every track to be at her best so I'd say that's what we'll do now to give her every chance heading into that series."