Warrnambool Track Closes For Redevelopment

Last Wednesday night saw the final meeting on the existing Warrnambool track prior to its closure for redevolpment. The honour of training the last winner on the "old" track went to long time Warrnambool supporters, Ken and Pauline Patterson; and the race was called by local racecalling legend, John "Flags" O'Flaherty.

The club held public trials on Thursday night and have a full morning of public trials booked for this Saturday, but after the last dog enters the catching pen in anger Saturday morning, the club will put the closed sign over the boxes.
Warrnambool ran its first public race meeting at the current Wannon showground site on September 1978 with a huge crowd in attendance to see the new $290,000 facilities and greyhound racing under lighting. Previously, greyhound racing had a long association with what became known as Botanic Park.
Botanic Park, was formerly known as "Whiteway" and had started racing way back in 1936, which itself had evolved from coursing or plumpton racing which had existed in the local area since the 1920's.
Botanic Park began as a single grass track of roughy 300 yards and in 1937 expanded to include a single turn horseshoe track of 388 yards. The club managed to survive severe flooding in 1946, that saw racing suspended for nearly 12 months; and it wasn't until 1979, that the club staged its final meeting at the Botanic Road site and moved to a new track at the current Wannon Showground site.
That the last of the straight races had been was staged and true circle racing became a reality, with racing over the 388 and 457 metre distances. Between then and now the track and the facilites have undergone several upgrades and changes to its racing distances althought the current 450 metres start seems to have been a stable start from before 1986 right through to today.
The current track recorder holders as of the close this week are :
Warrnambool 332m Track Record Holder – Elite Saint 18.80
Warrnambool 450m Track Record Holder – Big Smig, Knocka Norris 24.81
Warrnambool 570m Track Record Holder – Bo Frazier 32.70
Warrnambool 665m Track Record Holder – Kip Irlicht 38.75
The current track recorder holders as of the close this week are :
Warrnambool 332m 1st Split Record Holder – Karana Girl 6.43
Warrnambool 450m 1st Split Record Holder – Deception Bay 6.35
Warrnambool 450m 2nd Split Record Holder – Brett Lee 12.09
Warrnambool 570m 1st Split Record Holder – Autumn Harvest 13.16
Warrnambool 570m 2nd Split Record Holder – Optimistic One 19.21
Warrnambool 665m 1st Split Record Holder – Ben The Drummer 6.92
Warrnambool 665m 2nd Split Record Holder – Brionny's Choice 18.39
Warrnambool 665m 3rd Split Record Holder – Brionny's Choice 24.75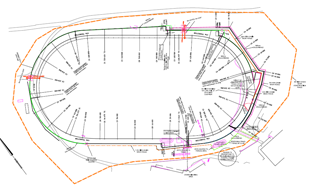 The planned redevelopment scheduled to be completed in October this year, will be a replication of the Shepparton track, with distances being 390, 450 & 650 metres, a track circumference of approximately 620 metres, a minimum track width of 7 metres and identical turns of 59 metre radius with 40 metre transitions entering and exiting both corners. The track turn camber will set to match that of Ballarat.
During the redevelopment, Warrnambool's regular Wednesday night racing timeslot will be replaced in the short term by Sale (May 14, 21 & 28), with Sale also continue to fill its Sunday racing commitment.
Then from June to October, Bendigo will fill Warrnambool's vacant Wednesday night timeslot. Ballarat will continue to race on Wednesday nights, and will also inherit the Thursday twilight fixture to be made vacant by Bendigo.
Similar Greyhound Racing News