Will it be third time lucky for Ritza Lenny at Bulli?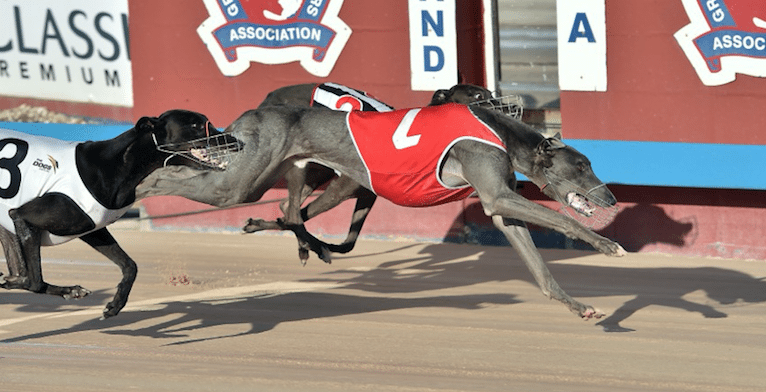 MARK Gatt will be hoping the saying third time's a charm rings true when he heads to Bulli on Saturday night to contest the Group 2 Cyril Rowe Cup (472m) with his talented campaigner Ritza Lenny (Barcia Bale x Lagoon Lowanna Jun '14).
Ritza Lenny, one of the most consistent greyhounds in NSW, will line up from box six in the $40,000 feature. Amazingly it will be the third time he has contested the south coast series. The blue dog finished sixth in the 2016 final behind Black Bear Lee before returning last year, running second in his heat behind Winsome Mission.
Just as he did two years ago, Ritza Lenny will head into the decider as the fastest qualifier, having won his heat over the weekend in a flying 26.10. Although he was only fairly away, Ritza Lenny got room to move off box seven and quickly slipped into top gear, defeating Sleek Master (Swift Fancy x Lagoon Holly Dec '13) by four and three quarter lengths.
Gatt, who won the Cyril Rowe Cup back in 2014 with Gradence (Vapour Whirl x Ding's Rocket May '10), said he was incredibly proud of Ritza Lenny's heat win.
"It's great to see him make the final after everything he has been through – he is a tough old fella," Gatt told Australian Racing Greyhound.
"He is going as good as ever so hopefully he can stay sound and keep going."
Ritza Lenny will meet a cracking field for the final including Black Hole Sun (Cosmic Rumble x Chasing Diana Jan '15) which came from behind to win his heat in 26.47, Victorian gun Jimmy Newob (Cosmic Rumble x Nosey Rosey May '15), Maitland track record holder Precious Sal (El Grand Senor x Surin' Sal Jan '15) and his little brother Lagoon Pirate (Cosmic Rumble x Lagoon Lowanna Sep '15).

Just to make the final is almost as good as a win in the eyes of Gatt, who nursed the sprinter back to health after he had a toe amputated last year – keeping him off the track for eight months.
He has now had eight runs back, missing a place just once, and clocking flying times at Wentworth Park on three occasions (29.97, 29.85 and 29.78).
"It took a long time for it to heal and that type of injury can generally take up to six lengths off a dog – but it doesn't seem to have affected him at all.
"I put it down to him being such a hard chaser. He is all heart and he puts in for us every time so you have got to be happy with that."
The Thirlmere trainer said Ritza Lenny is not well drawn in box six for the final, but he remains hopeful that with a bit of luck his star chaser can make his presence felt.
"He loves Bulli – the draw is a bit of a setback for him as there are a few speed dogs on the inside which will make it hard to go around them.
"But I am happy with the dog. You never know what can happen in a race like this – hopefully he gets a bit of clear running out wide and he can take off.
"If he could win I'd be rapt, but I am happy as long as my dogs try hard and with him you know that's always going to happen."
The Group 2 Cyril Rowe Cup will be run and won at Bulli this Saturday night.
2018 Group 2 Cyril Rowe Cup box draw
1 – Jimmy Newob
2 – Precious Sal
3 – Lucky Chap
4 – Lagoon Pirate
5 – Sleek Master
6 – Ritza Lenny
7 – Elantris
8 – Black Hole Sun
Reserves
9 – Canya Touche
10 – Pedro Cerrano
More Greyhounds News