Young gun sprinter out to cause Mayhem in Group 2 Bendigo Cup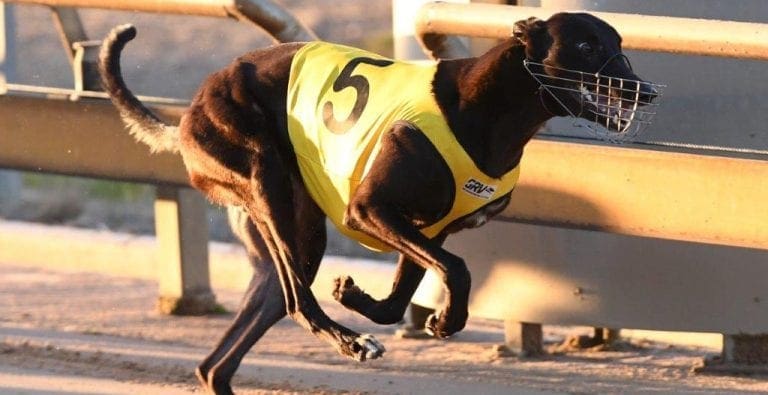 BOOM youngster Kouta Mayhem will face the biggest challenge of his career when he heads to Bendigo this Friday night to contest the Group 2 Bendigo Cup final over 425m.
Trained at Lara by Jason Sharp, Kouta Mayhem has won eight of his 12 starts to date including a fast 23.61 heat victory on Sunday afternoon where he defeated a classy field including Pepper Fire and Paua To Avoid.
Sharp concedes it was a big ask for Kouta Mayhem to produce his best against some seasoned group rivals, but was pleased to see his charge pass the assignment with flying colours.
"On his times I gave him a chance, although I was a bit worried about box five and whether he'd get a clear run because he has missed the start a couple of times," Sharp told Australian Racing Greyhound.
"Once he jumped to the front I knew it was all over."
It was all Kouta Mayhem in the seventh #BendigoCup heat this afternoon from box five at Bendigo Greyhounds #GreyhoundRacing pic.twitter.com/fwdo7vqz2d

— Greyhound Racing Vic (@GRV_News) July 2, 2017
Sharp, who has 70 greyhounds in work with his wife Jessica, says Kouta Mayhem has taken him by surprise, having posted some sensational times at his limited starts to date including a 23.55 run at Bendigo and a hot 25.43 effort over 460m at Geelong.
"We always knew he had ability, but to be honest I didn't realise he was this good until he started putting the times on the board.
"You always see young dogs coming through who keep improving with every start, but it still feels a bit surreal to have one yourself, especially one as good as him.
"He's the best dog we've had – it's great to have a dog like him and be mixing it with the big boys."

Despite posting the second fastest qualifying time from the eight heats, Sharp also warned that his charge could go quicker with the right run in the final.
"He had a couple of little issues prior to his heat that I had to work on so he had a very light week in the lead up to the race – I am hoping he will take a little bit of improvement out of his heat run," he said.
Kouta Mayhem will start from box eight in the $47,000 to the winner final on Friday night, a draw which Sharp is happy with considering his greyhound's inexperience.
"For a young dog I think box eight is where you want to be. If you draw inside you can't make any mistakes otherwise you're in the back of the back, whereas if he misses the start from box eight it still gives him a chance to gather momentum and get back into the race."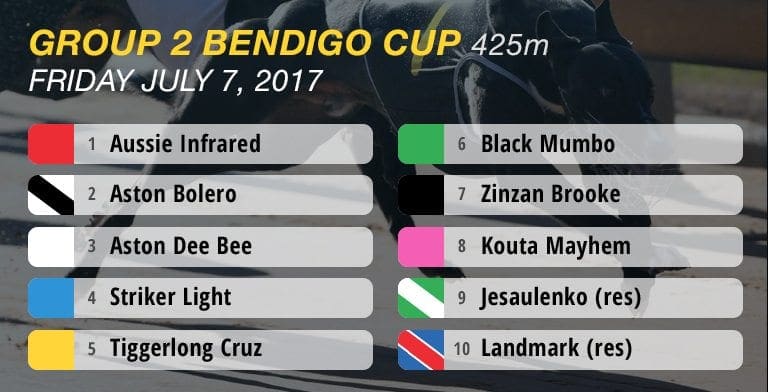 Friday's field is nothing short of spectacular, featuring seven other heat winners; Aussie Infrared (23.95), Tiggerlong Cruz (23.92), Aston Bolero (23.64), Black Mumbo (23.81), Striker Light (23.71), Zinzan Brooke (23.40) and Aston Dee Bee (23.64).
Sharp explained he is going into the race with a genuine chance, but says luck will play a big part in which greyhound crosses the line in first position.
"He has definitely got a chance, but it is an unbelievable field – I don't think the Bendigo Club could have hand-picked a better final.
"You can genuinely say that any of the eight dogs could win it and I think it will come down to whoever jumps and does everything right on the night."
A win in the feature would be a career highlight for team Sharp who have had a great 2017, winning the Group 3 Vic Bred Maiden final at The Meadows with the classy Oronsay.
However, Sharp says there is something extra special about Kouta Mayhem, the greyhound which he is hoping will put him on the training map in a big way.
"You've always got to try and sell your own brand and hopefully this bloke can prove that we are capable of mixing it with the big boys.
"To win it would be fantastic – like a dream come true."
Similar Greyhound Racing News