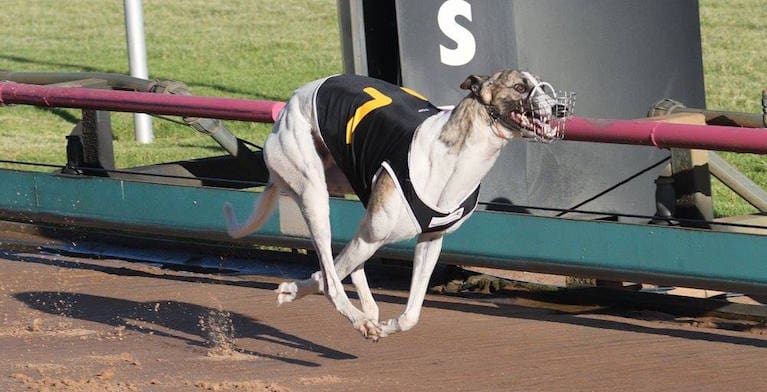 The Group 1 Galaxy is the major staying feature held in Western Australia each year, acting as the support race on Group 1 Perth Cup final night.
The race is worth $100,000 to the winner, making it one of the most lucrative staying features on the greyhound racing calendar.
The 2018 edition of the final was held at Cannington on Saturday April 21 and was taken out by Victorian powerhouse Rippin' Sam for trainer Rob Britton.
Betting on the Group 1 Galaxy
Because of the lucrative winner's purse, the Group 1 Galaxy often attracts the best stayers from across the country, meaning that it is also a race punters are keen to bet on.
Our recommended online bookmakers all offer fixed odds betting on the heats and final, with the markets generally up quickly after the box draws are conducted. With the odds out early, it gives everyone the opportunity to snap up some great odds on offer which may not last until the jump.
Some of our bookies also offer all-in betting on the winner of the final once the box draw has been released for the heats, with some big prices normally included in the market which is fantastic for those punters who think they have spotted the series winner and are willing to take a punt prior to the running of the qualifiers.
Odds are not yet available for the 2019 Galaxy, however be sure to check this page in the weeks leading up to the series to snap up the best betting odds through our recommended online bookmakers.

Recommended Bookmakers
History of the Group 1 Galaxy
The Galaxy was first run in 1982 as a minor feature on the WA racing calendar, with the inaugural edition taken out by Afro Freeway.
The race was promoted to group status in 2002, run as a Group 2 when taken out by Jennev, which also went on to win the Silver Bullet at The Meadows and the Sandown Cup.
The first time it was run as a group 1 was in 2007 when won by former sensation Flashing Floods, the champion Victorian bitch who won three races at the highest level and was named the 2007 Australian Greyhound of the Year.
Since receiving group status, the race has been won by some of the finest distance dogs the sport has seen, most notably Miata, the local star which became Australian greyhound racing's highest earner when she took out her second Galaxy final in 2013.
While she has since lost her title at the top of the prize money tree, the daughter of Bombastic Shiraz and Winsome Bluebird is still regarded as one of the best greyhounds to have ever graced the track 42 of her 51 starts including wins in five group features.
The event is now firmly entrenched as one of the most prestigious races in the state, with it now acting as the main support race on the biggest night of racing in the west.
Group 1 Galaxy – the recent years
Rippin' Sam broke through for his first win at Group 1 level when claiming the Zoom Top at Cannington. The white and fawn greyhound, sired by former champion Fernando Bale, began fairly off box four and was able to overcome early and mid-race interference to charge clear in the home straight, kicking clear to score emphatically on the line.

2018 Galaxy results

April 21, 2018. Cannington GWA first prize $100,000.
Winner: Rippin' Sam (Fernando Bale x Tornado Tears) Born February 2016 White and brindle Dog
Owner: Loren Harborne, Trainer: Rob Britton.
Time: 41.70, Margins: 3.25 x 2
Others in finishing order: Moment To Jive, Quick Jagger, Myrniong Corner, Beryllium, Simon Keeping, Jeebus Bird, Simon Keeping.

Bogie Bekim gave young South Australian trainer Ben Rawlings his biggest win in greyhound racing when his talented stayer Bogie Bekim won the Gr 1 Sky Racing Galaxy final.

The black dog sat close to the leader Woodvale Flyer from the start before pushing through along the fence approaching the home corner. He then held off the lat finish of Victorian trained chaser Trip To Eden in 42.22 by half a length.

Bogie Bekim had won 12 times from 39 starts and amassed $38,000 in stakes before tonight's win where he pocketed another $100,000 for owner Leslie Bein of Bogie Leigh fame.

2017 Galaxy results

February 4, 2017. Cannington GWA first Prize $100,000
Winner: Bogie Bekim (Bekim Bale x Bogie Skye) Born April 2014 Black Dog
Owner: Leslie Bein, Trainer: Ben Rawlings, Time: 42.22. Margins: 0.5 x 3.75. Others in finishing order: Trip to Eden, Woodvale Flyer, Big and Fast, Topology, Flying Kayla, Tommy the Weapon, Walt Bale.

Former Victorian Seeking Justice gave master WA conditioner Keith Harding his third success in the Galaxy when scoring in 42.35 – a new track record time.

The brindle dog added to his win in the Group 3 Top Cat Video Cup and third placing in the Group 1 Zoom Top, taking his career earnings beyond $208,000. Harding previously won the Galaxy in 2008 with Elektra and with Hall of Fame greyhound Afro Freeway in 1982.

2016 Galaxy results

April 23, 2016. Cannington GWA First Prize $100,000
Winner: Seeking Justice (Kinloch Brae x Shanlyn Supreme) Born: Aug 2012 Brindle Dog
Owner: Fast Track Racing, Trainer: Keith Harding,
Time: 42.35. Margins: 4.5 x 2.75.
Others in finishing order: Dyna Nihilist, Ryno's Raider, Hodor, Alka Casey, Lioness Lulu, Lofty Ambition, Zipping Bella.

Rob Britton took out his second consecutive Galaxy when Space Star scored an out of this world win. The black dog defeated a quality field to score by one and one quarter lengths in 41.63 over the 715m trip.

2015 Galaxy results

February 7, 2015. Cannington GWA First Prize $80,000
Winner: Space Star (Bekim Bale x Tonto Tears) Born June 2012. Black Dog
Owner: Camilla Limon. Trainer: Robert Britton.
Win: 41.63. Margins 1.25 x 4.25.
Others in finishing order: Lady Toy, Starc, Blinker's On, Tangier, My Mate Cobber, Ash Flash, Expect a Guess.

Born Ali took out the Gr 1 Sky Racing Galaxy final after coming from behind kennel mate Gold Affair Two and then holding off the late challenge by Dyna Willow.

The Robert Britton trained bitch jumped well from box 1 as favourite and then levelled up going off the back straight to the leader before the fight began in the home straight.

Born Ali kept punching and won by a head in 42.05 and in doing so took her stakes past the $$212,000 mark.

2014 Galaxy results

February 8, 2014. Cannington. WAGRA First Prize $80,000
Winner: Born Ali (Velocette x Born Princess) Dec 2010 Black Bitch
Owner: Noel Mugavin. Trainer: Robert Britton.
Time: 42.05 Margins: Neck x 2.25L
Others in finishing order: Dyna Willow, Gold Affair Two, Infinite Wish, Reverberate, Sweet It Is, Ash Flash, Hellmuth.

The mighty Miata won her second Galaxy, becoming the first greyhound to ever do so. Trained by Paul Stuart, the fawn flash made the race a one act affair, defeating her rivals by a widening 13 lengths in 41.48. Her win was the start of a superb night for her trainer, who would take out the Group 1 Perth Cup two races later with former top chaser Dyna Nalin.

2013 Galaxy results

February 9, 2013. Western Australian GRA. First Prize $80,000
Winner: Miata (Bombastic Shiraz x Winsome Bluebird) October 2009 Red Fawn Bitch
Owners: Paul Stuart & Nichole Wheeler-Whye. Trainer: Paul Stuart.
Margins: 13 x 1.5. Time 41.48Others in finishing order: Hogmania, Pedro's Finest, Politician, Atelier, Twistie, Kalden Mayhem, Travel Bug Miss.
Group 1 Galaxy honour roll
| | |
| --- | --- |
| 1982 | Afro Freeway |
| 1983 | Supreme Carmen |
| 1984 | Aulfee |
| 1985 | Lady Temlock |
| 1986 | Abilene |
| 1987 | Lassie's Girl |
| 1988 | Red Rambo |
| 1989 | Ghetto's Glider |
| 1990 | Busy City |
| 1991 | Galahad County |
| 1992 | Petite Emma |
| 1993 | Cousin Johnny |
| 1994 | Floral Kwondo |
| 1995 | Wits End |
| 1996 | Rocket Racer |
| 1997 | Gemarly Park |
| 1998 | Paradise Street |
| 1999 | Harvard Bale |
| 2000 | Alencia Bale |
| 2001 | "Not held" |
| 2002 | Jennev |
| 2003 | Why Complain |
| 2004 | Winter |
| 2005 | Best Quoted |
| 2006 | Ronray Dancer |
| 2007 | Flashing Floods |
| 2008 | Elektra |
| 2009 | Western Land |
| 2010 | Drill' Em |
| 2011 | Blue Lorian |
| 2012 | Miata |
| 2013 | Miata |
| 2014 | Born Ali |
| 2015 | Space Star |
| 2016 | Seeking Justice |
| 2017 | Bogie Bekim |
| 2018 | Rippin' Sam |