Rippin' Sam a staying star on the rise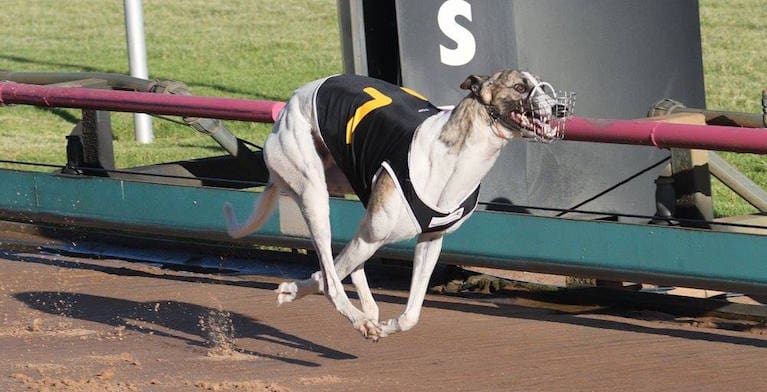 RIPPIN' Sam (Fernando Bale x Tears Siam Feb '16) enhanced his reputation as the next star of staying racing when taking out Friday night's handicap race at The Meadows in sensational style.
Taking on some seasoned rivals including group 1 finalists Packey Keeping (Bekim Bale x Kim Keep-ing May '15) and Hit The Highway (Oaks Road x Full Noise Turbo Jan '15), Rippin' Sam settled mid field after a fair beginning. After a few bumps the white and brindle dog managed to work his way into the race, hitting the lead down the back and obliterating his rivals to win by eight and one quarter lengths in 42.09.
He remains unbeaten over the staying trip, having now won all five starts over 660m and longer for owner Loren Harborne. Rippin' Sam's trainer Rob Britton is no stranger to fast dogs and says his latest star couldn't be any more impressive at this stage of his career.
"He is doing everything right and he is learning all the time," Britton told Australian Racing Greyhound.
"He has got a massive staying motor – I think he could run another lap if they let him."
If ever a dog was bred to be a stayer it's Rippin' Sam. The youngster is out of the well bred Tears Siam (Bekim Bale x Tonto Tears Jun '12) which won nine of her 34 starts and was a sister to another Britton-trained superstar.
"It's not as if you're guessing with him – he is bred to be a stayer.
"His mother is a litter sister to Space Star and I trained her for a while – she won a few races over the staying trip by 15 lengths.
"It's a brilliant staying line and I am hopeful he has a future like Space Star – he looks the real deal at this stage although we don't want to get too carried away."

Rippin' Sam has won six of his 15 starts overall and has amassed over $32,000 in prize money already. Incredibly, the 34-kilogram machine never looked like being a star greyhound early on – but has improved in leaps and bounds with maturity and patience.
"He was a bit of a work in progress to start with. During pre-training he was coming out 10-15 lengths behind the other dog and even though he still isn't a great beginner he has improved a lot on what he was doing.
"His last three starts he has come out with them, so hopefully we are over that – now it's just a matter of how he handles himself against the top group class dogs."
Rippin' Sam's ability has impressed fans so much that his owners recently knocked back a massive offer to buy their exciting greyhound which has gained an invitation to nominate for the Group 1 Zoom Top (725m) at The Meadows next month.
Britton says that race will be his main aim and he is hopeful Rippin' Sam will be able to do enough over the next few weeks to guarantee his spot in the invitation-only race.
"He is pulling up well at the moment but I want to be careful – he is only young so I don't want to go crazy with him.
"We'll just keep him in the graded races for now until the feature races come up in Melbourne in a few weeks.
"Hopefully he can get a place in the Zoom Top. Obviously there are some very good dogs which have been invited – but he has already raced and beaten some of them so he has shown he is pretty smart."
Britton could have two in the $75,000 to the winner race, with champion racer Fanta Bale (David Bale x Ucme Typhoon Aug '14) also set to target the Zoom Top. The leading Victorian conditioner is also hopeful Rippin' Sam can take the mantle of the best stayer in the land from his kennelmate when she retires later in the year.
"Obviously Fanta Bale wont be able to race forever – hopefully when it's time for her to retire this bloke will be able to step up and compete in the big races for us.
"But she isn't retiring just yet so it would be great to have the two of them in the race – it is a massive honour to be in these big ones."
Rippin' Sam will race again this Saturday night at The Meadows where he will contest race one from box two.
More Greyhounds News