Out Of Range shooting for second Group 1 in 2018 National Derby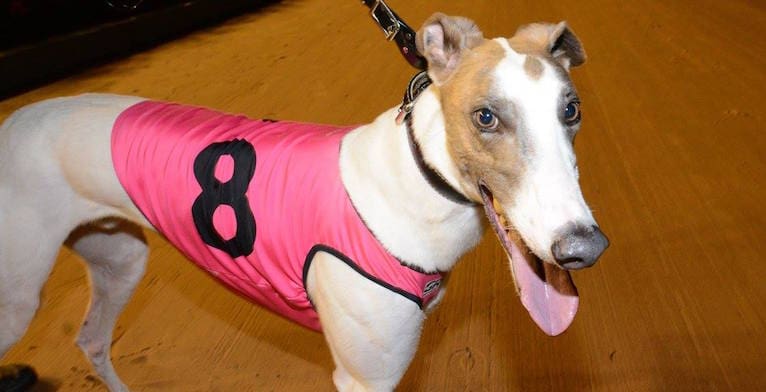 BOOM youngster Out Of Range (Fernando Bale x Nicki Fields Dec '15) will be the one to beat in Saturday's Group 1 National Derby (520m) final after a big win in his heat of the feature on the weekend.
Trained by Seona Thompson, Out Of Range was well drawn in box seven, carving his way across the field to take the lead through the first turn. The white and brindle racer was pressured by roughie One Hour Parking (Fabregas x Makedonia Apr '16) entering the back straight, but he responded well, slipping into top gear and bolting clear to win by eight and one quarter lengths in 29.91.
Thompson was thrilled with the win which was Out Of Range's first start in the Harbour City.
"I sent him up to Jason Mackay – it wasn't ideal for him to be travelling up and down in the heat and Jason trains the same way as we do," Thompson told Australian Racing Greyhound.
"He had a look at the track the week before his heat and it wouldn't have surprised me if he ran 30.50 – he is the sort of dog which doesn't trial exceptional – he is a real race dog.
Here's your National Derby favourite Out of Range bolting up in Heat 2. 5.49 to first mark. One hand on the trophy for Jason & Sedona Thompson. #wentworthpark #derby#ultimo pic.twitter.com/561VZVR65C

— Nathan Cripps (@hoodooguru81) January 27, 2018
"When he went 30.01 I was absolutely rapt and I knew he could improve on that heading into the heat which he did – he went super.
"He is full of confidence and I think the trip away has done him the world of good – it's been a big experience for him but he has handled it beautifully."
Out Of Range has won 10 of his 15 starts thus far including the Group 1 Silver Chief Classic (525m) at The Meadows at the start of January. A win in the final on Saturday night will take his earnings beyond $220,000 – a gobsmacking achievement for a pup which is still learning what racing is all about.
Out Of Range has been installed as the $1.90 favourite to win the feature this weekend where he will jump from box four against a quality line up including Fernando Express (Fernando Bale x Tears Siam Feb '16), Two Times Twice (Fernando Bale x Chica Destacada Apr '16) and Little Digger (Fernando Bale x Solar Pak Nov '15).
It was a massive weekend for the Fernando Bale x Nicki Fields litter, with Poke The Bear triumphing in the Group 2 Traralgon Cup (525m) on Friday night. Another greyhound trained by Thompson, Poke The Bear was dominant in the $47,000 to the winner race, overcoming box six to register a 1.57 length win in a fast 30.03.
"He came out nicely and once he got into second he was going to have every chance to win the race – he was very impressive," Thompson said.

Poke The Bear has won 13 of his 19 outings including some sizzling times at The Meadows (29.71), Sandown Park (29.22) and Cranbourne (29.88). Thompson said both have enormous talent, but have different attitudes on race day.
"Since they've been here I've always thought Poke The Bear was the better race dog – he is probably a bit stronger.
"They are both beautiful animals but they are completely different in nature. When you get Poke The Bear to the track he is very switched on and he gets himself worked up, whereas Out Of Range is very relaxed and you'd almost think he is asleep half the time.
"They are quality animals – they are race dogs and they have both got huge futures. They are only babies so they are still learning, but they are already very mature and they are doing everything we ask of them at this stage."
Both racers are owned by Michael and Darren Puleio who also bred the pair out of their talented race bitch Nicki Fields (Knocka Norris x Misty Fields Sep '12) which made the 2015 Group 1 Superstayers final at The Meadows.
"The Puleio family have been good friends of ours for over 20 years – we had a bitch for them back in the 90s called Walking Portrait which made an Australian Cup final.
"She didn't do any good in the final, but I still remember it well because they were such good friends of ours.
"They breed a couple of litters every year – they bred Boris Fields and Xtreme Knocka and they were both group class dogs but they had sold both of those as babies.
"I am thrilled to see them get a couple of good dogs after all these years – to have bred them and kept them I don't think anyone is more deserving than they are."
Thompson is hopeful Out Of Range has done enough to secure a spot in the invitation-only Group 1 Temlee (525m) at The Meadows next month, whilst Poke The Bear will now target the Group 2 Cranbourne Cup as he seeks to enhance his selection chances too.
The Group 1 National Derby is race six at Wentworth Park on Saturday night and will jump at 9.08pm.
More Greyhounds News