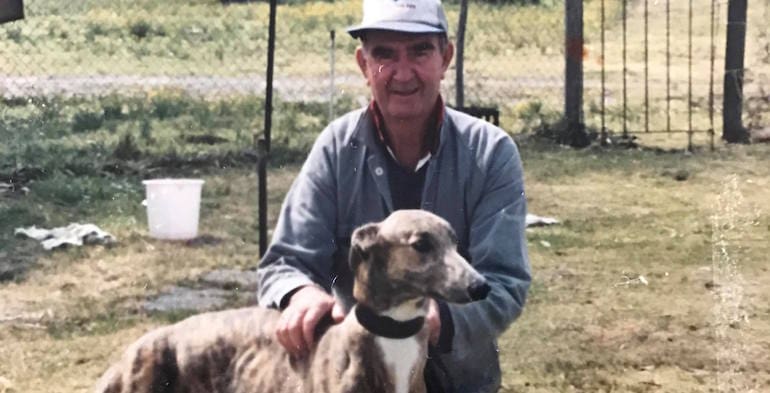 Australian Racing Greyhound is saddened by the passing of former respected conditioner George Singline, just five days shy of his 95th birthday.
Singline trained many top class performers with his wife Joan, whom he was married to for 67 years.
George's first greyhound was a dog named Red Wool which won the 1959 Hunter Valley Championship.
They also prepared champion stayer Foot Mark which raced in the 1970s and helped them buy their house on the NSW Central Coast.
Many years ago the Singlines also owned and ran a breaking in establishment at Wyong North.
Another notable performer trained by George and Joan was Scott Of Minmi which won the 1979 Group 1 Vic Peters Classic final at Harold Park as a maiden.
George and Joan were training up until a few years ago, one of their most recent stars being short-course specialist Fascinate Mary which won 22 of her 93 starts before retiring in late 2015.

George and Joan had five daughters – Jenny, Lorraine, Rhonda, Noelene and Carole – all of which have retained an interest in greyhound racing over the years.
Lorraine Atchison is one of the most respected breeders, owners and trainers in the Hunter Valley/ Central Coast area – some of her best including Tarawi Tess, which ran second in a Group 1 Paws of Thunder, and Sutro Star – a handy stayer.
Both went on to become prolific producers and the line is still successful today – a grandson of Tarawi Tess, Spacecraft, won the Group 2 Maitland Cup in 2015.
Noelene Holloway has also enjoyed a successful few years with her dogs, all of which are out of Fascinate Marina which was bred by Lorraine.
Some of her best offspring include Group 1 National Derby winner Magic Spring, Queen Esther, Queen Marina and Mike Marlow.
Carole and her husband Jeff are also respected conditioners, their best recent chaser being seven-time group finalist La Grand Logie which has just been retired to stud.
Jenny and her husband Thomas Richards trained a handy dog a few years ago named Quicklee Tommy which won 15 races, whilst Rhonda has also been an owner over the years.
Similar Greyhound Racing News