Britton chasing Group 1 Nationals double this weekend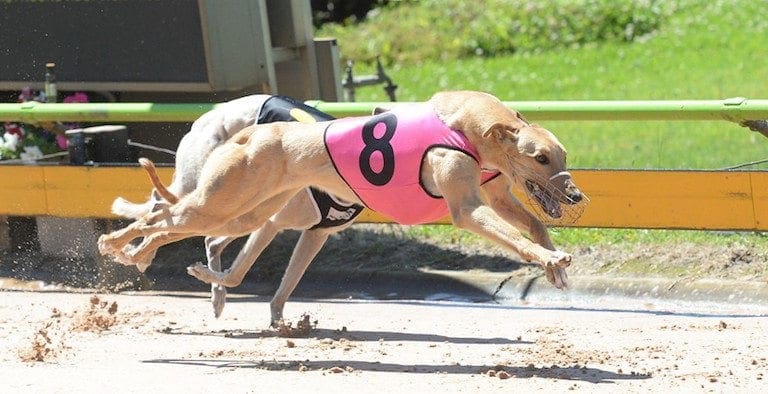 ROB Britton has a chance of securing the National Derby – National Futurity double in 2018 after qualifying a runner in both finals to be run at Wentworth Park on Saturday night.
The leading Victorian conditioner rates the improving Slingshot Gypsy (Fernando Bale x Paw Sa Prize Feb '16) as his best chance after the fawn bitch clocked a handy 30.19 in her heat of the Futurity over the weekend. Fellow Victorian Blue Sky Riot (Barcia Bale x Ready To Riot Feb '16) flashed home to grab second behind her and will progress through to the final along-side Dreaming Time (My Bro Fabio x Black Affair Jan '16) which finished third.
Slingshot Gypsy – which tips the scales at just over 26-kilograms – was the fastest heat winner, the remaining qualifiers won by Dyna Yami (Dyna Double One x Cailyn Bale Feb '16) in 30.39 and Zinkey (Keybow x Black Riband Nov '15) in 30.37.
"She is improving all the time," Britton told Australian Racing Greyhound.
"I can't fault her heat win. I honestly didn't expect her to run that quick – so she has impressed me."
Slingshot Gypsy is yet to miss a placing from nine career starts – winning five times with four minor placings and almost $30,000 in prize money. The youngster will have to overcome box eight to take the $75,000 first prize home to Victoria, but Britton believes she has the speed to cross and can make her own luck out in front.
"She ran third in the Laurels and while I don't think she is overly possessed with ability in the sense of running sizzling times, she does have the ability to lead.
"If you find the front in group races then you give yourself a big chance and I think she is a genuine chance of leading.
"She is probably not the best dog in the race – but she will give them a lot of cheek for a long way."

Britton also puts the polish on Fernando Express (Fernando Bale x Tears Siam Feb '16) which qualified for the National Derby with an equal best of night 29.91 in his heat.
The white and black powerhouse took his record to eight wins and six placings from 20 starts, but, while Britton says he has the ability to win, he concedes he will find it tough from the tricky draw out in box seven this Saturday.
"He can run the times if things can go his way which he showed on Saturday night in his heat.
"My only concern is that he doesn't have great early dash to the first mark. We were really hoping to draw near the inside for the final, but unfortunately he has drawn box seven so that will make things a bit tougher for him.
"He is a lovely dog – this is his second group 1 final and I think he has a bright future later on, probably over a bit more ground."
The Group 1 National Futurity and Group 1 National Derby will be run at Wentworth Park this Saturday night.
More Greyhounds News