Pennybacker proving size doesn't matter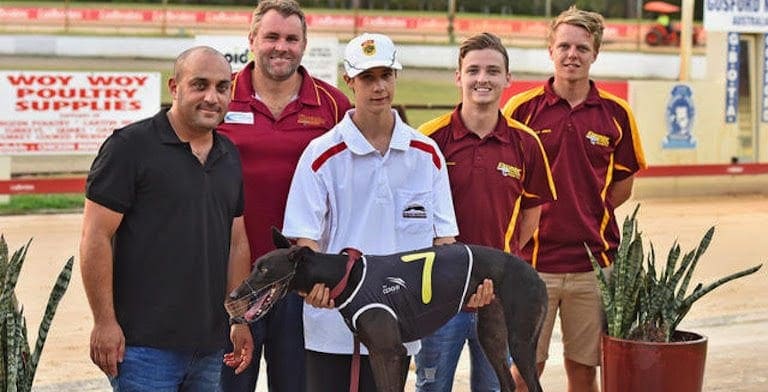 PINT size racer Pennybacker (Kilty Lad x Kalden Aurora Jan '16) will be aiming to make it two wins on the trot when she returns to Gosford on Tuesday night.
Trained at Luddenham by John Callaughan, Pennybacker is one of the smallest greyhounds to have raced in Australia, tipping the scales at just over 21-kilograms.
What she lacks in size she makes up in ticker which she showed at Gosford last week, bouncing straight to the front off box seven and leading all the way to win in a handy 30.00 over 515m.
Darren Leeson, who owns and bred the black pocket rocket, said he is pleasantly surprised by her recent form after initially planning to not race her due to her diminutive stature.
"She was probably around 19-kilograms when she was broken in, so we didn't have much hope for her," Leeson told Australian Racing Greyhound.
"She only broke in fairly so I was planning on re-homing her as a pet, but my friend Joe De Freitas who reared her convinced me to keep going because he thought there was something special about her.
"We persevered and slowly but surely she kept improving."
Leeson said he cannot recall too many greyhounds racing at a smaller weight, with many trainers believing dogs her size are too small to match motors with some of their larger competitors.
"I've done some research and there isn't many, but you do get the odd one around her size.

"Springvale Jinx won about 140 grand and she started racing a bit above 21 kilos and there was another city winner at The Meadows which was 21.5 a couple of years ago.
"The mother of Eaglehawk Star was also around her size too – so there is nothing to say she can't be a mum down the track as well because she has all the right attributes ability and temperament wise."
Pennybacker, which is named after a bridge in Texas, won her first race on January 22, saluting at Bulli in 22.92 at start 12.
She followed up her maiden win with a handy second at Bulli a week later before scoring at Gosford – with Leeson confident she is now learning what racing is all about.
"Her last three runs have been sensational," he said.
"Since she has been with John she has always shown potential and she just keeps improving.
"It took her a while to figure it out in a field – being her size it didn't take much to put her out of the race once a big dog gave her a bump.
"She stands her ground a bit more now and she is getting out in front – she seems to have turned a corner."
Leeson, who has owned greyhounds for over 25 years, said they aren't getting too carried away making plans for Pennybacker just yet, however he is hopeful she may pinch a race in town one day.
"Take away her size and she would be the perfect greyhound," he said.
"She jumps out, puts herself in a good position and she chases hard – she is a flawless little racer.
"The good thing is she doesn't know she is tiny – she is full of attitude and she loves giving it to them."
More Greyhounds News