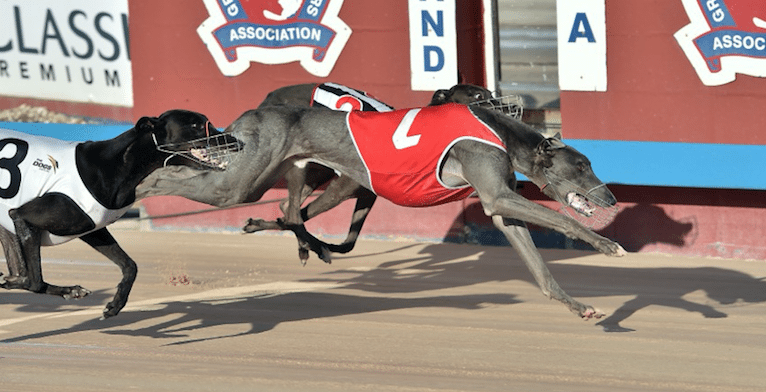 The Group 2 Maitland Gold Cup is the flagship event held at Maitland each year and is run over the 450m trip.
The final is normally packed with quality, attracting a number of high quality speed dogs to contest the feature around the one turn Hunter Valley circuit.
The series is typically run in late March – early April, fitting in well around other feature races in the state such as the Golden Easter Egg (held on Easter Saturday), with the club also ensuring its meeting does not clash with any provincial Victorian Cups to allow interstate raiders a chance to contest the race and guaranteeing the best possible greyhounds line-up for a crack at the title.
The most recent edition of the Group 2 Maitland Cup was won by Jason Mackay's Aston Duke – a half brother to Melbourne Cup winner Aston Dee Bee.
Betting on the Group 2 Maitland Cup
Because it generally attracts interstate interest as well as a range of leading local contenders, there is always plenty of betting activity on the series as the best speedsters line-up for the feature.
Most of our recommended online bookmakers will offer fixed odds betting in the lead up to the heats and on the final once the box draw has been conducted. Some of the bookies also offer all-in markets for the final, allowing punters to snare some tantalising odds about quality dogs prior to the heats which may be massive overs on what you can secure after the qualifiers if they light up the track.

Maitland Cup Bookies
Maitland Cup history
The Gold Cup was first run in 2003 as a group 3 event. The inaugural running was taken out by Thread Prince in 26.74 over 457m on a grass track, with connections collecting $12,000 for the win.
The race was not run in 2004 due to track upgrades, but has been run every year since over 450m distance on loam.
For the first two runnings, the event was sponsored by the Maitland Supporters Club, with the Maitland branch of the Greyhound Breeders Owners and Trainers Association (GBOTA) joining as co-sponsors in 2006.
The event was sponsored by PPK Mining for the first time in 2014 when won by Kel Greenough's Paw Licking, with 2016 set to be their third year as the official sponsor.
The race was run as a group 2 feature for the first time in 2010, taken out by Reg Kay's Elite Blue Size, the only greyhound to win the race twice, which collected a $25,000 winner's cheque, before returning in 2011 to take home a $30,000 prize purse.
The race is currently worth $40,000 to the winner.
Maitland Gold Cup – the modern years
Aston Duke defeated a sensational field including track record holder/Richmond Derby winner Hone In – one of four Victorians in the field – to secure a local victory. Trained 30 minutes from the track by Jason Mackay, Aston Duke used box two to his advantage and kicked clear to salute by one and three quarter lengths in a fast 24.88.

2018 Maitland Cup results

April 12, 2018. Maitland GBOTA. Winner's Prize: $40,000.
Winner: Aston Duke (Go Wild Teddy x Aston Elle) Black Dog
Owner: Ray Borda Trainer: Jason Mackay
Time: 24.88, Margins: 1.75 x 0.75
Others in finishing order: Hone In, Lagoon Pirate, Aston Dinnigan, Cavatron, Big Black, Tristan Cannon, Lucky Chap.

Aussie Infrared used his outside box to full advantage when saluting in the 2017 running of the Group 2 Maitland Cup. Trained in Victoria by Rosalyn Hume, Aussie Infrared showed his brilliant speed and was too slick, winning by three quarters of a length in 24.94.

2017 Maitland Cup results

March 23, 2017. Maitland NSW GBOTA First Prize $40,000
Winner: Aussie Infrared (Bella INfrared x Ebby Miss) Born: May 2014 Black Dog
Owner: Us Forces – Manager G Collins. Trainer: Rosalyn Hume.
Time: 24.94. Margins: 0.75 x 1.75.
Others in finishing order: Pantera Nera, Cosmic Heir, Outside Pass, Ando's Mac, Pedro Cerrano, Falcon's Fury, Wild Walter

Marbo Magic, trained by Cowra's Paul Braddon, showed great early toe to win from the fifth box. The son of El Grand Señor and Willow Blaze jumped at $4.10 and won the $36,000-to-the-winner purse. Victorian raider Aston Bolero briefly challenged but Marbo Magic booted clear in the straight, to win in a time of 25.02. Read a full report here.

2016 – Maitland Cup results

April 8, 2016. Maitland NSW GBOTA First Prize $450m
Winner: Marbo's Magic (El Grand Senor x Willow Blaze) Born: April 2014 Black Dog
Owner/Trainer: Paul Braddon.
Time: 25.02. Margins: 1.25.
Others in finishing order: Aston Bolero, Sleek Master, Ritza Lenny, Rosco The Weapon, Big Ticket, Black Driftwood, Bob's Uncle.

Spacecraft gave Lorraine Atchison her first group win as a trainer when scoring in a sensational 25.08. It was a family affair, with Atchison's sister and brother-in-law Carol and Jeff Eaton running second with their speedster La Grand Logie and Ron Bell, who trained Spacecraft's mother Cristalle for Atchison, finishing third.

2015 Maitland Cup results

April 17, 2015. Maitland NSW GBOTA First Prize $40,000
Winner: Space Craft (Breet Lee x Christalle) Born: April 2013 Black Dog
Owner/Trainer: Lorraine Atchison.
Time: 25.08. Margins: 0.75 x Neck.
Others in finishing order: La Grand Logie, Camacho, Black Frenzy, Zipping Saxon, Silver Label, Altered Mist, Jack Kade.

One of the best one turn sprinters of the modern era, Paw Licking won the 2015 Maitland Gold Cup in thrilling fashion. After breaking the track record in his heat the week prior, Paw Licking returned to the Hunter to win in a slick 25.05 on a wind and rain affected track.

2014 Maitland Cup results

March 27, 2014. Maitland NSW GBOTA First Prize $40,000
Winner: Paw Licking (Elite State x Kingsbrae Di) March 2011 White and Black Dog
Owner: Allan Lang. Trainer: Kelvyn Greenough.
Time: 25.05. Margins: 3.75 x 1.5
Others in finishing order: Natural Player, Rose Sannette, Gradence, New Gleam, Miners Moss, Magic Diore, Fire Elusive.

Black Magic Opal announced his arrival on the big stage with a super win in the 2013 Cup. Trained by Les and Carol Hudson, 'Max' was the baby of the field but his class shone through – with his potential noticed by leading conditioner Jason Thompson whose clients would later purchase the son of Magic Sprite and Glamorous Opal. Under Thompson's care Black Magic Opal became a star, winning the 2014 Group 1 Melbourne Cup.

2013 Maitland Cup results

April 11, 2013. NSW GBOTA Maitland. First Prize $40,000
Winner: Black Magic Opal (Magic Sprite x Awesome Opal) May 2011 Black Dog.
Owner/Trainers: Lesley Hudson.
Margins: 2.75 x 2.25 Time: 24.92
Others in finsihing order: Johnny Fire, Unexplained, El Brooklyn, Exquisette Kari, Bralyn County, Transcend Time, Werynski.
Group 2 Maitland Gold Cup honour roll
| Year | Winner |
| --- | --- |
| 2003 | Thread Prince 26.72 |
| 2004 | Not Held |
| 2005 | Watuira Banner 25.46 |
| 2006 | Needa Mint 25.62 |
| 2007 | Run The Risk 25.09 |
| 2008 | Awesome Hustler 25.43 |
| 2009 | Magnifique 25.14 |
| 2010 | Elite Blue Size 24.93 |
| 2011 | Elite Blue Size 25.07 |
| 2012 | Oaks Road 25.16 |
| 2013 | Black Magic Opal 24.92 |
| 2014 | Paw Licking 25.05 |
| 2015 | Spacecraft 25.08 |
| 2016 | Marbo Magic 25.02 |
| 2017 | Aussie Infrared 24.94 |
| 2018 | Aston Duke 24.88 |