Stud career a while off for Melbourne Cup winner Aston Dee Bee
BREEDERS wanting to get their hands on a straw for superstar greyhound Aston Dee Bee (Barcia Bale x Aston Elle Apr '15) will have to wait a while.
Owner/breeder Ray Borda confirmed on Sunday his brilliant galloper will continue to race on for at least the next few months after winning Friday night's Group 1 Melbourne Cup (515m) at Sandown Park.
Starting favourite off box one, Aston Dee Bee was beaten for speed in the early stages but muscled his way to the front around the first turn.
Once he found the front it was all over, with the Seona Thompson-trained greyhound cruising to the line to defeat Chasin' Crackers (Fabregas x Lady Arko Aug '15) and Kouta Mayhem (Fabregas x Belle's Melody Feb '15) in 29.36.
Aston Dee Bee uses the rails draw perfectly to race away for a dominant win in the world's richest greyhound race! The TAB #MelbourneCup? pic.twitter.com/Lcy7LgVbUz
Borda said the reality of the win was still sinking in on Sunday and explained how his interest in greyhound racing began 45 years ago.
"My sister was going out with a top apprentice jockey so I became interested in horse racing, but back then there wasn't many opportunities for young people to get involved in racing without being a jockey," Borda told Australian Racing Greyhound.
"Not long after it was the first night of racing at Angle Park and I went along to it and I remember thinking I could get a dog and it would be like a small horse.
"So with my very first pay packet and some help from my mum I bought my first greyhound – it only won one or two races but it got me hooked."
Now, more four decades later, Borda is one of the lucky few to have won the world's richest greyhound race. The SA-based owner says Friday's win was an un-paralleled highlight for him.
"I've made plenty of big finals and won an Adelaide Cup, the Maturity and run a lot of placings, but nothing like this.
"I always said I consider myself as one of the sport's greatest underachievers because of the number of dogs I have – until now that is.
"You don't get too many happier times than winning the Melbourne Cup, it was unbelievable."

The triumph took Aston Dee Bee's record to 27 wins and 10 placings from 48 starts – his prize money now in excess of $630,000.
He has also run placings in four group races – the Topgun, the Adelaide Cup, the National Sprint Championship and the Healesville Cup – and has qualified for a further three features at group level.
Borda says the black powerhouse, which tips the scales at 36-kilograms, is finally putting it all together and starting to use his size to his advantage.
"He is starting to realise he is a big dog and that he can knock other dogs out of the way and they are not going to hurt him.
"Because he is racing with that confidence he is starting to take runs and push through whereas earlier in his career he would have switched around them – you can't afford to do that – especially at this level."
Borda also praised Seona Thompson for her work getting Aston Dee Bee primed for the event. It was the first group 1 win for Thompson who took over the reigns from her husband, champion trainer Jason Thompson, earlier this year.
"Can you imagine what pressure she's been under? She has a young family and she had to take over training the dogs from Jason – it would have been a lot of pressure under normal circumstances without the Melbourne Cup coming up.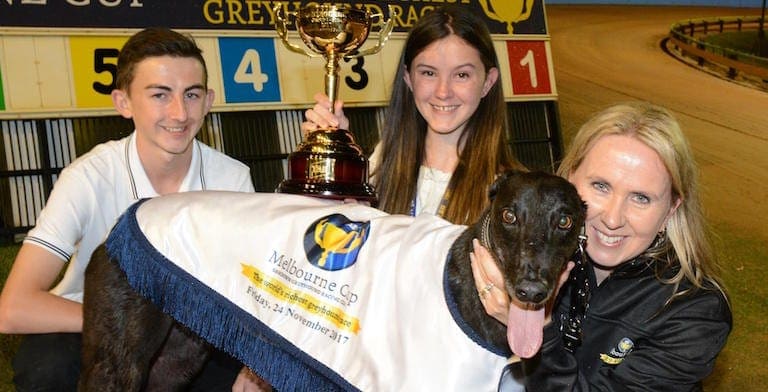 "But she has done an amazing job and I know the win meant a lot to her. You could see that on Friday night – there was a lot of emotion and I think a fair bit of that would have been relief.
"She has been in partnership with Jason for many years, but she deserves a lot of credit because she is a great trainer on her own too."
As for what lies next for Aston Bee Bee, Borda says he will continue to race, despite several recent inquiries from breeders wishing to use him at stud.
"He is the son of the great Barcia Bale and there will come a time where his career at stud will come to an end so I am sure he will be used by plenty of breeders," Borda said.
"For now I believe he is headed towards the Ballarat Cup and we'd like to win a few more races with him – we won't push him too hard and I am confident he will tell us when he has had enough.
"When the time comes I think he has what it takes to make it at stud. He is big enough, strong enough, confident enough and fast enough – and on top of that his temperament is brilliant – he is a really cool dude."
Similar Greyhound Racing News