2021 will definitely see a local Geelong Gold Cup victory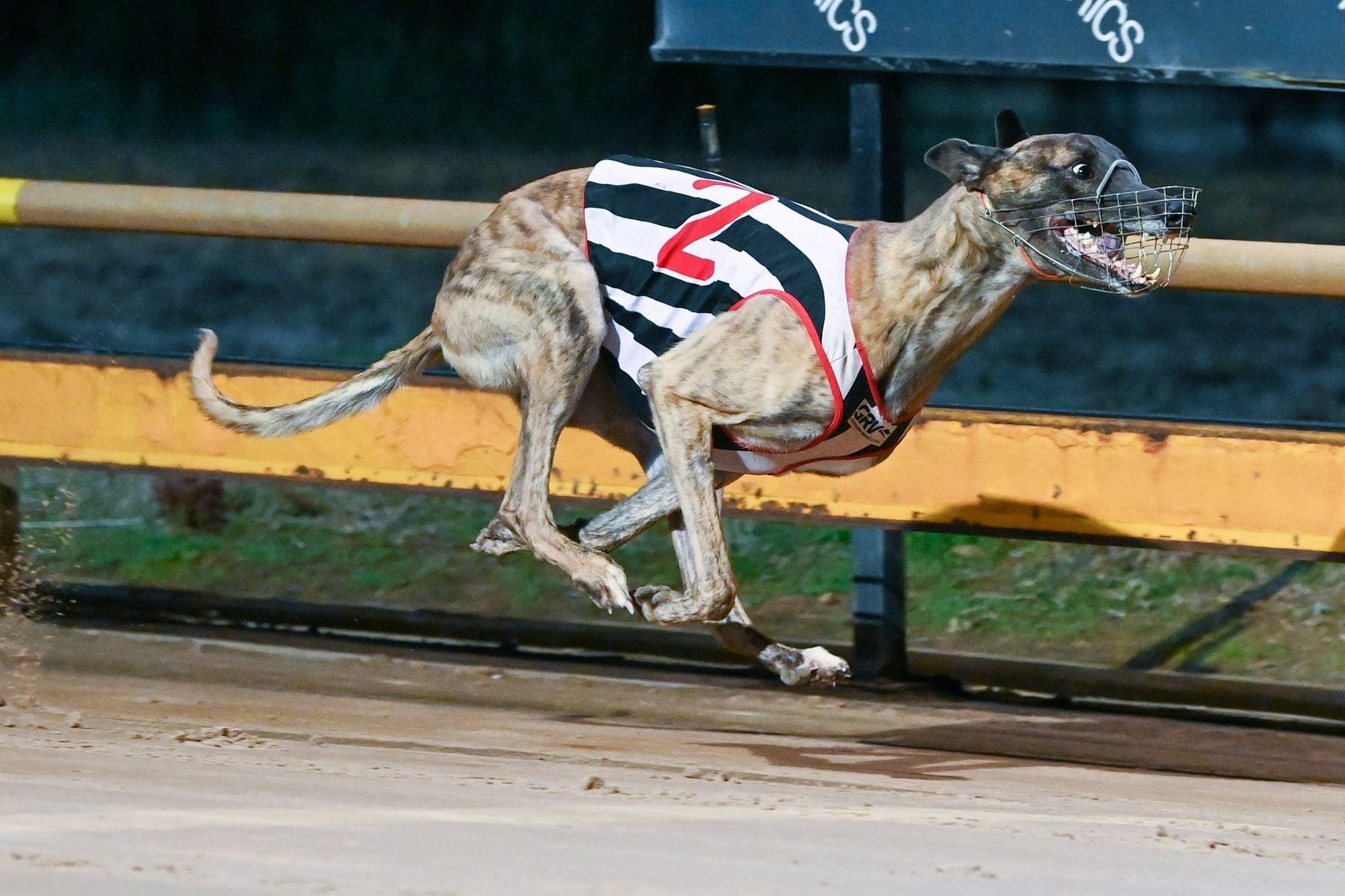 It's certain a local sprinter will reign supreme in Friday night's $70,000 Group 2 Geelong Gold Cup Final (520m), to be run at 9.27pm.
The entire field, including reserves, is trained in the Geelong region, with Anakie-based Jeff Britton boasting strength in numbers in fastest heat winner Weblec Jet (29.77sec) and older half-brother Weblec Ace.
After winning the G1 Perth Cup last weekend with Tiggerlong Tonk, young Anakie trainer Correy Grenfell, is hoping to celebrate his second feature race victory in a week with dual country cups victor Yozo Bale, which also qualified for the 2020 Geelong Cup Final.
Traditionally held in October, the Geelong Cup is now part of greyhound racing's new $700,000 Western Festival of Racing, which runs throughout Autumn and also incorporates the Horsham Cup (won by Shima Shine), Ballarat Cup (won by Ferdinand Boy) and Warrnambool Cup (May 5).
Five heats of the Geelong Cup were run last Friday night, with the winners and three fastest second placegetters now in line for a $50,000 first prize.
The inside boxes dominate TAB betting, with Weblec Jet (Box 4) and Yozo Bale (3) opening up joint favourites at $3.30, ahead of Weblec Ace (1), at $4.
Here's a rundown of the contenders:
2021 Geelong Cup Final
1 WEBLEC ACE
Trainer: Jeff Britton (Anakie)
Comment: Won 22 of 65 starts. Multiple Group 1 finalist and winner of G3 Sir John Dillon Memorial and G3 Cranbourne Classic. Excellent record from box one, winning four from nine.
2 BAROOGA SMOKE – SCRATCHED
Trainer: Brett Nye (Little River)
3 YOZO BALE
Trainer: Correy Grenfell (Anakie)
Comment: Class runner, winner of 22 from 57, highlighted by 2020 G2 Bendigo and G2 Ballarat Cup Finals. Also qualified for last year's G2 Geelong Gold Cup Final when injured behind Simon Told Helen.
4 WEBLEC JET
Trainer: Jeff Britton (Anakie)
Comment: Won eight from 26. Finished unplaced in G1 National Derby in Sydney before narrow defeats in Ballarat Cup heat and then Consolation (beaten by Yozo Bale). Fastest heat winner at his Geelong debut.
5 WELL GROUNDED
Trainer: Matthew Lanigan (Anakie)
Comment: Won seven from 44. Stepped up to Group company for the first time in Cup heats after scorching 29.23sec Sandown Park victory.
6 JUNK FOOD JUNKIE
Trainer: Jessica Sharp (Avalon)
Comment: Won 16 from 61. Was first reserve for G2 Shepparton Cup and since won three of last four, with the defeat coming in G1 Golden Easter Egg heats.
7 TOM THE CHEAP
Trainer: Rebecca Gibbons (Avalon)
Comment: Only win in his 15 starts was maiden victory at Geelong. Surprise heat runner-up at $21 and entitled to be even bigger odds at his first appearance at Group level.
8 CARRY ON ANGEL
Trainer: Tim Britton (Lara)
Comment: Won 12 from 39. Improved unbeaten record at Geelong to three from three with heat victory, turning the tables on Barooga Smoke from recent G3 Easter Gift at Sandown Park.

Reserves

9 SWEET AS EMM
Trainer: Brendan Pursell (Lara)
Comment: Won 19 from 59. G2 Geelong Gold Cup finalist last year and has the talent to figure.
10 MEPUNGA WARRIOR
Trainer: Jeff Britton (Anakie)
Comment: Won five from 19. G3 Launching Pad finalist who finished strongly in heat placing.
2021 Geelong Cup Heat Winners
29.77sec Weblec Ace
29.80sec Yozo Bale
29.99sec Carry On Angel
30.01sec Weblec Ace
30.13sec Junk Food Junkie
2021 Group 2 Geelong Gold Cup Form & Betting Odds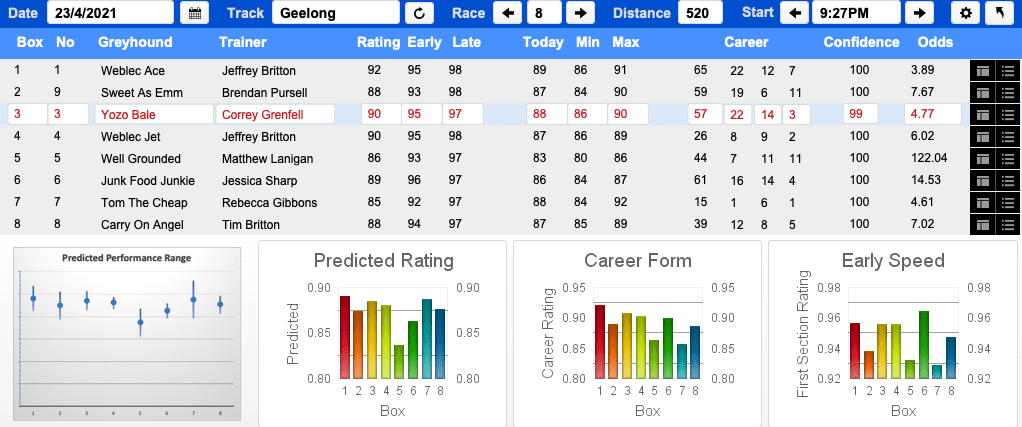 Geelong Gold Cup Recent Winners
2011 Dyna Tron (Andrea Dailly, Lara VIC)
2012 Hurunui Hitman (Stephen McKenna, Napoleons VIC)
2013 Black Magic Opal (Jason Thompson, Pearcedale VIC)
2014 Luca Neveelk (Gerald Kleeven, Denison VIC)
2015 Dalgetty (Jason Thompson, Pearcedale VIC)
2016 Shima Song (Andrea Dailly, Lara VIC)
2017 Thirty Talks (Tony Brett, Grandchester QLD)
2018 Aston Kimetto (Seona Thompson, Pearcedale VIC)
2019 Hooked On Scotch (Jason Thompson, Pearcedale VIC)
2020 Simon Told Helen (David Burnett, Little River VIC)