Amplified primed for a strong performance at Cannington tonight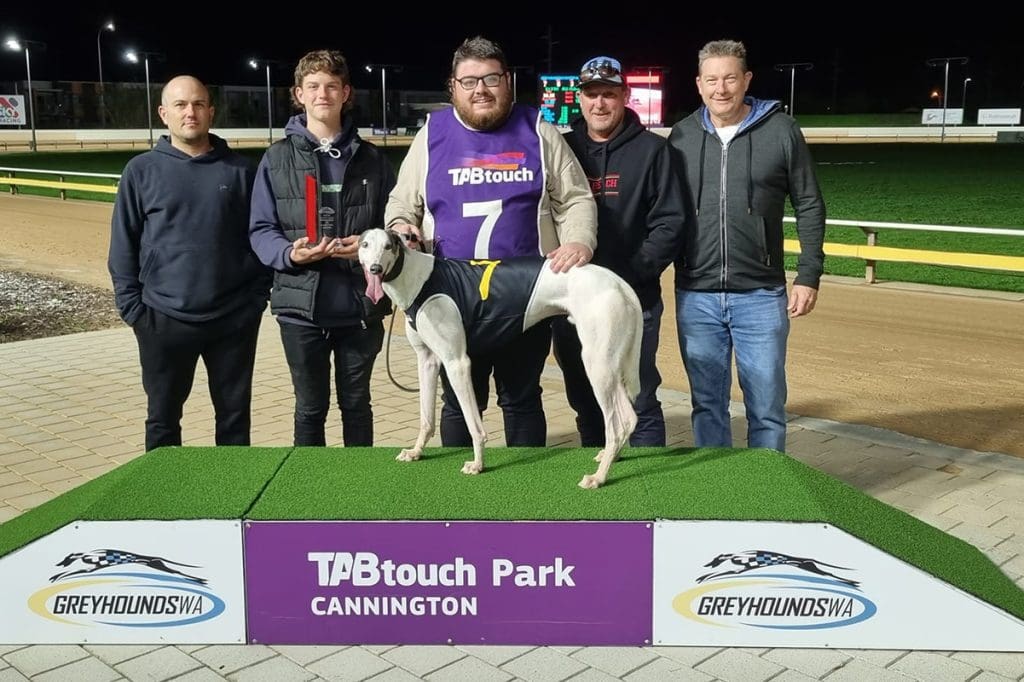 Amplified is primed to enjoy what could well be the back end of her racing career, and that includes a strong performance in the $35,625 Paradise Street Trophy at Cannington tonight.
Co-trainer Steve Shinners is confident his impressive two-year-old chaser can taste Group 3 glory this weekend, before putting herself well in contention for more Group success in the Darwin Cup in coming weeks.
The developing bitch won her last start over tonight's 600m distance also at Cannington in a good time of 34.85 seconds for Shinners and his wife Krystal.
And her recent work has been outstanding.
"She trialed 9.60 seconds (first sectional) when I trialed her there, which is very quick," Shinners told australianracinggreyhound.com of his young chaser who has an impressive 14 wins from 24 starts.
"They don't go much quicker than that out of the boxes. If she can land on the bunny, she's got that brilliant acceleration and we'll see what happens."
Shinners has no doubt Amplified will be a fine brood bitch. He's also confident she can add another Group title to her resume either tonight or in the Top End in the coming weeks.
"If she goes well we might map her out for the Darwin Cup after that," he said.
"We're thinking of taking her up there because she won't have a long career.
"We mainly bought her as a brood bitch, so we won't race her too much.
"She'll probably have 40 starts at the most and then she'll retire.
"She's from the litter before Refined, who won the Oaks. She can be a very good brood bitch, I think."
One drawback for Amplified is the fact she has drawn box four for tonight's feature.
But Shinners believes – particularly with her strong starting trial form – she still has the ability to lead early.
"She should probably lead barring getting walloped out of the boxes," he said.
"She's a high-class dog and she should improve a bit.
"Momentum (for Cosi Dagostino) and even Dave Robartson's dog in the six, Throttle (are dangers). He's probably going to be in a bit of trouble out there.
"But he's a very smart dog. If she can hold Momentum out and he cops a check and loses a length she will probably be very difficult to beat."
Despite the non-ideal starting lane, the weather looks set to help Amplified's cause.
"But if he (Momentum) camps right on her it's going to be a really good race. And hopefully it's not wet on Saturday night, which will help her," Shinners said.
"That's because the inside of the track at Cannington has been very heavy lately, and she paints the fence.
"Being a little bitch doesn't really help. But the forecast for Saturday and Sunday is supposed to be pretty good.
"If she can get out and get on the bunny she's got very high speed. She'd only need to improve a length or a length and a half in the run home and she'd be very difficult to beat."
Amplified's kennelmate and fellow two-year-old Exhilarate can also put himself in the mix if he runs to his ability from box two.
"Amplified has probably got a better chance. But if there's a bit of traffic jamming out wide the other dog (is a chance) but he's probably not the same class," Shinners said.
"But he likes the inside and can hopefully get across the one (Corporal Kuna for Michael Johnston) early and position up nicely.
"If there is trouble then he is a chance of running a place, and you never know what can happen if you're up near the leader, do you?"
Shinners has a back-up plan for Amplified if she doesn't lead early, but he laughed at the prospect of it happening in a competitive Group 3 feature.
"We jokingly said he (Exhilarate) has got to run cover for the girl (Amplified) if he gets to the front. But that probably won't happen with a couple of other really good dogs in the field," he said.
"And it's not easy to get across from out wide. That's why last week I thought if we could make the final, you know in a final field they're all very even.
"It's always a lot more difficult to get across from out wide than it is in a heat. And box four for her is no problem."
Meanwhile, Shinners was delighted with 21-month-old Electrified's victory in the $11,430 Winter Maiden Classic Final over 520m at Cannington on Wednesday night.
He has two wins from his only two starts, both over 520m.
"Stoked. He's going to be a very good pup. I'm pretty meticulous in the way I plan their upbringing through the grades, especially through their qualifiers," Shinners said.
"I generally give them 405m and 490m, and then they're into the race.
"Well, it was just coming up too quick. And the last couple of times I trialed him he ran the best of the day – faster than race dogs.
"Every time I trialed him I thought 'gee, I better give this dog a go'.
"He went straight from a 405 at Mandurah into a box-to-box at Cannington and then straight into the qualifiers the week after, which I don't usually do.
"But we reared them and they were pretty tough. I thought if any dog can handle it, it's him.
"And he's a big brute of a dog. He's handled it a treat.
"He was very impressive in his qualifying run, but his run in the final was exceptional."
Shinners couldn't help but have a chuckle at the nature of Electrified's three-length victory on Wednesday night, after bravely charging across the field from box seven and crossing the line in 30.25 seconds.
"He crashed out and knocked a couple of them over early, and then he got held up going down the back," Shinners said.
"He had to knock that dog out of the way, and to run like that – the sky's the limit for him the next six months.
"Once he learns to race and get on the bunny early (his future is a bright one). He's got pretty good early speed, but that was a new thing I saw him try to do – crash over.
"But that was just the dog's desperation as a good chaser – he just wants to get over the fence, and whoever's next to him will cop it.
"You don't often get young dogs who chase like him, so I'm rapt. The mother (Miss America) was a great chaser."
Amplified's Odds In Race At Cannington
Race 4 –
Amplified (4)
Form: 113121 | Career: 24: 14-4-1 | Trainer: Krystal Shinners
Similar Greyhound Racing News