NCA Paws Of Thunder Semi Finals Box Draws

Following nine heats on Saturday night at Wentworth Park a special early box draw for the semi finals of the Group 1 NCA Paws Of Thunder was completed yesterday. The details of the official draw are published below – the order of running of the semi finals will be finalized when the draw for the balance of Saturday's program is completed tomorrow at the normal time.
The 29.64 time standard in the heats over the 520 metres was set by Cosmic Rumble, formerly trained by his owner Steve Kavanagh but now in the hands of leading Victorian trainer Darren McDonald. Kavanagh's wife Carol explained that Cosmic Rumble has been with McDonald for about 3 weeks.
"Steve always knew what Cosmic Rumble could do and he was "over the moon" after the greyhound's win in such fast time on Saturday".

The Kavanaghs, based near Lismore, wanted to give Cosmic Rumble more opportunities to contest the feature races in Sydney and Melbourne. Also the greyhound does not like the finish on lure in operation at Albion Park, "he gets very stirred up there", Carol Kavanagh explained.
"Also Steve's mum has been very ill and he has been travelling regularly to visit her in Dubbo so with all these factors we thought it best to send Cosmic Rumble to Darren McDonald to maximize his opportunities."
Cosmic Rumble has drawn box 4 in his semi final and trainer Darren McDonald said he was very pleased with the greyhound commenting "when you run the best time you have to be happy".
"But he still has it all to do over the next two weeks – it's a tough series," he said.
Next fastest heat winners Dyna Lachlan and Take The Kitty both drew the outside box in their respective semis while the only other sub 30 heat winners Excel Like Time and Accounts drew box 1 and 7 in the same semi.
The semis are chock full of talent and provide the main attraction for Saturday night's program which has the added bonus of featuring the heats of the Group 2 Sydney Cup (Best 16) over the 720 metres for a $25,000 to winner final to support a sensational night of greyhound racing for the final of the NCA Paws Of Thunder the following Saturday October 3.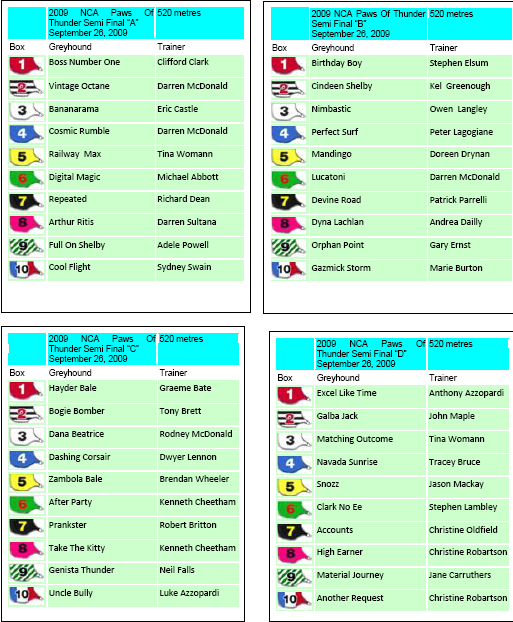 More greyhound news