Aussie stayer in pursuit of NZ riches in Silver Collar heats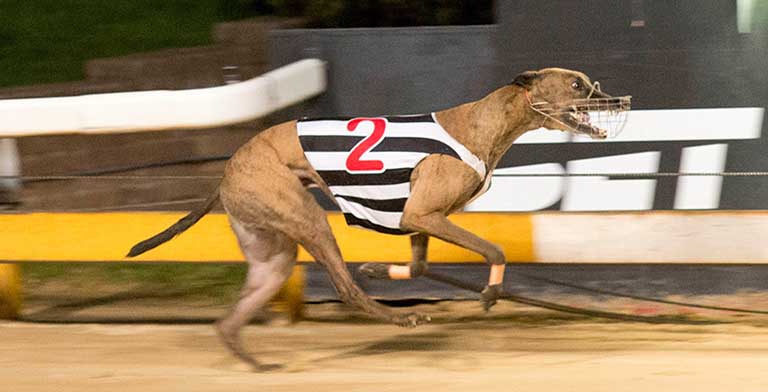 STAR Victorian stayer Ring The Bell has made the trip across the Tasman to contest a heat of the Group 1 Duke of Edinburgh Silver Collar (779m) at Manukau this Sunday.
Trained by Gerry O'Keeffe, Ring The Bell skipped the recent Group 1 Sandown Cup (715m) carnival in order to target the $50,000 to the winner series – a move which O'Keeffe has been planning for three months.
O'Keeffe confirmed to Australian Racing Greyhound that the brindle dog is unlikely to return to Australia as a race dog and will finish the remainder of his career in New Zealand.
"Burn One Down and Fanta Bale had a bit to do with our decision to bypass the Sandown Cup – he is three years and seven months old now so we decided the Silver Collar would be the better target for him," O'Keeffe told Australian Racing Greyhound.
"The dog also needed somewhere to race because he has only been racing in Special Events at Sandown and Handicaps at The Meadows – so after this series he will be staying in New Zealand with Ray Adcock for as long as possible.
"After that he'll either stay in New Zealand or we'll fly him back home to live a life of luxury where he can see out his days."
An 18-time winner, Ring The Bell took the 2016 Group 1 National Distance Championship, the Group 3 Summer Cup and Listed Super Stayers – with O'Keeffe hopeful he will run out the testing 779m journey.
"The way he raced in the National Distance Championship final at Angle Park and in the Summer Cup at Wentworth Park gave me the impression that the extra distance will suit because he didn't get anywhere near the lead until 100 yards before the line and then he just sprinted on strongly," he said.
"There is always a query until he runs it of course, but we have got our fingers crossed.
"Because of that the Silver Collar at Auckland has always been on our radar – it's always been our plan to come over here.
"Why not have a go while you have a good dog?"

Ring The Bell will meet a talented field on Sunday including 2016 Silver Collar winner Teemaria and will need to finish in the first four to progress through to the final.
Despite Ring The Bell racing slightly below his best in recent starts, O'Keeffe said the son of Kinloch Brae and Absolute Stunna is feeling well and has settled in ahead of the trans-Tasman challenge.
"He hit the lure very hard in a trial in preparation for the Perth Galaxy which put those plans on the backburner and I don't think we have seen him race at his top since that accident," O'Keeffe said.
"But just prior to coming to New Zealand I gave him a trial at Warragul and he equalled his own track record over 680m so I think he is back to where he needs to be.
"We arrived over here nine days ago and the dog has settled in well and had a trial at Manukau over 600m where he went nicely.
"He isn't drawn overly well out in box seven because he does like the rails – but we will find out on Sunday.
"There are still some fantastic New Zealand stayers heading into the series – they are tough greyhounds, proven over 779m so I have the highest respects for them, but we are going into Sunday with high hopes."
Two heats of the Group 1 Silver Collar will be run on Sunday – the opening heat highlighted by 34-time winner Shandell.
The heats are raced eight and nine on the 13-race card, with the first set to jump at 3.19pm local time.
Similar Greyhound Racing News