Ring The Bell to fly the Aussie flag in Silver Collar showdown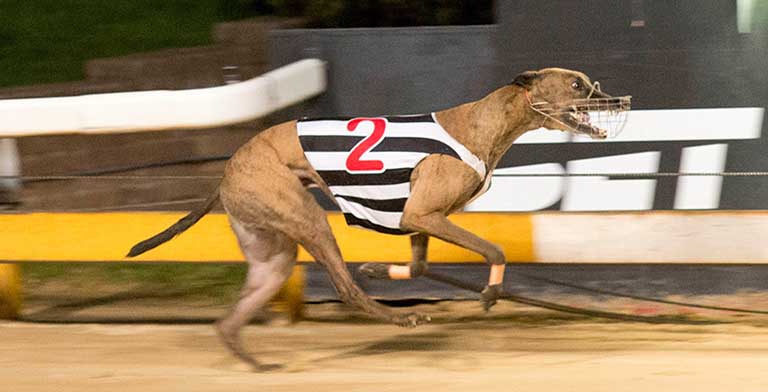 VICTORIAN trainer Gerry O'Keeffe says he is pleased he made the move to bypass the Group 1 Gold Cup (710m) at Albion Park with his talented stayer Ring The Bell.
Instead, O'Keeffe decided to head to New Zealand in pursuit of the Group 1 Duke of Edinburgh Silver Collar (779m) at Manukau – with Ring The Bell winning his heat last Sunday in dominant fashion.
Stepping from box seven, Ring The Bell went straight to the front of the pack and was never headed, stretching out to score by more than 12 lengths in a slick 46.31.
O'Keeffe said he was relieved to see his star greyhound perform so well in the heats – his first attempt at the gruelling 779m trip.
"He is a great traveller – he is a very relaxed dog – but it is still a long way to come and in greyhound racing it only takes one thing to go wrong for the whole boat to sink," O'Keeffe told Australian Racing Greyhound.
"He began well and he handled the track beautifully. He took advantage of a bit of a scrimmage on the top turn near the 600m boxes which affected Tranquil Blossom – but he was out in front and ran home too strongly.
"There were no guarantees that he would run it out – I came here hoping he would be strong enough and thankfully he was."
Ring The Bell meets a cracking field for the final featuring top stayer Tranquil Blossom (box eight) and former Silver Collar champ Shandell (box three).

However, O'Keeffe says his charge is feeling well ahead of the challenge and is hopeful that he will handle the back-up after last week's run.
"It will be a big test for him to back up this Saturday after running the 779m last week – but we are just delighted to be in the final and are happy to have drawn box four," O'Keeffe said.
"We are hoping he can win – but it is a very hard race and is going to be a great Australian – New Zealand battle with three very good dogs going head to head.
"Tranquil Blossom made the final and she is the in-form young stayer in the race and Shandell is in the final too – she has been a superb NZ stayer and she is trained by Arch Lawrence who is the Bart Cummings of NZ greyhound racing.
"But Ring The Bell has pulled up superbly – he was doing laps in his small yard at home the following morning – he really pulled up well and he is in tip top condition for this Sunday."
A win in the final will take Ring The Bell's career earnings above the $318,000 mark and would give him feature wins in NZ, SA (Group 1 National Distance Championship), QLD (Listed Super Stayers), Victoria (Destini Fireball Stayers) and NSW (Group 3 Summer Cup).
While he may never be considered a champion, O'Keeffe says he couldn't be prouder of Ring The Bell's accomplishments on the race track.
"He is not a brilliant dog like Burn One Down – he will never run the hands off the clock but he is very strong and he always tries his best."
With many months of planning going into the Silver Collar series, O'Keefe also described how special it would be to win the prestigious feature.
"We have been planning this since the National Distance Championship in Adelaide [last August] – he was third into the home straight and won by two and a half lengths over 731m so I thought then the extra distance would suit him.
"When something falls in your lap, as the Sandown Cup did with Ring The Bell's sister at 40/1 – you are caught on the hop.
"But when you make a long term plan six months ago for a certain race and you think of all of the effort that the thoroughbred trainers put into a tilt at the Melbourne Cup – it makes you realise how wonderful it would be if everything came to fruition."
The Group 1 Duke Of Edinburg Silver Collar is race 10 this Sunday at Manukau and is set to jump at 4.26pm local time.
More Greyhounds News