Australian Cup dream remains a reality for Greenough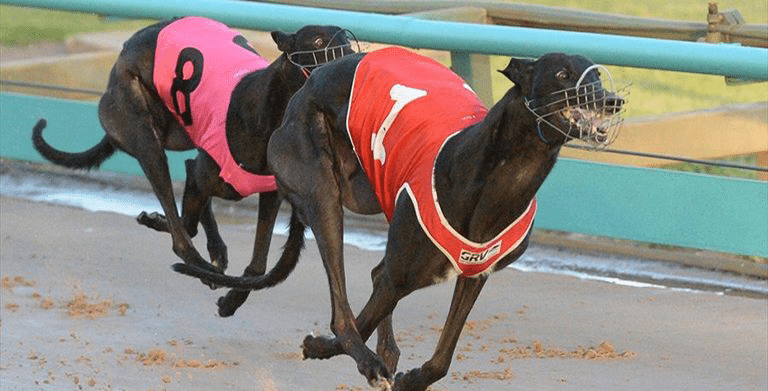 EMINENT Reality looks a live chance of winning his first group 1 title this Saturday night at The Meadows when the lids fly open for the final of the Australian Cup (525m).
Trained by Kel Greenough, Eminent Reality (pictured with Greenough's wife Jackie) set tongues wagging when winning his heat of the feature last weekend, clocking a breathtaking 29.60 from box one.
The black dog has drawn identically in the final and has subsequently been installed as the $3.80 second elect with online bookmaker Sportsbet.
However, Greenough says despite being boxed beautifully, the 35.5-kilogram powerhouse will have to do everything right at the start.
"He is a very nice dog – he is a beautiful looking dog and he has a lovely nature – he is probably the pin-up boy of the kennels at the moment," Greenough told Australian Racing Greyhound.
"I was a bit concerned with him leading into the heat in regards to the amount of work that he had – so I certainly wasn't over confident going in which made it really nice to get the win and make it through to the final.
"I have never doubted his ability, but his running pattern is the biggest drama.
"You have got dogs like Aston Bolero who takes off and is off and gone and then other dogs like Lightning Frank which have got brilliant early pace – they are the dogs which keep winning these good races.
"This dog hasn't got that sensational first section but he winds up with a huge run and runs home very hard – that's his best attribute.
"He'll need a fair bit of luck in the race."
Lightning Frank is the $1.75 favourite to take home the $250,000 title and looks hard to beat following his slashing 29.53 heat win.
Prior to that the Matt Wright-trained greyhound took out the Group 1 Temlee over the track and trip at The Meadows, with both of his most recent wins including scintillating first sectionals where he broke the 5.00 mark in the run to the winning post.
Greenough commented that his charge's best chance will be if he can sit just behind the pace and unleash in the run to the line.
"We are hoping that he can punch up and hold a reasonable spot around the first turn without having to come from too far behind.
"You wouldn't want to give dogs like Lightning Frank too much of a start and leave them out in front – nothing will be able to catch him if that happens.
"Hopefully we can possie up just behind him without too many dogs in front of us."
Being so strong, Greenough says he has no doubts Eminent Reality will run over further ground in the future, but says he is happy to keep him over the sprint trip while he is still racing competitively.
"We have got a feeling that this dog is going to be able to run further distance – he seems to run out the 500 off no preparation at all so he will run out the 600 on his ear, but the question will be whether he can run out the 700 down the track.
"It's a hard decision to make because if he can't run out the 700 there are not too many decent races on over 600 – of course there are some nice races over the middle distance but in terms of group racing there are only two group 1s on the calendar for the whole year.
"That too and 600m racing starts on the corner so anything can happen, you can get a whack and come out 10 lengths last.
"He isn't two yet so we have plenty of time but we've definitely got decisions to make in the future."
A winner of eight of his 12 starts, Eminent Reality is by Barcia Bale out of former group 1 winner Zelemar Fever.
As fate would have it, Zelemar Fever ran down one of Greenough's former stars, Paw Licking, when she won the 2014 Group 1 Temlee – now her son will be out to give Greenough the overdue group 1 win his mother stole from the Pearcedale conditioner three years ago.
Greenough said it would be a massive thrill to take out the feature on Saturday night.
"It's something that everyone aims for – to compete at the top level. To have a crack at it is great, but at the end of the day you still want to win the race.
"It would mean a lot to our family because we are all involved in the dogs – my daughter, my grandson and my grandson's girlfriend all help out – and Jackie of course.
"While we haven't got a lot of dogs, there are a lot of people supporting the kennel at the moment and working hard every day to get the results.
"Everyone has a spring in their step this week around the kennels and I am certainly not blasé about it all – we know how special it is to make the race and now we are just hoping we get some luck in the final."
The Group 1 Australian Cup is race eight on the card this Saturday night and is set to jump at 9:42pm.
Group 1 Australian Cup – market
1 – Eminent Reality $3.80 with Sportsbet
2 – Aeroplane Bob $31
3 – Lightning Frank $1.75
4 – Monaro Monelli $41
5 – Blazin' Bomber $9
6 – Matt Machine $11
7 – Aston Bolero $7.50
8 – Fanta Bale $11
Reserves
9 – Penny Monelli $8
10 – Invictus Rapid $13
Similar Greyhound Racing News