Beast Unleashed ready to Launch in group 2 feature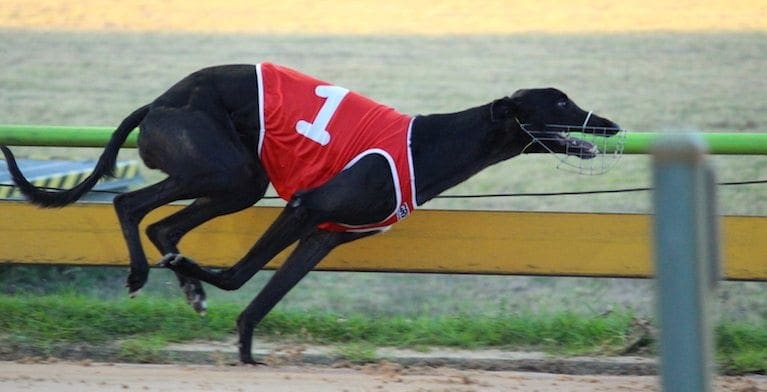 PETER Lagogiane says his boom youngster Beast Unleashed (Barcia Bale x Little Miss Hap Apr '16) is spot on ahead of his biggest test to date in Thursday's Group 2 Launching Pad (515m) at Sandown Park.
The black dog, trained by Peter and his wife Jodie, had to overcome an ordinary beginning from box six in his semi-final, hitting the lead in the home straight and holding off a late challenge to defeat Trixta Rox (Barcia Bale x Punk Rock Lass Apr '15) by 0.14 lengths in 29.74.
While the win was considerably slower than his 29.43 heat win the week prior, Lagogiane said he couldn't be happier with his powerhouse performer.
"He did it tough in his semi-final," Lagogiane told Australian Racing Greyhound.
"Without taking anything away from his other runs I think that was his best win yet – he came out on the wrong foot, another dog got underneath him early.
"That was only the second time he has been led – the first time he got knocked about and it was in the back of my mind wondering if he'd know what to do if he got led.
"But full credit to the dog, he is learning how to race and he is doing everything I ask of him."

Beast Unleashed has now won six races from seven starts, his prize money earnings already in excess of $27,000. He looks ideally positioned in box one, with Lagogiane rating him a massive chance of capturing the $150,000 feature.
"He is well drawn in box one – but it won't be a walk in the park," he said.
"There are some very smart dogs in the race and a couple of them have blistering pace.
"He can't afford to miss the kick, but if he comes out like I know he can I think he can find the lead, and from there he should be very hard to beat."
The final is shaping up to be a cracker, with the main chances appearing to be Chief's Sidekick (Fernando Bale x Magic Diva Apr '16), She's Gifted (Fabregas x Big Gift Feb '16) and Saint David (Cosmic Rumble x Mepunga Kristy Sep '15) which have drawn boxes two, four and five respectively.
However, Lagogiane is pleased to be going into the final with his charge which he purchased with his friend, Dawn Garrett, earlier this month.
"We took a gamble buying him after just a couple of starts. His main owner Dawn purchased him on my word, so I am thankful that she trusted me and so far he is ticking every box.
"He is a very exciting pup and I am hoping he can run well this week.
"He is cherry ripe – we've done our job so now it's his turn to do his."
The final of the Group 2 Launch-ing Pad will be run and won at San-down Park this Thursday night.
2018 Group 2 Launching Pad box draw
Similar Greyhound Racing News