Berzerk striving for emotional Group 1 Maturity series upset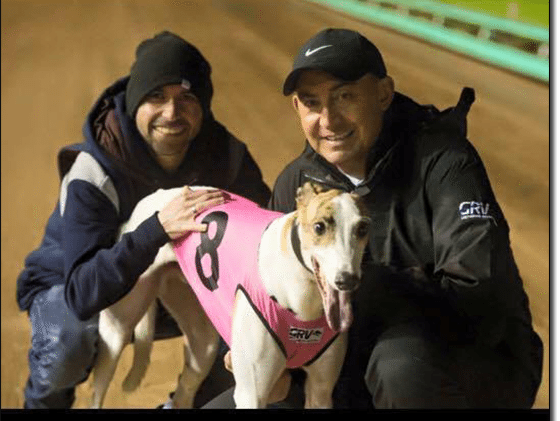 JASON and Seona Thompson are hoping their consistent chaser Berzerk can cause the biggest upset of 2015 at The Meadows this Saturday night when he contests a heat of the Group 1 Maturity Classic against the all-conquering Fernando Bale. 


Trained by Andrea Dailly, Fernando Bale, $1.30 with Bet365, is already a four time Group 1 winner this year and is in the midst of a 16 race winning streak.
On the other hand, Berzerk comes into the event after a last start third in his heat, qualifying three-and-three-quarter-lengths behind Evers Bale.
"He was probably a run short – I think he needed that run in his heat," Seona told Australian Racing Greyhound.
"It was just good to get through that first week – all I wanted to do was qualify for the semis."
Berzerk, $21 with Bet365, will jump from box four in race eight this Saturday, while Fernando Bale will exit the six alley.
"I am happy with the box – I like him drawn in the middle and if anything I am probably happy to have Fernando drawn on our outside rather than on our inside.
"If we happen to win it or run second and make the final then we will be stoked."


While the thought of making a Group 1 final is what many trainers can only dream of, the glory and $100,000 winner's cheque are not the reasons why the Thompsons are hoping their white and brindle chaser can qualify for the decider. 


You see, Berzerk is a very special greyhound. The son of Makeshift and Next Top Model is owned by the 'Berzerk' Syndicate – made up of Seona and Ben Cookson, pictured above with Jason, who tragically passed away from cancer last month at just 31 years of age.

"A friend of mine, who is in the media, found out about Ben through a friend of theirs – he had heard about a young guy that had terminal cancer who was very interested in greyhound racing," Seona explained.


"His family thought it would be nice to get him a share in a dog while he was sick, so I ended up speaking to his uncle and arranged a day for them to come down.
"The day he came to our place Jason wasn't at home, but he said to me before he left to offer them a dog if I happened to like the family.
"As soon as they came I fell in love with them straight away – they are the most beautiful family."
The Thompsons picked an unnamed youngster which had just completed its pre-training as the dog to offer Cookson a share in.
"Just before they left they asked how they would go about buying a share in a dog. At that time they didn't know the time frame with Ben's illness – so for them to buy a pup which would be a long way off the track was not going to be viable.


"We had actually just got Berzerk back from pre-training and he had gone ok, we thought we had something half decent.
"I showed them the dog and told them he was broken-in and that we thought he would win races – I told them we were giving them a share in him and they were blown away."
After two unplaced runs at the start of his career, the Thompsons started to doubt their choice of greyhound for Ben, but the enthusiastic owner only cared about one thing – Berzerk's wellbeing. 

"Ben went along with his family to his first start and he got beaten then and at his second start.


"Jason and I started worrying that he wasn't going to win a race, but Ben was so gorgeous – all he was worried about was that the dog pulled up ok – he didn't care whether he won or lost, as long as he was ok.


"The dog finally put it together at his third start and won – it was totally unbelievable."
Seona said that Berzerk was an important part of Ben's life throughout 2015, giving him something to focus on when his health took a turn.
Ben, a dedicated Brisbane Lions supporter, even made the trip across Australia to watch his
pride and joy compete in the Group 2 WA Derby at Cannington in May.

"At the start of this year, Ben got the really good news that there was no sign of his cancer, but in March he was in pain so he went back to the doctor and found out that the cancer had re-appeared.
"He was really sick and probably should have been in hospital, but he insisted on being at Cannington when Berzerk made the Derby final.
"Ben flew over after having chemo the day before. They landed at 5pm and they were on the midnight flight home because he needed to watch Brisbane play on the Sunday in Melbourne.
"In the final he got smashed and ran last. Ben messaged me afterwards telling me that the dog looked sad and that he wanted to bring him home with him that night – all he cared about was the dog, he wasn't worried about his own health."


Sadly, Ben Cookson passed away on June 20th, 2015, surrounded by his loving family.


Seona said Ben had a profound impact on her family, and she was glad to have done the same for him. Not only did they gift him a share in Berzerk, they also arranged for him to meet legendary Lions player Jonathan Brown.
"In a short period of time, Jason and I became really close friends with Ben and his family and our kids absolutely loved him, but I don't think we realised how much what we did meant to him until his funeral."


"What we did were things that seemed small to us, but at his funeral we realised they were two of the things that kept him alive – meeting Jonathan and having the dog.
"He was a pretty special person and he touched a lot of people's lives – we just feel blessed that we were a part of his story."
Ben's parents Jo and Shane, as well as his brothers Marcus and Daniel, will be trackside this Saturday night, cheering home the greyhound named 'Benny' in honour of his number one fan. 


"His family went to the races last Saturday night which meant the world to me – it was hard for them – but all they wanted was for him to get through to the semis, which he did," Seona said. 


"The whole family will be there again this week and I am taking him to the track. I really want to be there, but I know that I am going to be a mess win, lose or draw."
Seona said it would be an enormous thrill to qualify for the Maturity Classic final, even if it is behind Fernando Bale, one of the best greyhounds the sport has seen.
"Everyone loves to see a good dog and we have been fortunate to be involved with Brett Lee, Awesome Assassin and El Galo.
"I have seen some champion dogs come through and I love seeing champion dogs – it doesn't matter whether we have got them or if someone else does – and Fernando is one of them.
"He is something special. You sit there in awe of dogs like him and if we can run second to him on Saturday it would be absolutely amazing."

Knowing his tale, no one would begrudge Berzerk if he were to sneak away with the prize this week. One thing working in his favour is that he is sure to have some extra help from up above.

"This dog has got a massive following and I don't think there would be one person out there that would be disappointed to see him win on Saturday night," Seona said
"Everyone keeps saying he has angel wings and I think they could be right – he is a pretty special dog."
Watch Berzerk winning at The Meadows earlier this year from box eight while being cheered on by his best mate, Ben.
Sign-up with Bet365 for up to $200 in bonus bets.
Similar Greyhound Racing News