Better Call Caul: Magical Mary odds-on in Cesarewitch final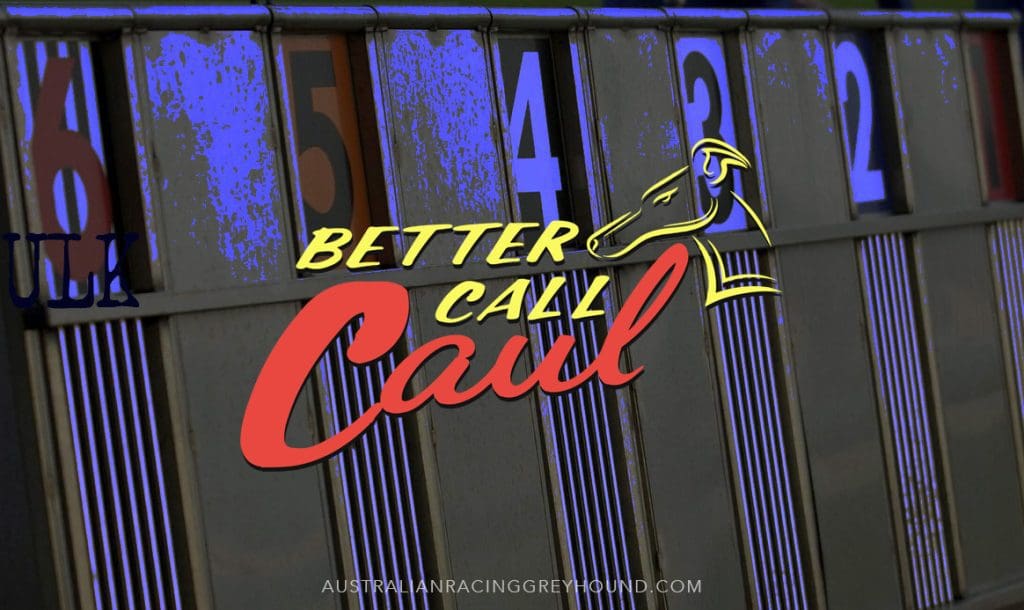 Magical Mary has been installed as the odds-on $1.80 favorite to win this Sunday's Irish Cesarewitch final at Mullingar. From the kennel of leading Irish trainer Patrick Guilfoyle, who is seeking his fifth win in the last 12 runnings of the event, she will race from box two in the decider.
Last weekend's semi finals saw Toolmaker Beach run out the fastest of the two heats when he scored comfortably from Ballyard Taylor with Bective Cherry back in third place. The winning time of 32:38 is the fastest run of the year at the track. Race favourite Pierno took a flier from trap five and raced three lengths clear to the first turn but, as we have seen on occasions, he has a tendency to ease up dramatically on the opening turn, and once again he went from first to worst in a couple of strides. He must be frustrating for connections as when he is on song, he is without doubt one of the fastest in training.
Onto heat two, where Magical Mary went to traps as your $1.50 favourite. Racing from the inside box, she was well away and appeared to have every chance. Beaming Scarlet showed superior early pace and led into the bend from Glendalough and Magical Mary. The order remained unchanged as they raced down the far side, with Magical Mary making ground as the notoriously tricky third bend approached. Mary was forced to check slightly but still turned up the home straight in a line of three with Beaming Scarlet down the middle and Glendalough on the outer. A driving finish saw Beaming Scarlet run out a determined winner over Magical Mary by a half-length with Glendalough a further neck back in third, in a winning time of 32:44.
The final takes place this Sunday afternoon live on RPGTV. Let us look at the lineup.
2022 Irish Cesarewitch final odds & predictions
Beaming Scarlet ($4.50)
Magical Mary ($1.80)
Toolmaker Beach ($4)
Bective Cherry ($51)
Glendalough ($9)
Ballyard Taylor ($13)
Magical Mary is on the short side for me at $1.80, and although her excellent trainer, Patrick Guilfoyle, has a fantastic record in the competition, I would still prefer to look elsewhere. Toolmaker Beach was a superb winner last week, but his trapping can sometimes be an issue. Beaming Scarlet did nothing wrong when making all the running last week and has an ace draw on the fence. Glendalough is a dog we have seen run and win in top company around Shelbourne Park on many occasions, winning a top contest on Derby final night there last year. He looks to have a decent draw and can go up much stronger than last week. With the possibility of trouble involving the inside runners, Glendalough looks excellent value at around $9 with online bookmakers.
---
Ladies Night at Limerick
The semi finals of the Limerick Oaks took place last Saturday night, and just over four lengths separate the finalists on their semi final runs.
Burgess Josie won the first of the two heats, getting home in 28:43. She was very well away and led up from race favorite Annagh Lucy, who was forced to check around the opening turn, allowing Burgess Josie to skip clear for Pat Buckley with Burgess Pippa now taking up the chase from Clogheen Lass back in third. The order remained unchanged until the shadow of the post, where Borna Aoife came home well to deny Clogheen Lass the bronze medal.
In the second heat we were treated to a real battle between Burgess Cassie and Kilbannon Psycho. The latter dog broke well and led around the opening bends from Burgess Cassie and Ballinabola Ruby and looked as if she would be tough to peg back. Down the far side, however, Burgess Cassie displayed huge pace to head Kilbannon by the third bend. As they turned to face the judge, Cassie led by a length from a rallying Kilbannon Psycho, and at the line Cassie just held on by a rapidly diminishing half-length in 28:73. Ballinabola Ruby was a further length or so back in third.
The draw for this Saturday night's final is as follows:
2022 Limerick Oaks final draw & predictions
Burgess Cassie
Burgess Josie
Borna Aoife
Kilbannon Psycho
Burgess Pippa
Ballinabola Ruby
This looks a wide-open contest where the break will be crucial. Burgess Josie will be of interest to many after her smart semi-final win. She does have a slight tendency to move to her right on the run up, and for this reason I will side with Burgess Cassie in red. She displayed big pace last week to come from behind Kilbannon Psycho, she can go up much stronger and will take my vote in what should be a thrilling Limerick Oaks final. The Irish Oaks will commence at Shelbourne Park on Saturday week, and you would expect all six Limerick finalists to appear on the entry list.
---
Kilkenny Track Open Unraced Stake
Last week we touched on the potential of this stake to throw up a star or two, and the first round certainly did not disappoint. The track was undoubtedly running on the slow side, however, and was officially marked as 0.30 slow.
Brendan Matthews took the bold step of naming his latest dog Hes The Greatest – and judging by his debut run, he may not be too far off the mark! Making all from box three, he ran out a very comfortable winner in a competition fastest 28:64. Fennis Trigger was next best on the clock when he made a winning debut in 28:71.
Other heat winners on the night who dipped under 29:00 included Grangeview Port (28:79), Vegas Honey (28:99), Cheque For Sir (28:88), Boothebest (28:97) and Lemon Jock (28:96). Of the dogs who suffered defeat in the opening round, Pablo Escobark was certainly an unlucky looser when finishing third. He is one to keep onside in round two.
---
Shocks Aplenty at Shelbourne Park
The opening round of the Islandbridge Sprint got underway at Shelbourne Park on Friday night, and odds-on punters were on the canvas more than once. Of the four heats, favourites Two Amigos ($1.50), Ela Supremo ($1.66) and Offthepitch ($1.40) all suffered defeat. All three, however, did qualify for this Friday's semis.
Trainer Shea Campbell had a night to remember as he sent out two heat winners. Robbies Champ took the first heat in 18:81 and in the process took his career tally to five wins from six outings. The double was complete when McCool Blue made it four wins in as many starts, making all in 18:64. He looks a promising youngster.
The two remaining heats were won by Owen McKenna's Evo Thunder in 18:65 and Gizmo Cash (18:59) took the final heat for Jamie McGee.
---
English Greyhound Derby entries now closed
The deadline for the English Greyhound Derby closed on Tuesday, with the draw due to take place this Thursday, May 12. In total they received 211 entries, with the limit having been set at 192. Part Blake still heads the betting with most firms around $17, with last year's champion, Thorn Falcon, available at $19. Recent track-record breaker Sporting Chile can be backed at $34. The first-round draw should be available late on Thursday evening.
---
Guys and Dolls at Crayford
Brookside Richie and Havana Class are the standout performers at Crayford this Saturday in the semi finals of the Ladbrokes Guys and Dolls – a unique event where the dogs (Guys) race in one semi final and the bitches (Dolls) contest the other.
Richie was slightly the quicker when making all in 23:03 last week, with Havana Class only just behind on the clock at 23:06. The pair meet this Saturday morning in the Guys semi, and the slight preference is for Brookside Richie drawn in box one. The Dolls semi should go the way of Zoomey Saoirse, with Knockboy Kay her main danger.
The Kent St Leger semi finals will also feature on the Crayford card. Bellmore Sally should take the first heat; she was stopped on numerous occasions around here last week and still ran remarkably well to finish as close to Bombardier as she did. With a clear passage, she should be hard to beat. Kishlawn Shikara is well drawn on the fence and could follow her home. In the second heat, the aforementioned Bombardier will look to get the better of Burgess Hannah and Burgess Elite, while ex-Irish tracker Navy Blue is also one to note in that at a big price.
The card will be live on RPGTV from 11am (GMT).
---
This weekend's best bets
Crayford Saturday – Kent St Leger ante-post
*Odds correct at time of publication
Similar Greyhound Racing News