Better Call Caul: Sweet 16 for Beach Avenue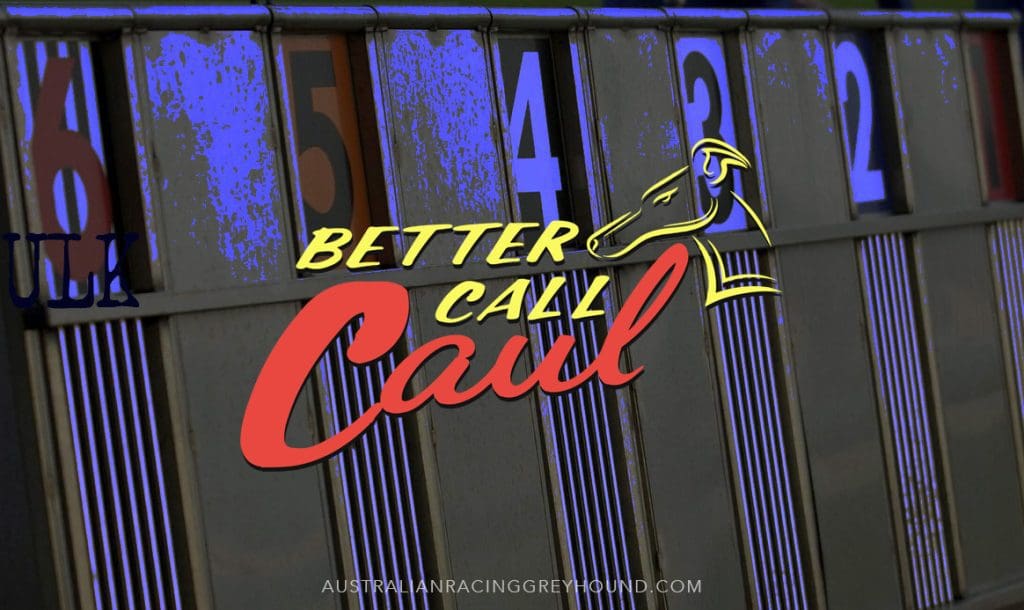 Beach Avenue won for the 16th time in his outstanding career to date and earned his spot in this weekend's Shelbourne Open 600 semifinals. The powerful son of Laughil Blake once again came from off the pace to score in 32:42 beating Darbys Delight and Sentimental Lad. Unfortunately for connections of Darbys Delight he was marked awkward and will lose his semifinal spot to Swords Maestro who finished fourth. Fastest of the first-round winners was Allforthebest who beat Hello Hammond and Auxerre in 32:30. Pennylane Sheba just got the better of Spinosaurus in 32:70 with Lynchy Boy back and third while Fast Fit Paddy beat Young Bud and Kilkenny Santy in 32:50. The semi finals take place this Saturday night.
Semi Final 1
Swords Maestro will look to set the pace in the first semifinal, perfectly drawn in box one he has a real chance to make all, although the 600-yard trip stretches his stamina he could build up a decent lead and be hard to peg back. All eyes will be on Beach Avenue as they enter the back straight, if he can turn handy, he's sure to finish with a flourish, Sentimental Lad is not without a chance he can go up strongly and stays the trip well. Selection: Swords Maestro.
Semi Final 2
Allforthebest is the one to beat in the second semi, the fastest first round winner is well drawn out in six and should prove difficult to hold. Pennylane Sheba can go up better than last week and could go well at a big price from box two. Fast Fit Paddy has won his last two starts and is sure to be on the premises. Selection: Pennylane Sheba.
---
Select Stakes semis at Waterford
One of Waterford's major events of the year The Select Stakes will take center stage at the Southeast venue this Saturday night and the entire card will be streamed live on Racing Post Greyhound TV (RPGTV). Last years winner Skywalker Barry tops the market with Explosive Boy, next in the betting is wonder bitch Singalong Sally, One Time Only is the only other runner in the lineup at single figure odds. Explosive Boy will be my selection here, the brilliant son of Good News has recently returned from a winter break and should be reaching the peak of his powers for Australian based owner Peter Sutcliffe.
---
Kirby Memorial continues at Limerick
The Con and Annie Kirby memorial commenced at Limerick on Saturday last and as usual the competition lived up to expectations. Deadly Showtime was the quickest of the first-round winners when he stopped the clock in 28:16 for the 480 trip, however, just to illustrate the strength and dept of the competition ten of the thirteen first round heats were won in 28:50 or less. Forty-eight remain as we approach round two, let us look at the heats.
Heat 1
A fascinating contest to start involving three of the first-round heat winners. Balinabola Ed was just the fastest of these in round when clocking 28:23, Kilgraney Sydney won in an almost identical time of 28:24 but was a length or so quicker to the bend on last week's running. The Other Kobe got the better of Magical Kuba last Saturday night, but I think Kuba could turn the tables on that rival. He done plenty of running after a moderate start and is well drawn in six. Gymcrack is capable of better than his run last week and may be one for value seekers at double-figure odds. (Selection: Magical Kuba)
Heat 2
Carrauntoohil will be strongly fancied here from red. He missed the kick slightly last week in a strong heat and a clean run here should see him go close. Lenson On Ice will come on from last weeks run and has a great chance to lead. Shancol Johnny and Ballymac Ben can fight out the remaining qualifying place. (Selection: Carrauntoohil)
Heat 3
Carrauntoohil's kennel mate and current outright favorite Deadly Showtime will be long odds on to take heat three. The brilliant son of Droopys Sydney was simply electric last week when making all in a competition fastest 28:16, a repeat performance will see him impossible to beat. Ballymac Leon chased him home last week and could do the same again this time while Stories Archie and Melodys Vim could also qualify. (Selection: Deadly Showtime)
Heat 4
Three first round winners contest heat four, Glengar Scholar was the fastest of these in round one but faces a trick enough draw in five. Tommy Too Many did nothing wrong when winning impressively in 28:43 last time but preference in for Da Bold Freddie in box one. A dog with a big reputation, he can show why this weekend. (Selection: Da Bold Freddie)
Heat 5
The inside duo will dominate the market in heat five in the shape of Droopys Edison and Swords Rex. Both were impressive winners last week, but Droopys Edison is a much shorter price this weekend due to the trap draw. Obviously, he's the better drawn of the runners in box one, but Swords Rex is capable of a flying start and at around about $3.75 he certainly is the value in heat five. (Selection: Swords Rex)
Heat 6
Scooby Prince hasn't quite matched the form of late last year in two runs around here so far and it may be a bit premature to write him off just yet. Ballymore Border was stunning around Shelbourne last December when winning the Dublin Cup and ran well here a couple of weeks ago. The best drawn runner in the race could be Burnchurch Best for last year's winning kennel. She trialed well around Limerick prior to the competition and was a little unlucky last week. (Selection: Burnchurch Best)
Heat 7
Cryptopunk caught the eye last weekend when making his debut and he left the impression there was plenty more to come. Kildare also made his debut last week and put in a very respectable effort when runner up behind Balinabola Ed. The Brendan Matthews trained pair of Fernandes (T5) and Savana Hero (T6) both displayed big promise after troublesome runs while Hoodoo Brown will be blasting home from halfway. I'll side with Cryptopunk to improve on his debut run as he left the impression there was more to come. (Selection: Cryptopunk)
Heat 8
Droopys Nice One will be fancied to take the last heat from box one for John Coleman and trainer Murt Leahy. Runner up behind Swords Rex in the Rural Kennels unraced stake at Clonmel earlier in the year he made no mistakes in his first run around here last week when making all in 28:39. Coolavanny Hoffa is a dog with a bright future, and he put in a promising effort behind Droopys Edison last week. Crafty Kokoro displayed her usual turbo packed finish to come from last to first last week and will look to employ similar tactics this weekend. Slight preference is for Droopys Nice One in box one to make all at the expense of Coolavanny Hoffa and Crafty Kokoro. (Selection: Droopys Nice One)
---
UK: Aayamza Royale aiming for third TV Trophy title
One of the most famous races in greyhound racing history begins this Saturday night at Hove as the TV Trophy rolls into town. Fist run in 1952 and broadcast live on the BBC it was for many the first TV exposure of live greyhound racing and an annual event to behold. Unfortunately, the BBC ceased to broadcast the event in 1996 but the competition still holds fond memories for many.
Aayamza Royale is in illustrious company having won the event twice, along side other dual winners Erica's Equity, Midway Skipper and of course the great Scurlouge Champ. Aayamza Royale will bid to become the first three-time winner of the event. She first won it at Hove in 2020 and retained her title when winning it at Monmore twelve months ago. Her trainer Mark Wallis has won it for the last three years and we wish them both all the veery best this weekend. The first of the three semis are due of at 18:58 (GMT) on Saturday evening.
The three semifinals of the Brighton Belle will also feature on the Hove card along side the TV Trophy. An all-bitch event first run in 1975 when won by Final Flag it has produced many star performers since then. Antigua Cuddles is the current ante-post favorite at $4.33 after her 30:19 victory over the 515m trip last weekend. She faces a tricky draw in box three in semifinal one this weekend. What's Up Eva also runs from box three in the last of the semifinals and I think this bitch could be the one to take outright honors, she is blessed with fine early pace and should build up a sizeable lead to book her place in the final on Saturday week.
---
This weekend's best bets
Shelbourne Park Saturday
*Odds correct at time of publication
Waterford Saturday
*Odds correct at time of publication
Similar Greyhound Racing News