2017 Group 2 Warragul Cup – free tips and betting preview
Race No. 8
Endeavour Locksmiths Warragul Cup
8:12 PM (VIC time)
S/E
Group
2 event over 460 metres at Warragul Of $67,000 Prizemoney.
1st: $47,000 2nd: $13,350 3rd: $6,650.
No.NameGradeFormBestLastTrainer
1SLEEK MASTER (NSW)[2]5121125.67(6)J Thompson (Pearcedale)
2ANDO'S MAC (NSW)[3]11132NBTJ Mackay (Richmond Vale)
3BLAZIN' BOMBER [1]4211125.55(1)D Pattinson (Pearcedale)
4AQUA CHEETAH (NSW)[2]8115125.77(4)J Thompson (Pearcedale)
5ZABDON FERRARI (QLD)[3]1212125.43(3)T Brett (Grandchester)
7SUPER SOOK (NSW)[3]1184225.79(1)V Wisener (Hazelwood)
9NANGAR RANGE (NSW)[4]Res.1311225.78(6)G Schofield (Craigieburn)
10JESAULENKO [3]Res.2132225.68(7)T Morris (Traralgon)
LEADING Queensland trainer Tony Brett has not won a group race outside of the Sunshine State since Quidame scored a dashing victory in the 2006 Summer Cup at Wentworth Park.
However, Brett has a brilliant shot of breaking the 'drought' this Saturday night when his front-running sprinter Zabdon Ferrari lines up in the Group 2 Warragul Cup (460m).
The son of Magic Sprite and Awesome Knocka is a $3.90 chance to salute in the final, despite being drawn awkwardly in box five.
He looks set to improve off his heat win which was his first start since lining up in the Group 1 Brisbane Cup in early December, a race in which he finished one length second in 29.57.
If he can find the front, Zabdon Ferrari is capable of running sensational times, especially over the shorter trip, and he should be good enough to hang on for the win.
Speed-wise, his biggest threat is Aston Bolero, $5 with Sportsbet, with the two black greyhounds clocking identical first sections in their heats.
Both are ultra-reliable early; however, I am going to side with Zabdon Ferrari as he is drawn on the inside of the pair. Simply put, if the boxes were reversed I would be putting 'Bolero' on top.
Aston Dee Bee (box eight) is the track record holder here, with a phenomenal 25.34 run which was recorded in December.
He is one of the hottest youngsters in training, but is facing his biggest test to date in this event.
He has the ability to win, but there is a lot of pace in this race and he is giving away a lot of experience to some of these high-class greyhounds.
Ando's Mac is the reigning Melbourne Cup champion and he looks well-drawn in box two. Punters can get $7.50 with Bet365 about the fawn flash which is certain to improve off his 25.75 heat win if he can get room to move in the early stages.
He is capable of a better beginning than he showed in his heat and he is proven on the one-turn circuits, with a fast 25.18 win to his name at Maitland.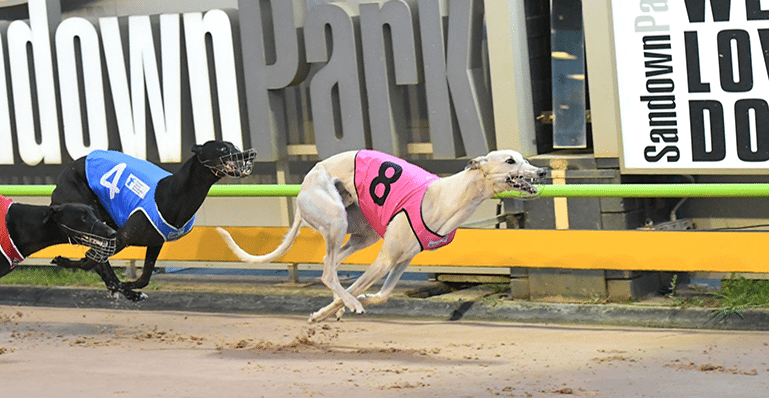 Can Ando's Mac win the Warragul Cup?
Sleek Master (box one) comes into the race in great form and I actually don't mind him from the inside. In a final such as this the fence is the place to be, so box one definitely helps and he is more than capable of running a cheeky race at the $8.50 mark with Crownbet.
The other major player, as far as the market is concerned, is Blazin' Bomber ($6). He is lining up in his 10th group final on Saturday night, so he definitely has experience, but with an abundance of speed drawn around him he is going to need luck from box three.
Group 1 Adelaide Cup winner Aqua Cheetah is at big odds with the bookies, with Crownbet installing him as a $15 shot. It is probably about his right price considering the draw – box four does him no favours considering the lid-pingers on his outside.
The field is rounded out by Super Sook (box seven) at around the $61 quote. The Vicki Wisener-trained greyhound ran a good second in his heat behind Aston Bolero, but this is a massive jump in class and he is likely going to be a few lengths behind the leaders at box rise.
The $47,000-to-the-winner Group 2 Warragul Cup is race eight on the card this Saturday and is set to jump at 8:12pm.
Tips: 5 – 6 – 8 – 2
Suggested bet: WIN bet on Zabdon Ferrari at $3.90 with William Hill
Quaddie:
Leg 1 – 1, 6
Leg 2 – 1, 6, 8
Leg 3 – 2, 7, 8
Leg 4 – 2, 5, 6, 8
$72 for 100%
Want some free bets to place on the Group 2 Warragul Cup? We have you covered…
Similar Greyhound Racing News