2017 Group 3 Howard Ashton – free tips and odds comparison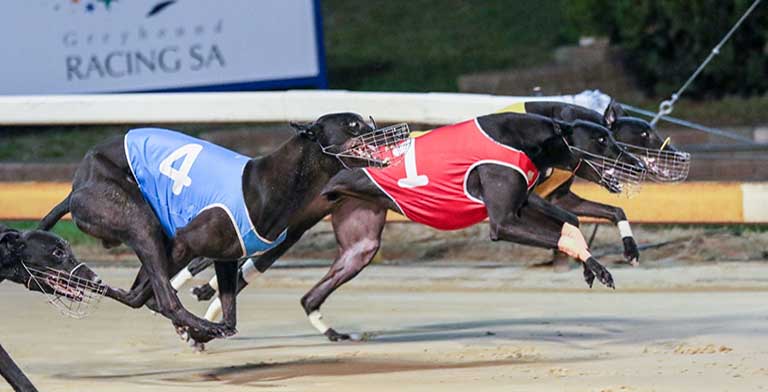 BEN Rawlings looks poised to secure back to back editions of the Group 3 Howard Ashton (515m) when the lids fly open for the $25,000 feature this Thursday night at Angle Park.
Rawlings prepared Wilba Beast to score in the 2016 final and has two greyhounds engaged in the most recent running of the race – Crunchin Numbers (box four) and Deputy Speaker (box six).
Both pups are from the Elite State x Mighty Chaos litter and are unbeaten throughout the series.
Crunchin Numbers comes into the final having won his past six in a row including a handy 30.21 semi-final triumph over Pearl Cape. The black dog was swiftly away from the boxes and, although getting tired, was too good for his opponents when winning by three quarters of a length on the line.
Meanwhile, Deputy Speaker has won two on the trot, his most recent effort being a 30.42 win in his qualifier. Even though that winning time was only moderate, Deputy Speaker has run 30.01 at Angle Park which is good enough to mix it with this field.
Rawlings will face some tough opposition as he aims to win the race again up against some talented types including Farmin (box two), which holds a 29.95 personal best over the track and trip, and Victa Ollie (box five) which generally shows plenty of early toe.
Farmin looks one to follow and seems to be getting better with every start – if he gets room to move on the rails he will be a serious threat, whilst Victa Ollie is as consistent as they come – having finished in the top three at each of his past five starts.
The Group 3 Howard Ashton is race eight at Angle Park on Thursday night and is set to jump at 9.49pm.
Want to have a bet on the Howard Ashton? Check out the free bet offers exclusive to readers of Australian Racing Greyhound.
Box One – Slipper's Wish
Black Dog – 30.6kg – March 2015
Lochinvar Marlow x Slipper's Tonic
Prize money: $4,335
Trainer: Derek Anderson
Career: 14: 4-2-5
T/D: 4: 0-0-4
T/D Best: 30.26
"Younger brother to superstar Ernie Bung Arrow. Has good early toe and can punch up towards the front in the early stages from the cherry."
Box Two – Farmin
White and Brindle Dog – 33.5kg – April 2015
Djays Octane x Kiowa Angel
Prize money: $4,025
Trainer: Lauren Harris
Career: 9: 3-1-3
T/D: 9: 3-1-3
T/D Best: 29.95
"Well boxed on the fence and holds the fastest time here of the eight finalists. Will be looking to find a spot on the fence and will be finishing off strongly."
Box Three – Kiowa Big Bow
Black Dog – 33.0kg – April 2015
Kiowa Mon Manny x My Little Star
Prize money: $4,265
Trainer: Bozidar Stamenkovic
Career: 12: 3-3-2
T/D: 7: 1-3-0
T/D Best: 30.30
"Handy placings throughout the series showing early speed on both occasions, however he probably needs to lift a little to feature here."
Box Four – Crunchin Numbers
Black Dog – 31.6kg – January 2015
Elite State x Mighty Chaos
Prize money: $14,655
Trainer: Ben Rawlings
Career: 24: 14-2-4
T/D: 6: 2-0-2
T/D Best: 30.21
"Flawless beginner which looks set to lead again in the final. Can get tired in the closing stages so will have to pinch a decent break."
Box Five – Victa Ollie
Brindle Dog – 32.2kg – January 2015
El Grand Senor x Victa Explorer
Prize money: $10,890
Trainer: Ronald Schadow
Career: 32: 8-6-4
T/D: 12: 3-3-1
T/D Best: 30.14
"Another good beginner which should be punching up towards the front early. Good run in his semi-final after doing a bit of work early."
Box Six – Deputy Speaker
Black Dog – 32.7kg – January 2015
Elite State x Mighty Chaos
Prize money: $11,525
Trainer: Ben Rawlings
Career: 18: 8-5-3
T/D: 12: 5-4-1
T/D Best: 30.01
"Won two in a row and is yet another finalist with box speed. Only ran fair time throughout the series but capable of going quicker."
Box Seven – Pearl Cape
White and Black Bitch – 26.2kg – January 2015
Cape Hawke x Singin' Larricki
Prize money: $4,380
Trainer: Robert Harris
Career: 25: 5-3-0
T/D: 12: 2-3-0
T/D Best: 30.13
"Good run in her heat to finish second, however would prefer to see her drawn towards the fence."
Box Eight – Usain's Squeeze
Black Bitch – 28.2kg – February 2015
Fabregas x What Kuda Been
Prize money: $8,310
Trainer: Nicole Newlyn
Career: 18: 6-4-0
T/D: 5: 2-1-0
T/D Best: 30.16
"Has ability but boxed on the wrong side of the track."
Tips: 2 – 4 – 5 – 1
Similar Greyhound Racing News