Dapto greyhound tips & best bets | Thursday, March 17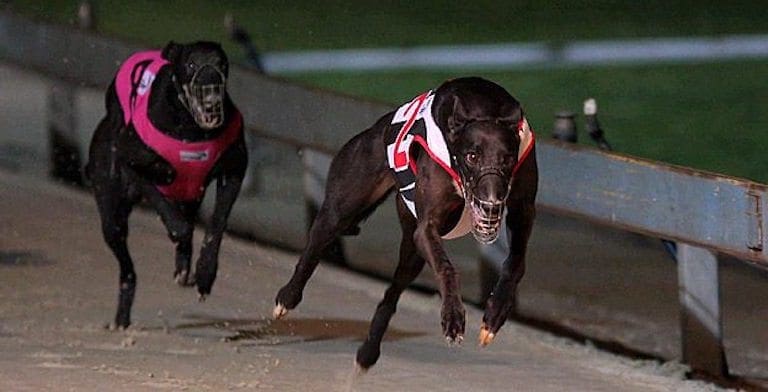 We have 10 races to sink our teeth into at the Dapto dogs on Thursday night, and ARG has you covered with top selections for each event.
---
Race 1: Sportsbet Bet With Mates Maiden (297m)
There are two first starters tonight who have both drawn well in box one and two so they are the unknown factors. Of the raced brigade, Mount Banks (box 8) drew awkwardly in box 6 on his debut start at Wentworth Park over 280m but was heavily supported ($10 into $4.60) in the betting. He jumped well but got sandwiched between runners early in that race. He makes his debut at Dapto tonight from box 8 which may suit him better so he looks a winning chance here. Charlm Machine (box 6) has run a place at each of her two starts over this track and distance. Last Thursday she drew box 8, began better than her first look at Dapto and clocked a good time of 17.36 seconds. A repeat effort gives her a winning chance. Fat Pizza (box 7) is a son of Fernando Bale making his debut at Dapto tonight. His only two starts have been over 400m at the Geelong circuit where he placed on debut. He has drawn between the other two winning chances tonight so he won't want to miss the start. Panda's Buddy (box 4) has begun quickly in her two career starts over the Dapto 297m but has tired late to finish third in both starts. This looks to be an interesting maiden to kick start the night off.
Selections: 8-6-7-4
---
Race 2: Sportsbet Set A Deposit Limit 4th/5th Grade (297m)
Good even bunch of 4th/5th Grade greyhounds in this race. Their best times are quite even so it will come down to which greyhound gets a good start or run early. Snap Key (box 6) started an odds on favourite here last Thursday from box 1 and was a little disappointing to only finish third. She is normally a quick beginner so this may offset the awkward draw tonight and she may lead all the way in this race. Barcia Wish (box 5) is a veteran around this track and distance – starting 44 times for eight victories and another 19 placings. He hasn't raced since February 1 at Bulli so astute trainer Andrew Bell has him fresh for this race tonight. Jagora Bale (box 1) cannot be left out of the winning chances from the red rug. She won her last start from this good draw on February 17 at Dapto clocking 17.25 seconds in a masters race. Cassia Bale (box 2) could get a good run tonight from her low draw and is currently in good form so must include in the mix. Slingshot Chas (box 3) is an interesting starter here. He has won five races from 13 career starts, all in Victoria but hasn't started since December 4 at Bendigo where he finished down the straight.
Selections: 6-5-1-2
---
Race 3: The Dapto Blackbook 5th Grade (297m)
Selections: 4-7-5-1
---
Race 4: Dapto Citizens Bowling Club (520m)
This is our first race tonight from the 520m start. Jackpot Ethics (box 4) won his maiden race last week here at Dapto from box 1 clocking 30.28 seconds. He is not a quick beginner so tonight he will need a little luck early from this middle draw but he is good enough to win this race. Ten Hut (box 5) is also coming off his maiden victory on the Richmond grass straight track over 324m on March 13. This will be his third run in a week. He ran well behind Jackpot Ethics last Thursday over 520m finishing third, after showing some early dash. There doesn't look to be any starters with a lot of early speed, so he may lead in this race tonight. Charging Tracy (box 8) may get a good run down the outside early and be considered a hope tonight but she doesn't win many races – only three wins from 37 starts. Charlm General (box 2) finished fourth last Thursday here but wasn't far behind the winner from box 7. From this better draw, he must be considered a winning chance as he boasts a win over Jackpot Ethics back on January 27. Donnaleah Carter has two starters in this race – Ameena's Athena (box 3) and Ameena's Odyssey (box 7). Both are normally slow to begin but both can run home well. Ameena's Athena may be her best chance tonight.
Selections: 4-5-2-8
---
Race 5: Sportsbet Same Race Multi 4th/5th Grade (520m)
Taw General (box 7) is returning to Dapto tonight. He was luckless last start at Wentworth Park from box 8 when vying for the early lead. Expect him to be contesting the early lead again tonight and be hard to beat. Don't Sue Me (box 4) ran well last Thursday here behind the speedy Short Ticket from this same draw. She has early speed to offset this draw and is another greyhound that will be hard to beat tonight. Zipping Quocka (box 3) was disappointing here last week from box 6. He is better drawn tonight and has run well at Dapto previously but he will need to regain his form to be consider a winning chance. Ritza Kez (box 8) is better suited to an inside draw. He has never won from outside box 4, so can only be considered as a place chance tonight. Run From Reality (box 1) has only been running over the short distances and should struggle to run the 520m here.
Selections: 4-7-3-8
---
Race 6: GRNSW 5th Grade Series Final (520m)
Three exciting heats were contested here last Thursday, and it should produce a good final. Springview Hawk (box 4) was the fastest heat winner clocking 30.17 seconds. Obviously, a repeat of that run would see him win this. Short Ticket (box 3) won her heat clocking a moderate 30.40 seconds from box 8. She pinged the lids in her heat and led all the way but got tired late. That was her first run over 520m after her two month break so expect improvement tonight as her fitness will be better. Must be considered a winning chance as I expect her to lead in this final. Miss Blue Fancy (box 6) is poorly drawn tonight and is better suited drawn closer to the rails. After a moderate start from box 2 in her heat behind Springview Hawk, she worked her way home strongly to finish second. Since then, she has won at Nowra on March 14 after leading all the way from box 3. On the quick backup tonight but still a winning hope if things go her way. Burn (box 1) drew badly in the heat (box 5) but still managed to weave his way through the field and win clocking 30.44 seconds. He must be a winning chance in the final after drawing the red rug.
Selections: 4-3-1-6
---
Race 7: H.Parsons Funeral Directors 5th Grade (600m)
Miss Wanted (box 2) has contested some good 600m races in February. She hasn't raced since finishing last of five starters at Nowra over 630m behind Bandit Ned on February 28. She led on this occasion but knocked up to run last. She has been given a three week freshen up since, so expect her to bounce back into form and lead all the way tonight. Cawbourne Turvey (box 4) also contested some of the same races Miss Wanted ran in over February. She has drawn the middle box tonight but also looks a winning chance if breaks go her way during this race tonight. Tiger Jack (box 6) is having his first start over the Dapto 600m tonight. His first attempt over the middle distance, was his last start at Dubbo on March 12, where he finished a close fourth behind Fantastic Raven only beaten 0.75 length. On that performance, he must be considered a winning chance. Impress Hassan (box 1) has drawn to get a good run early following Miss Wanted through and has won over the 600m at The Garden circuit so must go in.
Selections: 2-4-6-1
---
Race 8: Ryan's Cleaning Services Free For All (297m)
Back to the 297m short course races to finish off the card tonight. This is tonight's free for all race with lots of winning chances. Wicked Fury (box 3) has won three of his four starts over this track and distance and placed in his other start. Expect him to be contesting the early lead and go close to winning this race. Nixon Bale (box 2) has drawn well tonight. He won from this same draw at Dapto on February 17 clocking a slick 16.96 seconds so he must be considered a winning chance. Mac Olga (box 6) has drawn poorly tonight but is always a winning chance if breaks go his way. He also can run sub 17 seconds at Dapto and is a very consistent greyhound always finishing in the money. Sizzle Fly (box 8) resumed last Thursday here after a three month break from box 6. She began quickly but couldn't lead early and faded away late to finish fifth. She is much better than that effort and could improve sharply tonight.
Selections: 3-2-6-8
---
Race 9: Commercial Painting Group 5th Grade (297m)
Witch Earner (box 2) was able to win her first ever start at Dapto last Thursday. This Andrew Bell-trained greyhound begun well and settled second early behind the speedy Mouse Knows, then railed inside her to score clocking a quick 17.17 seconds. A repeat of that run would see her win again tonight. Daniela Walsh (box 6) has drawn poorly but overcame box 4 last week to win over this track and distance running a moderate 17.42. That was her first run at Dapto so expect improvement this week and must be considered a danger to Witch Earner. Solar Energy (box 3) is an honest and consistent greyhound but doesn't win many races. He has been placed nine times out of 24 career starts but only won twice. Must be a good place chance tonight from this inside draw. Broadway Express (box 7) is having his first start over the Dapto 297m tonight. This son of Barcia Bale normally begins quickly at Richmond so he should be suited here.
Selections: 2-6-3-7
---
Race 10: Adopt A Greyhound Today 5th Grade (297m)
This looks a match race between two starters – Wicked Jewel (box 1) and Mouse Knows (box 7). Wicked Jewel has raced here three times from four career starts resulting in one win and a third placing. She won her first ever start her clocking 17.19 seconds from box 5 when leading all the way. She has drawn the red rug for the first time tonight and looks hard to beat. Mouse Knows is a speedy greyhound. She led last Thursday from box 8 so drawing box 7 tonight should not cause any problems for her. She clocked 17.22 seconds last week finishing second to Witch Earner so she can match motors with Wicked Jewel tonight. Spring Kayce (box 8) has previously handled outside draws but might only be a good place chance tonight. Include him in your trifectas and first-fours. Rilla Venture (box 5) drew the red rug last Thursday only to finish third clocking 17.52 seconds so can only be a place chance tonight.
Selections: 1-7-8-5
---
Similar Greyhound Racing News